Harry Kane raised eyebrows last week when he openly stated his ambitions to target Alan Shearer's Premier League goal-scoring record.
In a footballing world of "taking each game as it comes" and "not getting carried away", it was a surprise to hear the 22-year-old Tottenham ace set himself a public aim which he will no doubt be judged against throughout the course of his career.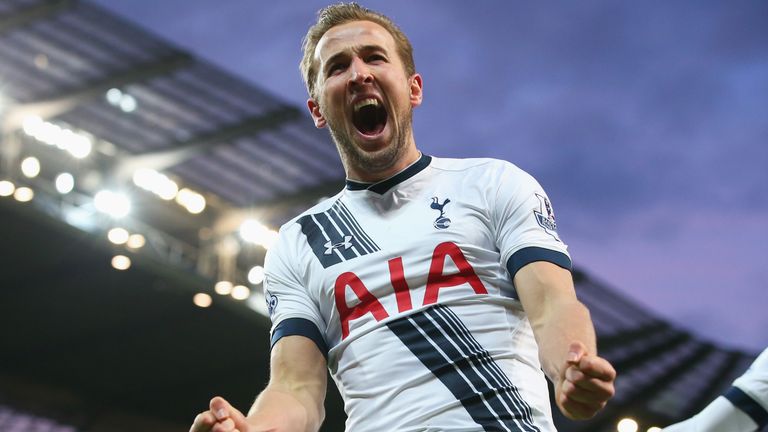 It's a lot of goals and I'm still a long way off but Shearer was an idol of mine growing up. I don't like looking too far ahead because you never know what can happen. But is it good to aim for? Definitely. They're the goals you dream of.
Kane is a level-headed person and pointed out that, while it would be a dream to break the Premier League goal-scoring record, he appreciated he had a long way to go. He's not wrong.
Kane's double against Bournemouth prior to the international break has taken his tally to 45 goals from 79 Premier League appearances. Shearer finished his career with 260 Premier League goals from 441 outings - a total which puts him out on his own at the top of the standings, 68 clear of Manchester United's Wayne Rooney.
20 goals back-to-back
Kane is only the fifth Englishman to hit 20 goals in consecutive Premier League campaigns. The others are: Shearer, Les Ferdinand, Andy Cole and Robbie Fowler.
But how does Kane's start to his career compare to Shearer's? Could he be on course - albeit at the start of a long, winding course full of challenges and obstacles - to get close to or break Shearer's record?
Here, we take a closer look at Shearer's goal-scoring feats and whether Kane is following a similar path…
Prodigious talent 
A highly-rated youngster, Shearer burst onto the scene at Southampton with a hat-trick on his full debut, a First Division 4-2 win over Arsenal at the Dell in 1988. Shearer was only 17 years and 240 days old - the youngest hat-trick scorer in the top flight since Jimmy Greaves 30 years earlier.
Over the next four seasons Shearer scored another 20 goals, netting 13 in 41 appearances for Southampton in 1991/92. His performances for Saints - and England's U21s, where he recorded a yet-to-be-bettered ratio of 13 goals in 11 games - didn't go unnoticed.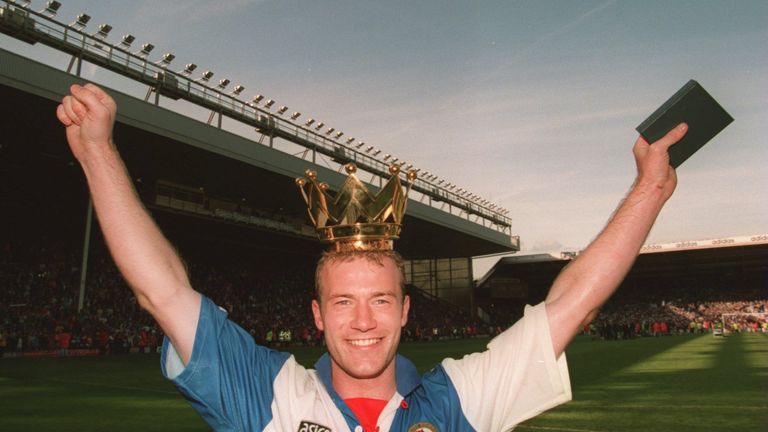 Blackburn forked out a domestic record transfer fee of £3.6m in 1992 to take Shearer - a month shy of his 22nd birthday - to Ewood Park, where he scored 16 times in 21 appearances in the first half of the season.
Cruelly, he was sidelined for the remainder of the campaign when he injured his anterior cruciate ligament in a match against Leeds that December. But, by then, Shearer had proven he was the real deal at the top level.
How does Kane compare?
Kane, a product of Tottenham's youth academy, also impressed for England's youth teams, scoring eight goals in 14 games for the U21s. However, unlike Shearer, Kane was given the opportunity to play his early first-team football on loan, with Leyton Orient in League One, Millwall and Leicester in the Championship and, briefly, Norwich, in the Premier League.
After a season back at Spurs but on the fringes in 2013/14, Kane's breakthrough campaign came last season when he scored 21 goals in 34 appearances. He has followed that up with a further 21 strikes from 31 Premier League games this term.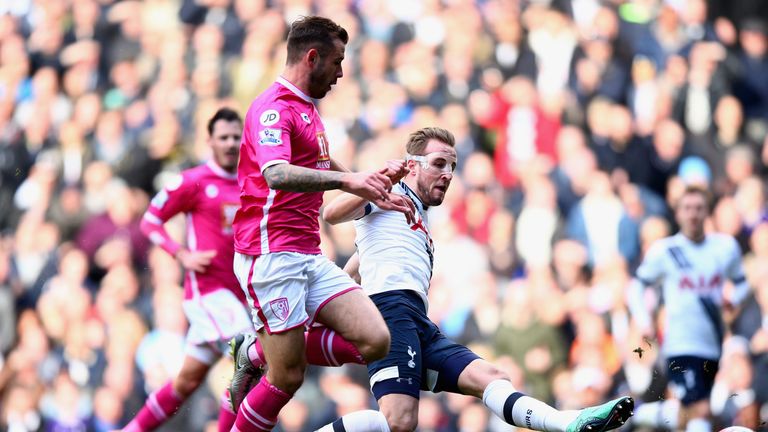 Right now, Kane has 45 Premier League goals from 79 appearances. At the same age Shearer had scored 39 times in 139 top-flight appearances, with 16 from 21 in the Premier League.
In terms of the race for the Premier League goals total, Kane has a significant head start given his age. However, his real challenge will be matching what came next from his idol...
What happened next?
After recovering from injury, Shearer returned to the Blackburn first team for the 1993/94 season and went on to score over 30 goals for the next three seasons in a row.
Another record-breaking transfer, this time taking him to Newcastle, came in the summer of 1996 and Shearer fired 25 goals in 31 games to the delight of the St James' Park faithful.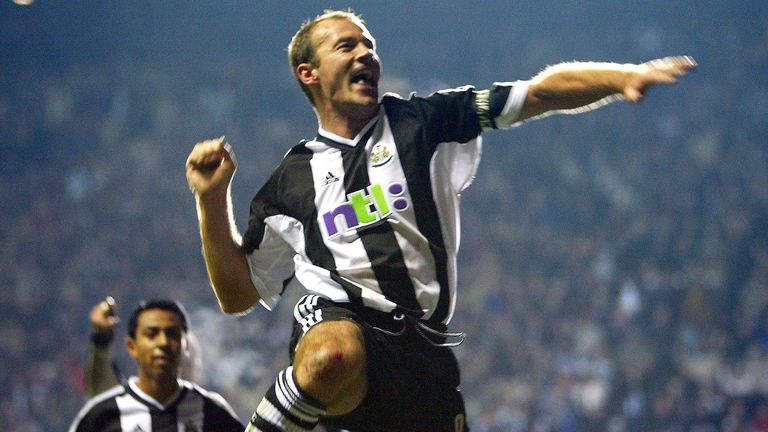 An ankle injury in pre-season in 1997 restricted Shearer to just two goals in 17 appearances in the following campaign. He still managed to score an FA Cup semi-final winner, though, and bounced back with 14 goals in 30 appearances in 1998/99.
Shearer went on to bag over 20 goals in three of the next five seasons before hanging up his boots in 2006.
His was a career of remarkable goal-scoring consistency; Shearer passed the 20-goal mark seven times in the Premier League. No other player has managed to do that on more than five occasions.
Shearer also jointly holds the record for the most goals scored in a Premier League season (34 in the 42-game era, 31 from the modern 38-game format) and scored more hat-tricks in the competition than anyone else (11).
All in all, Kane will need to average around 16.5 goals per season for the next 13 years to pass Shearer's mark at the age of 35 - the point when Shearer retired.
International ace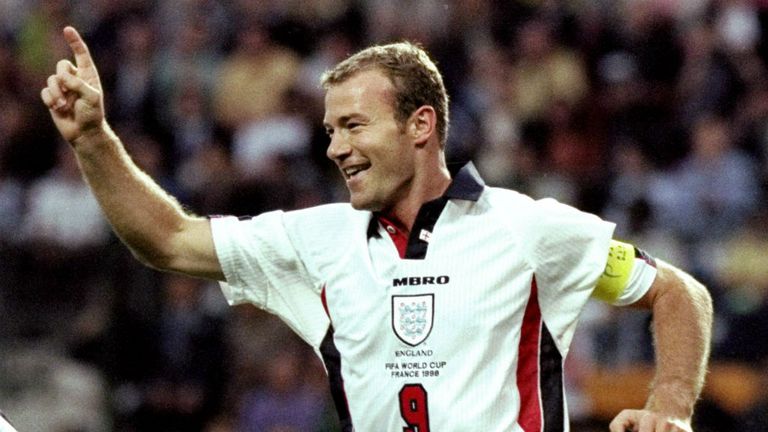 As well as a star at club level, Shearer also shone on the international stage, scoring 30 times in 63 appearances for England - the joint-fifth best haul in history, level with Nat Lofthouse and Tom Finney.
Shearer scored on his debut against France in 1992 and, after a relative drought of two in his next 14 internationals, a flurry of goals at Euro 1996 confirmed his status as England's main man.
Shearer top-scored at those championships with five goals and, appointed captain for the following World Cup qualifying campaign, went on to score key goals at France 1998 and Euro 2000.
How does Kane compare?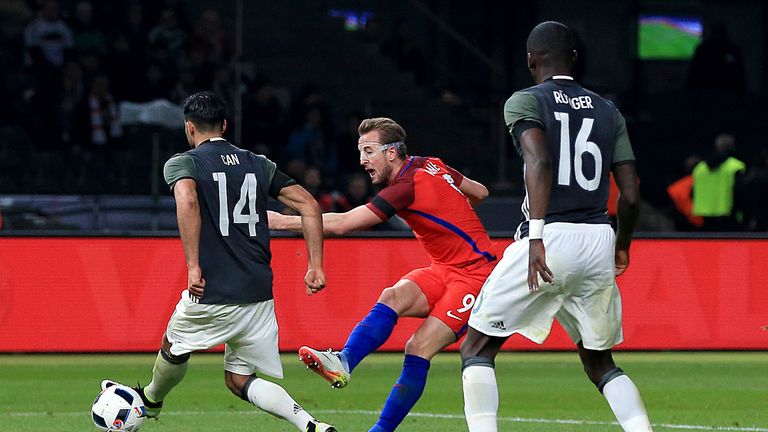 Like Shearer, Kane scored on his international debut - netting against Lithuania just 80 seconds after being introduced as a second-half substitute at Wembley in March 2015.
Kane has also scored against San Marino, Switzerland and Germany, and his record of four goals in nine appearances is one better than Shearer's after the same number of games.
Roy Hodgson and England's supporters will hope Kane can have a similar impact at his first major tournament, this summer's Euro 2016, 20 years after Shearer's Euro 1996 heroics. 
Do you think Harry Kane can pass Alan Shearer's Premier League goal-scoring record? Let us know using the message boards or by tweeting @SkyFootball