The rise of Heung-Min Son: Tottenham star's journey from South Korea to Premier League via Germany
By Peter Smith
Last Updated: 03/11/16 10:23am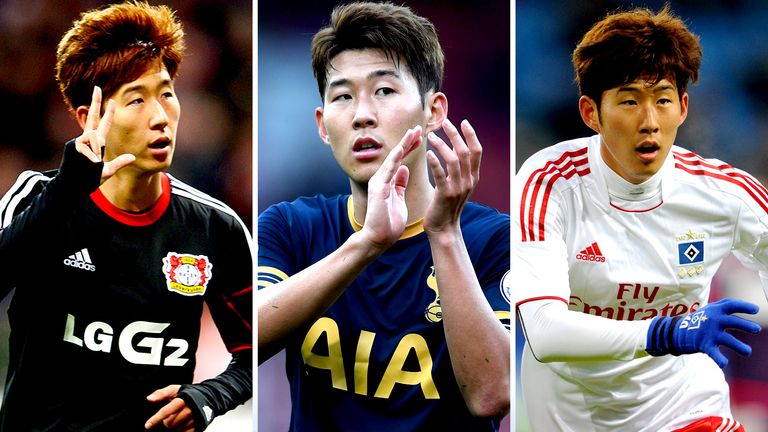 Heung-Min Son is a superstar in South Korea and has become a key figure for Tottenham and Mauricio Pochettino this season. Peter Smith - with the help of a South Korea coach - reflects on Son's rise.
Heung-Min Son described his return to Bayer Leverkusen last month as a "special game" for him. The forward's respect for his old side is unsurprising. After all, it was at Leverkusen where Son, the club's record signing, stepped up a level from his performances as a young, raw teenager at Hamburg.  
After a tough first season with Tottenham and heartache with South Korea at the Summer Olympics, Son has made another leap forward this term.  
With four goals and two assists, Son has already bettered his league return from 2015/16. He's recording career-best figures for shots, dribbles and key passes per game, too.
What's more, he's delivering when Tottenham need him most. With star striker Harry Kane sidelined since mid-September, Son has sustained Spurs' momentum, helping them maintain their unbeaten start and see off title rivals Manchester City in the process.
Heung-Min Son - Premier League (Tottenham rank in brackets)
| Season | Goals | Assists | Shots | Chances created (open play) | Clear cut chances created | Dribbles completed |
| --- | --- | --- | --- | --- | --- | --- |
| 2015/16 | 4 (T5th) | 1 (T10th) | 3.1 per 90mins (3rd) | 1.47 per 90mins (5th) | 0 (T13th) | 1.38 per 90mins (4th) |
| 2016/17 (min 4 apps) | 4 (1st) | 2 (T2nd) | 3.74 per 90mins (2nd) | 2.38 per 90mins (1st) | 2 (T1st) | 3.23 per 90mins (2nd) |
But Son's performances this season have come as no surprise to his former Leverkusen boss Roger Schmidt - who described him as a "great player" ahead of October's reunion - nor his national team coach, Tae-Yong Shin.
Shin, who took charge of South Korea's Olympics campaign and assists senior team manager Uli Stielike, told Sky Sports there is much more to come from the 24-year-old.
"Son is still very young, but his potential is huge and I wouldn't want to put a limit on how much he can grow," said the former South Korea midfielder.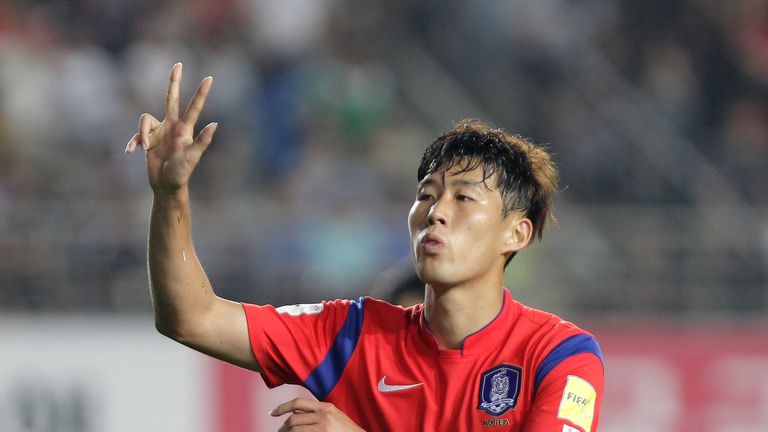 Son is still very young, but his potential is huge and I wouldn't want to put a limit on how much he can grow.
South Korea assistant manager, Tae-Yong Shin
"When I first saw him, he was just a fast player, without expert performance. But, as time goes by, he is getting more skilled with his feet, especially around the penalty box. This is the reason why Tottenham paid so much money to sign him.
"He doesn't have any major areas to improve now - but he'll continue to develop automatically as time passes."
At international level, Shin said South Korea "look to Son to create our goal-scoring opportunities", while Asia-based football journalist John Duerden describes him as "the biggest star in the team, the go-to guy when South Korea look to go forward."
In short, Son is used to shouldering responsibility.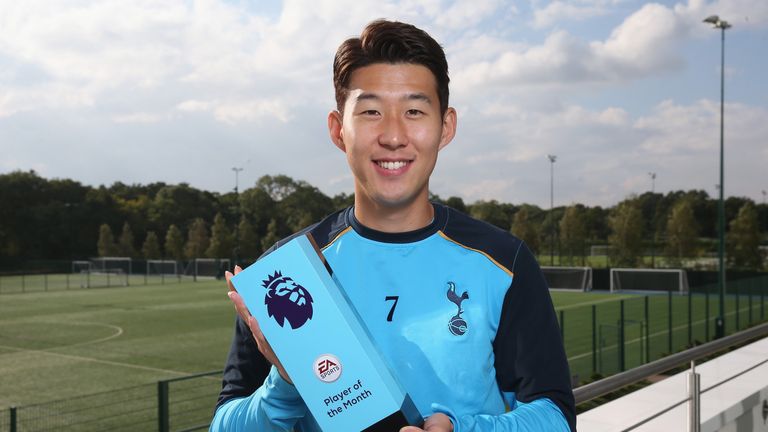 He is a superstar in his homeland. His £22m move to Tottenham last summer made him the most expensive Asian player in history and his every performance for the club is analysed in South Korea.
"He is a huge star at home and there are dozens of articles about his every appearance at the moment," Duerden told Sky Sports. "He is popular and very famous indeed and has made headlines for dating pop stars. Son is one of the most famous people in South Korea at the moment.
"After Ji-Sung Park, he is already the most successful player the country has sent to Europe."
It's a meteoric rise from Son's first steps at Seoul FC's academy and early days as an unknown youth at Hamburg - but the son of former South Korea international Woong-Jung Son put in the hard yards to follow in his father's footsteps.
Son was talent spotted by Thies Bliemeister, who took him to Germany as a 16-year-old in 2008. The agent recalls a dedicated young player. "Whenever I visited the Hamburg academy, Son was never in his room because he was always outside, training," he told the Evening Standard.
Unable to speak German or even English, Son had little other option but to focus on his football.
"At 16, it was difficult," Son said. "When I came to Europe, I didn't know any friends. No one came with me. Sometimes I missed Korea, but I wanted to play professional football in Europe. That was my goal and I came to achieve my goal."
That determination and hard work was soon rewarded. Elevated to the senior squad, Son scored against Chelsea in a 2010 pre-season fixture before netting on his professional debut against Cologne in the October of that year.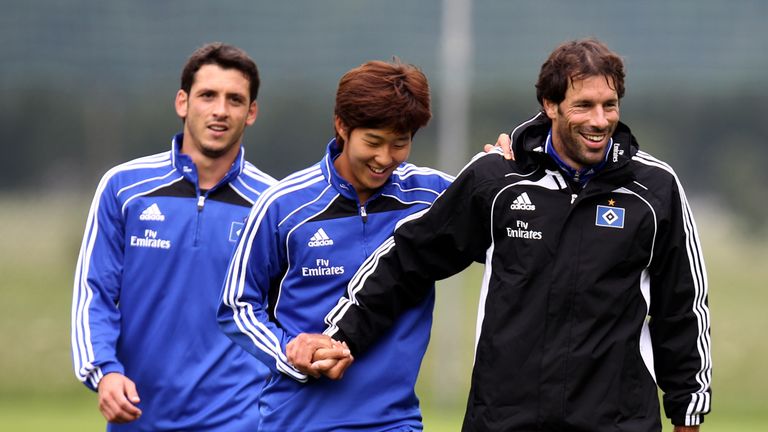 After a training session, you can see that he is something special.
Ruud van Nistelrooy in 2010
The teenager's performances impressed even his most experienced team-mates, including former Manchester United and Netherlands striker Ruud van Nistelrooy.
"After a training session, you can see that he is something special," the then-Hamburg forward told Bild.
"Son is the future. With him, Hamburg will have a lot of success. He is young, has a good head, and even at the age of 18 is making a significant impact in the Bundesliga."
Son, an international since 2010, made the controversial call to turn down a place at the Summer Olympics in 2012 to prepare for the Bundesliga season. The benefits of a full pre-season told, with Son scoring 12 goals from 33 games.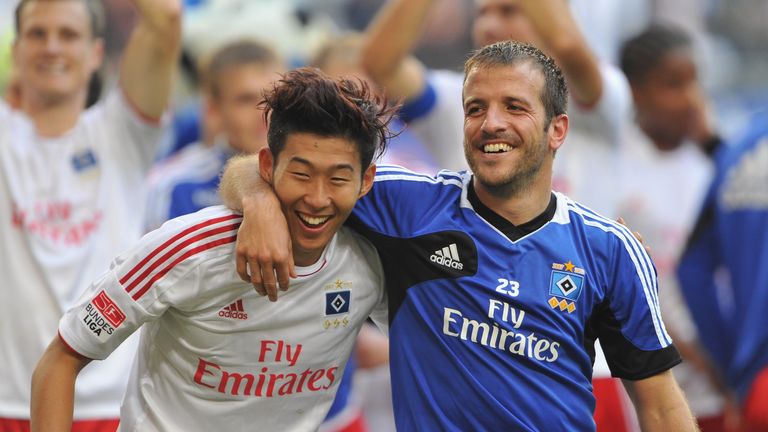 At the time, Son described his style as "always on the throttle" - an approach Tottenham supporters will confirm remains to this day - and the speed of his development convinced Bayer Leverkusen to break their transfer record to sign him in the summer of 2013. By then, he was already in Tottenham's sights.
He soon made his presence felt at Leverkusen, scoring a hat-trick against old club Hamburg, before helping them to consecutive top-four finishes in the league.
Son's performances led Franz Beckenbauer to describe him as a "super player, fast and dynamic," while there were further plaudits coming his way after he impressed at the World Cup in 2014 despite South Korea's group-stage exit.
Elite company
Only four players scored 10 or more times in each of Son's final three seasons in the Bundesliga: Son, Robert Lewandowski, Thomas Muller and Max Kruse
Much to Leverkusen's disappointment, his form led to a switch to Tottenham and the Premier League in the summer of 2015. Son's Leverkusen colleague Hakan Calhanoglu said "the whole team is disappointed, he has been badly advised", but the move did make sense.
Rafael van der Vaart, Son's former Hamburg team-mate, said the player had everything needed to be a success at his old club Tottenham, and, in Mauricio Pochettino, the player had a manager whose tactics suited his style.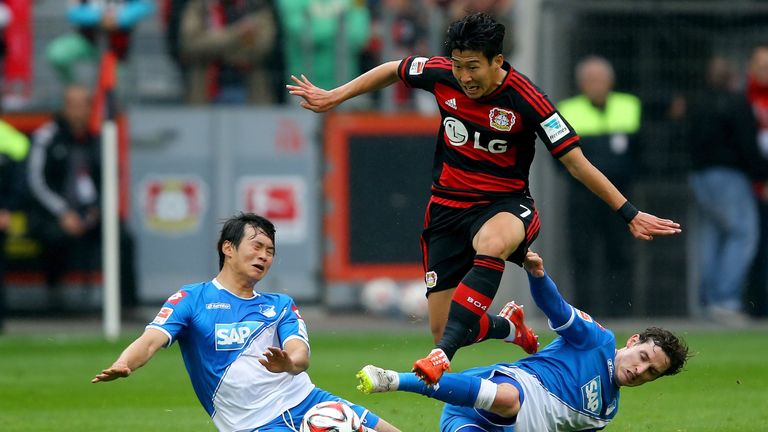 "Tottenham plays aggressive football, which I like very much," Son said at his unveiling, after revealing Pochettino had previously tried to sign him for Southampton. "I like to pressure opponents from the front and I think I can be a better player if I train under Pochettino."
Three goals in his first three appearances for the club appeared to confirm that theory, but ultimately, Son was in and out of the starting XI as Christian Eriksen, Erik Lamela and breakthrough star Dele Alli provided chief support to Kane as the club pushed for the title.
After the disappointment of just falling short in the Premier League, Son felt South Korea's Olympics exit at the quarter-final stage just as keenly. He missed a number of chances in the knockout tie with Honduras, and the loss has lasting implications.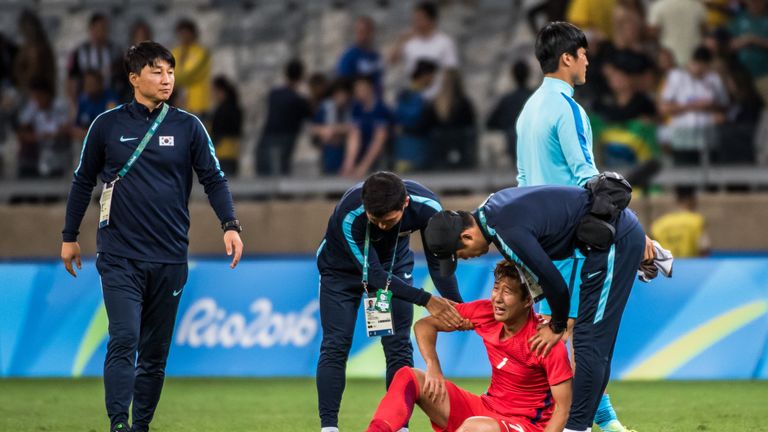 A medal of any colour in Rio de Janeiro would have excused Son from the mandatory 21-month military service all South Korean men must begin before they turn 28. Son has already tasted defeat in the 2015 Asian Cup final - when victory would have earned him exemption - and the pressure will be on at the 2018 World Cup, should Korea qualify, and 2019 Asian Cup.  
In the aftermath, Shin revealed Son had "cried all day long" and "didn't even eat" after the match. "Had the team got a medal then all the squad would have won exemption from military service," Duerden said. "That would certainly be good for his career."
To bounce back from that disappointment wasn't easy. In the aftermath, transfer speculation linked Son with a return to Germany, but Pochettino convinced Son he had an important part to play this season.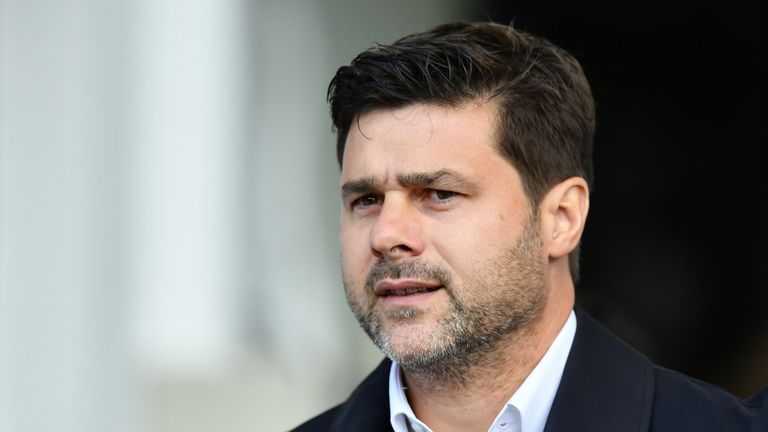 After one year [in England] Son is a different person. He's more mature and he knows the league and he's settled in fantastically now.
Mauricio Pochettino
On his first appearance of 2016/17, Son scored a double at Stoke. A match-winning brace followed at Middlesbrough before the decisive strike in Spurs' Champions League group game win in Moscow. Fuelled by the summer's disappointment, Son has come back better than ever.
"After the Olympics I was very upset," he said. "I was really down, because I wanted to get some medals for my country. My heart was already in it for six months beforehand.
"But after the Olympics, I thought, 'Now I have to focus on the season.' It was not easy but everyone - my family, my team-mates - helped me a lot, and they made me stronger than before.
"I feel really fit. I had pre-season before the Olympics and we played four games in Rio. It is true that I am in great form and I have made a great start but I have to keep working hard."
Pochettino has described Son as a "different person" now that he has settled into the Premier League, but that old mantra - "to keep working hard" - remains at the centre of Son's approach.