Sky Sports Scout - Ioannis Fetfatzidis
Sky Sports Scout is where we scour the globe looking for the best talent, next up is Ioannis Fetfatzidis.
By Sky Sports Scout
Last Updated: 21/05/14 10:54am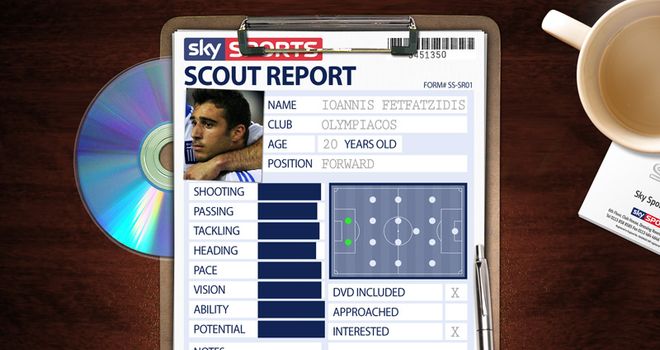 Sky Sports Scout is our exciting feature where we scour the globe looking out for the best talent and bring you a report on what we find.
Our Scout will report back and you can comment on what you think of our appraisal.
Also, in association with Football Manager, we give all readers the chance to win a copy of the latest game by nominating a player.
You can only nominate a player by emailing here, including the word 'Scout' in your subject line and please check to make sure we have not already covered the player, you can see over 100 previous reports to the right of the page.
Should your player get reviewed by our scout, and you were first to send in his name, then you will win a copy of Football Manager 2012, which is released in October.
You can also now interact with the scout via his all new Twitter feed! You can get in touch with him and interact here or just search for @skysportsscout!
Latest under our scout's gaze is Olympiakos starlet Ioannis Fetfatzidis - recommended by Sky Sports reader Paul Palmer.
The scout reports...
Ioannis (also Giannis) Fetfatzidis is currently considered one of Greek football's big hopes and is already being labelled as Greece's 'Lionel Messi' due to his stature and style of play.
The 20-year-old is already one of Olympiakos' most important attackers and, despite his age, is also part of the senior Greece squad with a dozen international appearances to his name already.
Fetfatzidis, known as 'Fetfa', starting playing football at the age of just six under the guidance of his father who had been a professional in the Greek lower leagues.
Fetfa soon progressed at a rapid pace and before his 13th birthday Greece's elite clubs - Olympiakos, AEK Athens and Panathinaikos - all made moves to try and sign him.
But it was Olympiakos who won the race and persuaded him to join their youth set-up. During his early days, and in a remarkable similarity with Messi at Barca, underwent treatment for a growth hormone deficiency.
Fetfa progressed well and at 19 was handed his league debut for Olympiakos and just 12 months on he was making his debut for Greece, which came just after his call-up to the Greek Under-21 set-up.
It is very easy to see why Fetfa would be dubbed the 'Greek Messi' - he is similar in size, is an attacker with an eye for goal and most of all he is a brilliant young footballer - although the player himself does not like to be referred to as this.
Fetfa is just 5ft 5in, which gives him a low centre of gravity which he can utilise to devastating effect. Predominantly left-footed, he can play anywhere across midfield or the front-line, both able to create and finish with great aplomb, although many feel his finishing is the weakest part of his game.
It is little surprise that Europe's elite are already dispatching scouts to Piraeus to watch Fetfatzidis on a regular basis.
His best position needs to be defined, he loves coming in off the left flank or playing just behind the striker - but with his pace and running with the ball, coming from wide positions looks to be the best option.
The scout says...
A great young attacking prospect, who Olympiakos know will not be easy to hang onto in the long-term.
Barring injury he will be involved with Greece at the Euro 2012 finals and could be one of the ones to watch, while a good showing in Poland and Ukraine could signal a move to pastures new.
The Scout rating...
Shooting: 7 out of 10
Passing: 8 out of 10
Tackling: 6 out of 10
Heading: 4 out of 10
Pace: 9 out of 10
Vision: 9 out of 10
Current ability: 7 out of 10
Potential ability: 10 out of 10
OVERALL SCOUT RATING: 60/80
Current value: £4million
Potential value: £20million
Your opinion...
You have read our opinion of Fetfatzidis - now we want your views. Have you seen Fetfatzidis in action? Do you agree with our assessment? Do you think he will make it?
Get in touch, either using the form below, email or the scout's Twitter feed - @skysportsscout
And if you have spotted anyone you think we should feature then please get in touch using the same form. We will look to send out the Scout to follow up your leads.