Sky Sports Scout - Mattia Destro
Sky Sports Scout is where we scour the globe looking for the best talent, next up is Mattia Destro.
By Sky Sports Scout - Tweet me: @skysportscout
Last Updated: 21/05/14 11:09am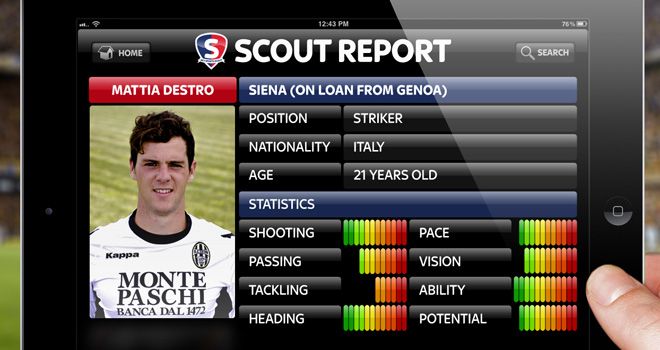 Sky Sports Scout is our exciting feature where we scour the globe looking out for the best talent and bring you a report on what we find.
Our Scout will report back and you can comment on what you think of our appraisal.
Also, in association with Football Manager, we give all readers the chance to win a copy of the latest game by nominating a player.
You can only nominate a player by emailing here, including the word 'Scout' in your subject line and please check to make sure we have not already covered the player.
Should your player get reviewed by our scout, and you were first to send in his name, then you will win a copy of Football Manager 2012.
You can also now interact with the scout via his all new Twitter feed! You can get in touch with him and interact here or just search for @skysportsscout!
Latest under our scout's gaze is Italian Mattia Destro - recommended by Sky Sports reader Mark Hewson.
The scout reports...
We check on Italian prospect Mattia Destro who is emerging as one of the top young striking talents in Serie A.
Having began his career with Ascoli, Destro always looked destined for a career in football with his father Flavio a former player and coach.
He worked under his father during a brief time before he was spotted and snapped up by Inter Milan.
Destro progressed nicely through Inter's youth system and finished as top scorer for their Primavera side, which led to call-ups at every age level with Italy through to the Under-21s.
By 2008 he was named as one of Inter's Under-21 players in their Champions League squad and in 2010 was an unused sub.
Then in a shock move in 2010, he was sold to Genoa as part of the deal which took Andrea Ranocchia to the San Siro.
The deal was initially for Destro to join on loan with a view to a permanent deal in 2011. Two goals followed and the deal became permanent the following January in a deal worth around £4million.
But last summer, he was again on the move as he loaned out to Serie A newcomers Siena.
Siena have performed well, and Destro has more than played his part with eight goals to his name.
Destro's displays have been to of such a level, that his former club Inter and Juventus are understood to be thinking over a summer move for him.
New Inter coach Andrea Stramaccioni has also declared his admiration for Desto - who is emerging as one of Italy's brightest prospects.
A technically gifted front-man, it is clear to see why Desto is turning heads.
Reminiscent in many ways to AC Milan legend Filippo Inzaghi, Desto has two good feet, and is pretty quick.
But Desto, at the end of the day, is a quality finisher, as he is now proving at the top level.
The scout says...
He has really grabbed his Serie A chance with both hands at Siena, and he looks a class act.
It would be no surprise to see him return to the San Siro this summer.
The Scout rating...
Shooting: 8 out of 10
Passing: 7 out of 10
Tackling: 5 out of 10
Heading: 8 out of 10
Pace: 7 out of 10
Vision: 7 out of 10
Current ability: 7 out of 10
Potential ability: 10 out of 10
OVERALL SCOUT RATING: 58/80
Current value: £12million
Potential value: £30million
Your opinion...
You have read our opinion of Mattia Destro - now we want your views. Have you seen Destro in action? Do you agree with our assessment? Do you think he will make it?
Get in touch, either using the form below, email or the scout's Twitter feed - @skysportsscout
And if you have spotted anyone you think we should feature then please get in touch using the same form. We will look to send out the Scout to follow up your leads.