Sky Sports Scout - Hector Herrera
Sky Sports Scout is where we scour the globe looking for the best talent, next up is Hector Herrera.
By Sky Sports Scout - Tweet me: @skysportscout
Last Updated: 21/05/14 11:22am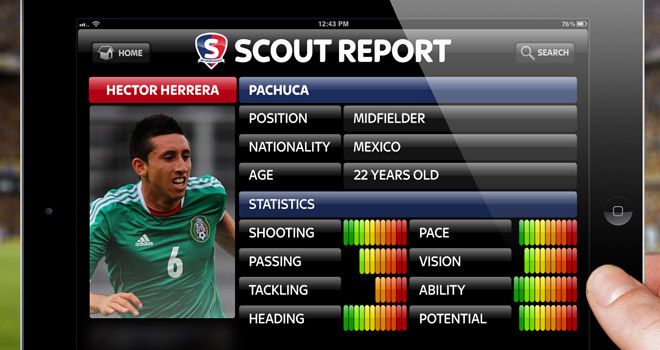 Sky Sports Scout is our exciting feature where we scour the globe looking out for the best talent and bring you a report on what we find.
Our Scout will report back and you can comment on what you think of our appraisal.
Also, in association with Football Manager, we give all readers the chance to win a copy of the latest game by nominating a player.
You can only nominate a player by emailing here, including the word 'Scout' in your subject line and please check to make sure we have not already covered the player.
Should your player get reviewed by our scout, and you were first to send in his name, then you will win a copy of Football Manager 2012.
You can also now interact with the scout via his all new Twitter feed! You can get in touch with him and interact here or just search for @skysportsscout!
Latest under our scout's gaze is Pachuca starlet Hector Herrera - recommended by Sky Sports reader Steve Finley.
The scout reports...
Mexican midfielder Hector Herrera had an excellent Olympic tournament and is now being strongly linked with a move to England, we check him out.
Born just south of the American-Mexican border, Herrera was spotted early on by scouts for Pachuca - who took him into their youth set-up.
He progressed well, but all his formative years were spent playing on loan at a number of their affiliated clubs.
He performed for Cuautla, Titanes Tulancingo and Jaiba Brava before eventually returning to top-flight Pachuca.
Indeed Herrera was not even brought into Pachuca's first-team squad until last year and his debut came just over 12 months ago.
But Herrera soon settled in well and was quickly a first-team regular and he was awarded the Golden Ball in his homeland for the best 'rookie' in the league.
His performances saw him called into Mexico's youth set-up and he was named in their Olympic squad where he again became an integral figure.
Before playing in London, Herrera was already attracting interest from a number of foreign sides - with Liverpool said to be at the head of the queue.
Manchester United are also now on his trail as they are eager to land the dynamic young midfielder.
Herrera is a combative, all-action midfielder - box to box, who is not afraid to put his foot in - although probably not his finest asset. He is a good all-rounder, with skill and who can pass.
The scout says...
It is little surprise that after a very good Olympic tournament he is attracting huge attention - and a move to England looks a real possibility.
Should he get a move before the deadline, it would cap a remarkable 12 months for Herrera.
The Scout rating...
Shooting: 7 out of 10
Passing: 7 out of 10
Tackling: 7 out of 10
Heading: 7 out of 10
Pace: 7 out of 10
Vision: 7 out of 10
Current ability: 7 out of 10
Potential ability: 10 out of 10
OVERALL SCOUT RATING:59/80
Current value: £8million
Potential value: £20million
Your opinion...
You have read our opinion of Hector Herrera - now we want your views. Have you seen Herrera in action? Do you agree with our assessment? Do you think he will make it?
Get in touch, either using the form below, email or the scout's Twitter feed - @skysportsscout
And if you have spotted anyone you think we should feature then please get in touch using the same form. We will look to send out the Scout to follow up your leads.