Sky Sports Scout - Jurgen Locadia
Sky Sports Scout is where we scour the globe looking for the best talent. Next up is Jurgen Locadia.
By Sky Sports Scout - Tweet me: @skysportscout
Last Updated: 21/05/14 11:41am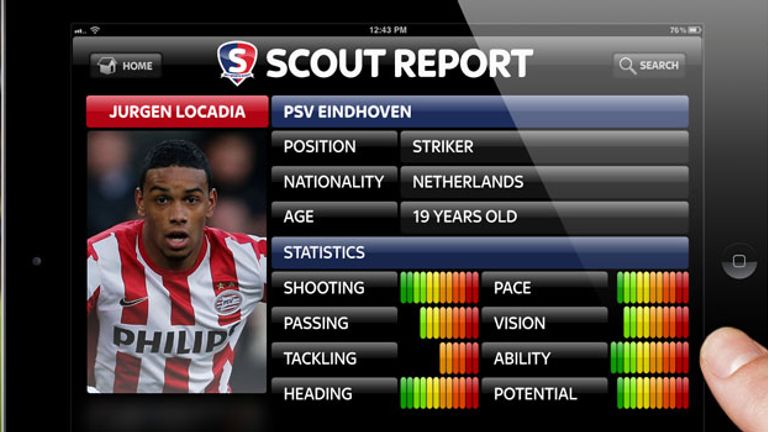 Sky Sports Scout is our exciting feature where we scour the globe looking out for the best talent and bring you a report on what we find.
Our Scout will report back and you can comment on what you think of our appraisal.
Also, in association with Football Manager, we give all readers the chance to win a copy of the latest game by nominating a player.
You can only nominate a player by emailing here, including the word 'Scout' in your subject line and please check to make sure we have not already covered the player.
Should your player get reviewed by our scout, and you were first to send in his name, then you will win a copy of Football Manager 2013.
You can also now interact with the scout via his all new Twitter feed! You can get in touch with him and interact here or just search for @skysportsscout!
Latest under our scout's gaze is PSV's Jurgen Locadia
The scout reports...
We are back in Holland this week, and we are checking on one of the most exciting talents we have seen in recent times - PSV Eindhoven's young striker Jurgen Locadia.
Locadia has hit the headlines in recent months and already has two hat-tricks to his name, despite playing less than a dozen first-team games.
Locadia, whose family hail from Curacao, was born in Emmen and began playing football at an early age - joining his first club VV Bargeres at the age of five.
He was spotted by local side FC Emmen and progressed through their ranks, enjoying a call-up to the Dutch Under-15 side. From there he was scouted by Willem II - who agreed a deal which saw him and his whole family move to Tilburg.
After just 12 months with Willem II, the big boys came calling and PSV Eindhoven snapped him up at the age of 16.
His progress continued, and just before his 18th birthday he was handed his debut off the bench in a cup game with VVSB and he scored in their 8-0 triumph. He made his first start for the club in the following round.
When he did turn 18, he was handed his first professional contract and by the start of this season he was promoted to the first-team squad by Dick Advocaat.
On September 30th, just over 12 months after his debut for the club, he made his first league appearance, coming on as a substitute against VVV Venlo with just 22 minutes left. But that was still enough time for him to claim a hat-trick, the first time such a feat had been achieved on debut in Holland since Harald Berg did it for Den Haag in 1969.
A week after his hat-trick debut, PSV tied him down to a new five-year deal.
Locadia's involvement has continued, although mainly from the bench. In February he started the Dutch Cup semi-final with Zwolle, and remarkably he claimed the match ball with another treble.
Unsurprisingly, Locadia is now attracting a great deal of attention and it is easy to see why. The 6ft 3in striker looks to have everything in his locker to take him to the top of the game.
Similar in stature to somebody like Patrick Kluivert - it would be very easy to make comparisons between Locadia and the Dutch striking legend.
Perhaps slightly quicker than Kluivert, it is clear Locadia's main attribute is his eye for goal - he is happiest in the box. But he is anything but a goal poacher. Two good feet, he is capable of holding the ball up and he is also a real danger when playing off the last defender. All in all he is a top, top prospect.
The scout says...
Locadia is a genuine talent, and his stock is only going to rise in the coming years - but that will surely see him continue at PSV for the foreseeable future.
He has already stated his love for England, with Chelsea his favourite club, but there is unlikely to be a club in Europe that does not already know about Locadia and have an active interest.
The Scout rating...
Shooting: 8 out of 10
Passing: 7 out of 10
Tackling: 6 out of 10
Heading: 8 out of 10
Pace: 8 out of 10
Vision: 7 out of 10
Current ability: 7 out of 10
Potential ability: 10 out of 10
OVERALL SCOUT RATING:61/80
Current value: £8million
Potential value: £60million
Your opinion...
You have read our opinion of Jurgen Locadia - now we want your views. Have you seen Locadia in action? Do you agree with our assessment? Do you think he will make it?
Get in touch, either using the form below, email or the scout's Twitter feed - @skysportsscout
And if you have spotted anyone you think we should feature then please get in touch using the same form. We will look to send out the Scout to follow up your leads.