Sky Sports Scout - Philipp Hosiner
Sky Sports Scout is where we scour the globe looking for the best talent. Next up is Philipp Hosiner.
By Sky Sports Scout - Tweet me: @skysportscout
Last Updated: 21/05/14 12:08pm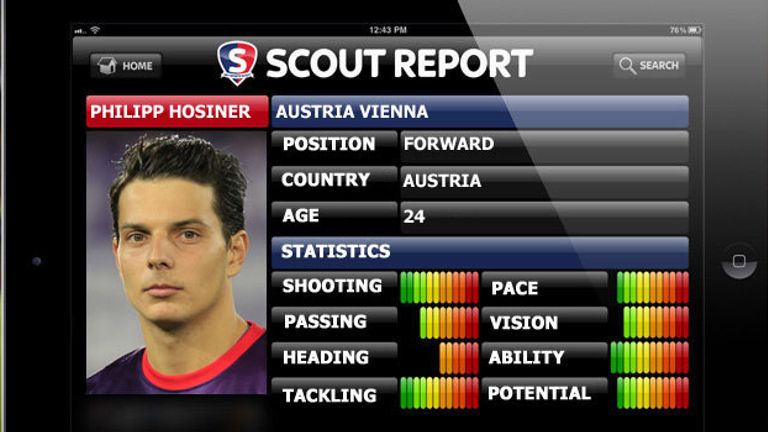 Our scout will report back and you can comment on what you think of their appraisal.
You can only nominate a player by emailing here, including the word 'Scout' in your subject line, and please check to make sure we have not already covered the player.
You can also now interact with the scout via his Twitter feed! You can get in touch with him and interact here or just search for @skysportsscout.
The latest player to be spotlighted is Austria Vienna's Philipp Hosiner.
The scout reports...
Austrian star Philipp Hosiner is on the radar of a number of clubs from England and across Europe after finishing as one of the continent's top scorers last season.
Hosiner bagged 27 goals for Austria Vienna, firing them into the Champions League, but also bringing him firmly to the attention of a number of teams.
We take a close look at the 24-year-old, who could be on the move come January.
He began playing as a junior with local side SC Eisenstadt, before also enjoying stints with SV St. Margarethen and AKA Burgenland.
Whilst at Burgenland he was spotted by German side 1860 Munich in 2006 and he moved across the border for his first foreign adventure. At this time he was also called up to Austria's Under-17 squad for the first time.
After two years in Munich, he was given his debut in their reserve side and he enjoyed a solid first campaign with 12 goals.
In 2009 he was signed by German third division side Sandhausen, but he started just five games and soon headed back home to Austria where he signed for First Vienna and he bagged 13 goals, helping them to promotion to the top flight.
He did not get the chance to help First in the Bundesliga as Admira Wacker snapped him up. His goalscoring exploits continued which prompted his first call-up to the Austrian senior squad and he made his debut in Azerbaijan.
Again, double figures followed for Admira, but he was once more on the move - this time as domestic giants Austria Vienna came calling and handed him a three-year deal.
Hosiner delivered again and it was a stunning campaign in his first season with Vienna as he scored 27 goals in just 28 starts for the club.
Hosiner's rise in the last three years has been stunning, but as his goal record shows he is hardly a flash in the pan.
Hosiner is at home firmly in the box, although he is capable of playing across the front three, but he would rather be on the end of a cross than delivering it.
Standing at just under 6ft, Hosiner is not small and is more than decent in the air, yet it is his power that catches the eye - if he wants to get on the end of something, he is very hard to stop.
His finishing is also top notch, right-footed he takes his chances very early, almost Gerd Muller-esque in that he is not one of the strikers looking to hold it up and bring in the rest of the team. This guy is a finisher, and a tremendous one at that.
A £6million move to German side Hoffenheim fell through in the summer, but many expect him to move in January.
The scout says...
The only thing that has gone against Hosiner is the fact he has done all his work, barring his international goals, in Austria, which is not a well-known testing ground for Premier League clubs.
Everton are just one of the clubs who could very well be tempted by him in January, although there is strong interest to take him back to Germany.
The Scout rating...
Shooting: 8 out of 10
Passing: 7 out of 10
Tackling: 5 out of 10
Heading: 7 out of 10
Pace: 8 out of 10
Vision: 7 out of 10
Current ability: 7 out of 10
Potential ability: 10 out of 10
OVERALL SCOUT RATING:59/80
Current value: £6million
Potential value: £20million
Your opinion...
You have read our opinion of Philipp Hosiner - now we want your views. Have you seen Hosiner in action? Do you agree with our assessment? Do you think he will make it?
Get in touch, either using the form below, email or the scout's Twitter feed - @skysportsscout.
Would Philipp Hosiner make your team? Pick your Sky Sports Fantasy Football team for the chance to win over £100k in prizes. Play for free here.