Sky Sports Scout - Alessandro Florenzi
Sky Sports Scout is where we scour the globe looking for the best talent. Next up is Alessandro Florenzi.
By Sky Sports Scout - Tweet me: @skysportscout
Last Updated: 21/05/14 12:10pm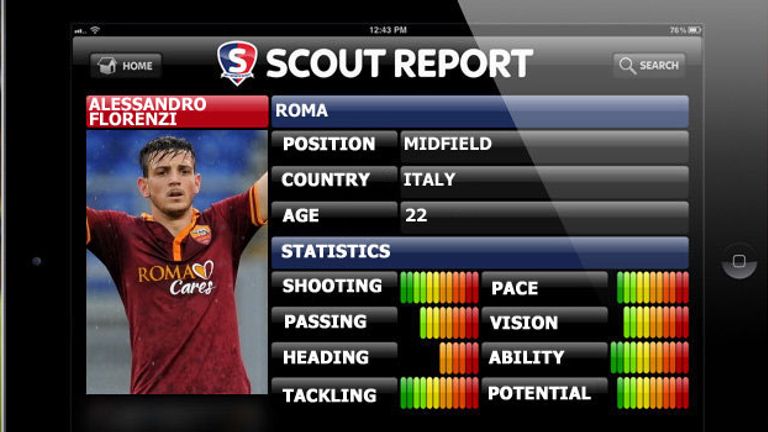 Our scout will report back and you can comment on what you think of their appraisal.
You can only nominate a player by emailing here, including the word 'Scout' in your subject line, and please check to make sure we have not already covered the player.
You can also now interact with the scout via his Twitter feed! You can get in touch with him and interact here or just search for @skysportsscout.
The latest player to be spotlighted is Roma midfield star Alessandro Florenzi.
The scout reports...
Next up is one of the main men behind Roma's great form this season but one who has been over-looked by many, and that is Alessandro Florenzi.
With the likes of Francesco Totti, Daniele De Rossi and Miralem Pjanic capturing many of the headlines - the work of Florenzi has perhaps gone unnoticed by some.
Florenzi was born a Roma fan - born and raised in the i Giallorossi part of the city, ever since he could pick up a ball the youngster has aimed to play for Roma.
Florenzi was picked up early by Roma and progressed through the ranks as a talented central midfielder.
He made his debut in 2011 for the senior side, before he was sent on loan to Serie B side Crotone - where he really excelled with 11 goals from midfield.
His form prompted Crotone to take up their option to buy half of his registration for 250,000 euros. Just two weeks later, Roma returned to buy back his half, paying Crotone an extra 1million euros on top of their original fee.
Already an Italian Under-21 international, the summer of 2012 saw Florenzi promoted to Roma's first team at which point Zdenek Zeman unleashed him on Serie A.
But it was under Aurelio Andreazzoli that Florenzi really matured in a three-man midfield.
Florenzi was soon noticed by national coach Cesare Prandelli and he gave him his debut against France in November 2012.
Now under his third coach in a little over a year, Florenzi is again maturing under Rudi Garcia's tutelage and his technical abilities are being allowed to flourish.
Florenzi is a brilliant midfielder - of that there is little doubt. Genuinely capable of playing anywhere across the middle, he perhaps has looked best out wide and coming inside - using his football brain to its maximum.
Four goals in 12 games so far for Roma highlight, though, just what a danger he is in the final third. He can read the game so well and break into the box, causing a constant menace.
The scout says...
Roma have a real little superstar on their hands, and they know it - and he could follow in the footsteps of De Rossi and Totti by staying put for much of his career.
Looks highly likely to go to Brazil with Italy, where he could be given a real platform to impress.
The Scout rating...
Shooting: 7 out of 10
Passing: 8 out of 10
Tackling: 6 out of 10
Heading: 6 out of 10
Pace: 8 out of 10
Vision: 8 out of 10
Current ability: 7 out of 10
Potential ability: 10 out of 10
OVERALL SCOUT RATING:60/80
Current value: £20million
Potential value: £40million
Your opinion...
You have read our opinion of Alessandro Florenzi - now we want your views. Have you seen Florenzi in action? Do you agree with our assessment? Do you think he will make it?
Get in touch, either using the form below, email or the scout's Twitter feed - @skysportsscout.
Would Moreno make your team? Pick your Sky Sports Fantasy Football team for the chance to win over £100k in prizes. Play for free here.