Paul Merson's predictions: West Brom v Arsenal and Crystal Palace v Man City
Last Updated: 31/12/17 7:48am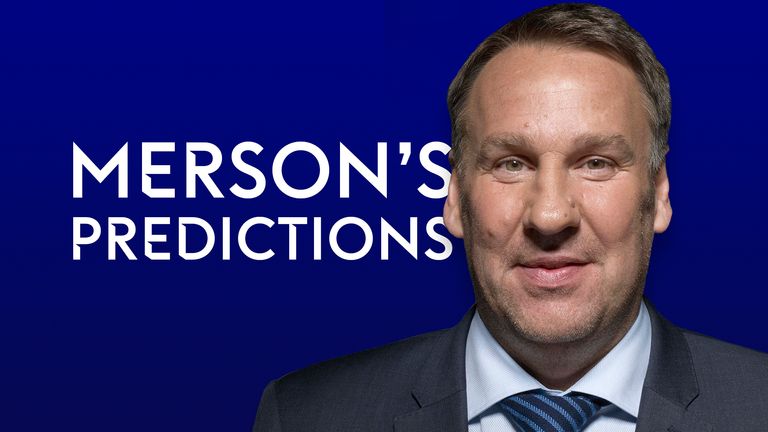 Paul Merson's final set of Premier League predictions for 2017 concludes with West Brom v Arsenal and Crystal Palace v Man City.
Merse was on solid form in the days after Christmas, earning five correct results and a perfect score, predicting Arsenal would beat Crystal Palace 3-2 at rewarding odds of 20/1.
Here's what he's tipping this time out...
West Brom v Arsenal (Super Sunday, live on Sky Sports Premier League from 4pm)
This is a massive game for West Brom. I keep reading that West Brom are unlucky in recent weeks, but they can't carry on like this. They have had more shots on goal since Alan Pardew arrived, but they really don't have many players to put the ball in the back of the net.
I'm worried for West Brom. I don't see them beating Arsenal. I do see improvements under Pardew, he's playing the ball forward more, but they haven't got a goalscorer! Rondon holds the ball up well, but can he put the ball in the net? You need a player who will score once from two chances.
PAUL PREDICTS: 1-3 (12/1 with Sky Bet)
I think Palace could definitely score, but Man City will definitely get more. It's as simple as that.
As strange as it sounds, Palace are the type of side who could hurt Man City, but there's no way, in a month of Sundays, they will keep City quiet at the other end.
If Zaha and Benteke turn up, playing at their best, you wouldn't be surprised if Palace actually score twice. But I can't see them keeping City at bay. I know City only beat Newcastle 1-0, but it could have been much more.
PAUL PREDICTS: 1-5 (25/1 with Sky Bet)
Merson's earlier predictions...
How can Bournemouth score three goals at home against West Ham and not win?
You can put Everton down for zero. It's whether they can stop Bournemouth scoring. It's a big, big game for Bournemouth, and I think they'll just edge it.
The way Bournemouth play, and how open they are, I can't see them not scoring.
PAUL PREDICTS: 1-0
I can't see anything but a Chelsea win, and I think it'll be quite comfortable. Chelsea at home are strong, especially against the lesser teams.
I do think Stoke will be safe, but against the big teams, like Chelsea away, I don't see them getting too much. I think some teams now have to start picking their games. We're at that stage of the season where over Christmas you need to weigh it up. You can't play your best team in all three games.
PAUL PREDICTS: 3-0
I thought Mourinho saying Burnley had 1.5 shots was unfair. They scored two goals at Old Trafford, they didn't sit 100 players behind the ball and the goalkeeper wasn't man of the match! Sean Dyche took off a midfielder and put on a centre-forward when they were 2-1 up! They keep surprising me.
This is a difficult game to predict, I really thought Huddersfield would beat Stoke when they went 2-1 up. I do think they'll just steal this one.
PAUL PREDICTS: 2-1
I'm unsure of Leicester again. They went 1-0 up against Watford, who couldn't win for toffee, and then end up getting beat! The way Liverpool are playing, I really don't think the Leicester defence are going to live with them.
I must say, £75m is a lot of money for Virgil van Dijk, but they'll be getting a lot of money for Philippe Coutinho if he goes too. I do like Van Dijk, and they need someone like him. I guess that's how much centre-halves are now, it just shows you how many kids want to play centre-forward these days. As Mourinho said, full-backs are mega-expensive now too.
PAUL PREDICTS: 4-1
Brighton have rested a couple of key players over Christmas, which I don't have a problem with. They've picked their games, which you have to do.
But I think Newcastle's home advantage will tell here. They were negative against City for 60 minutes but it will be completely and utterly different on Saturday. They didn't need the Man City game, and could have done with playing Brighton first!
Will Brighton stay up? I think they need to score a few more goals at home, I have seen them at home the last couple weeks and could have easily been out of sight in both of their games [against Burnley and Watford], but finished with four points.
PAUL PREDICTS: 2-1
I nearly fell off my chair when I heard Carlos Carvalhal had got the Swansea job. If someone had said to me: "Swansea have a new manager, you have 700 guesses as to who," I wouldn't have said Carlos Carvalhal.
How do you get sacked for failing at one of the biggest clubs in the Championship, and then get a Premier League job five days later?
They're giving him six months. I think they're down, relegated, and I think Watford could stroll this.
PAUL PREDICTS: 3-0
Southampton were atrocious at Spurs, and Man Utd weren't great either against Burnley. Man Utd should be blowing teams away, and I still think it will happen at some point.
Saints are all over the place, and I didn't see too many of their players playing for Mauricio Pellegrino at Wembley, which is very worrying. There are ways of losing football matches, and the way they lost against Spurs was not good at all. I'd be worried coming into this game. If they are battered again, I think Pellegrino could go.
For Man Utd, I cannot remember in 90 minutes Romelu Lukaku having a chance against Burnley, and that's with the vast majority of the ball and being in Burnley's half for the entire second period. I think that's a problem with both Lukaku and the creativity of the side. But if they can't blow these away, there will be some unrest at Old Trafford.
PAUL PREDICTS: 4-0