Paul Merson's Premier League predictions - Week 16
Soccer Saturday pundit sees positive results for Tottenham, Man City and Chelsea this weekend
Last Updated: 13/12/13 12:37pm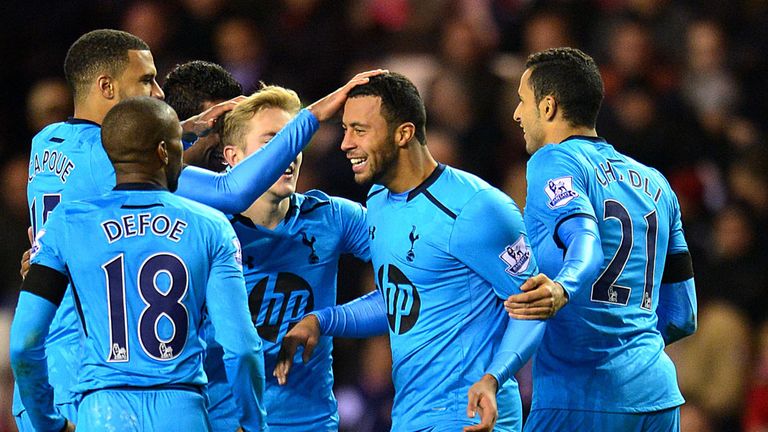 I quite like Hull at home, they've only lost once there this season and they're pretty decent.
Stoke had a great result last weekend against Chelsea winning 3-2 but I couldn't believe they scored three goals past them!
I think Hull have to win this but the issues surrounding the changing of their name means there is going to be a lot of negativity around the place.
The fans will be more onto that than getting behind the team. Still, I'm going on that home form.
PAUL PREDICTS: 1-0
Aston Villa v Man United (12.30pm, Sun, Sky Sports 1)
I've been disappointed with Man United this season. I think they've been poor. This is a massive game for them.
For me they're out of the Premier League title race I just think they've got to make sure they get in the top four. People might say it's a bit early but I can't see them winning five or six games on the trot with the team they've got.
Villa at home are not the best team to be fair and they were terrible last week against Fulham when they lost 2-0.
I never go for Villa at home but I think Man United will really go at them and Villa can play them on the counter attack. I think Wayne Rooney will end up being the difference here.
PAUL PREDICTS: 0-2
Tottenham v Liverpool (3.30pm, Sun, Sky Sports 1)
Spurs have had a few issues with their strikers but Roberto Soldado scored a hat-trick in the Europa League this week and that will give him a bit of confidence. I don't think he's a bad player, I just think he's taken time to settle in.
This is a huge game. Tottenham had a great result against Sunderland last weekend winning 2-1 after going one down - I thought that was a big result.
Liverpool haven't got Steven Gerrard or Daniel Sturridge available and I just don't know who is going to give Suarez the ball.
I like Philippe Coutinho but if those two are playing up the pitch I just can't see who is going to be able to give them ball through the defensive midfield and I think Tottenham are going to win this.
PAUL PREDICTS: 2-1
Man City v Arsenal
I think it's a big ask for Arsenal to win this game. Man City got a great result midweek against Bayern Munich and were able to rest all their big players like Sergio Aguero, Samir Nasri and Alvaro Negredo - who only played for a short time.
Arsenal, though, had a tough game against Everton, and had to travel to Napoli and back - this is a bad fixture for the Gunners. They've had no rest time and a lot of travelling. They wouldn't have got back until early Thursday morning and then they've got to fly up to Manchester on Friday so they're not getting much time to do anything.
I think Man City are brilliant at home and I'm going to have to tip them to win. I was at the game at the Emirates against Everton last weekend, Steven Pienaar and Ross Barkley got so much space and I just think if people like Nasri, David Silva and Aguero drop off and get that much space they're another level.
I just don't see how Arsenal can cope with them and it will be a game too far for them if it opens up.
PAUL PREDICTS: 3-0
Cardiff v West Brom
I don't know what's happened at West Brom. They played well at Chelsea and should have won, they well beat Villa and they drew and then they ended up getting beaten 2-0 by Norwich at home last weekend.
I watched it for Soccer Saturday and they weren't great and it has put them right back in the relegation race instead of middle of the table and if they'd have won that game they'd have moved up to 12th.
It's a big game for Cardiff, too. They need to win their home games because I don't see them getting much joy away from home especially after losing 2-0 at Crystal Palace last weekend. But I'll go for a draw because I don't think West Brom are as bad as where they are in the league and I think they're a decent team.
PAUL PREDICTS: 1-1
Chelsea v Crystal Palace
Palace have turned the corner like you can't catch your breath and they've let in one goal in five games. The players there have done great job and Marouane Chamakh is looking like the player he was when he first moved to Arsenal - and I thought he was decent when he arrived there. Barry Bannan is also on fire; he's got a great left foot and Cameron Jerome gives them energy.
Chelsea are struggling and I don't know what's happened. I don't think Jose Mourinho is comfortable with playing in this attacking way, he'd rather win 1-0 then these 4-3 and 3-2. I think he's been told to entertain and I don't think coaching wise he's comfortable doing that. I say they should win but they should have wiped the floor with Steaua Bucharest and it was a poor game.
PAUL PREDICTS: 2-0
Everton v Fulham
I thought Everton were brilliant last weekend at the Emirates but then Fulham beat Villa quite easily and Dimitar Berbatov was on fire. I think this is a game where Everton might struggle.
Games where the fans expect them to win - because Fulham are third from bottom - is where I think they might struggle. It's going to be a hard game. I think Fulham are going to sit back and they have got that bit of class and guile with Berbatov and if he plays well they've got a chance.
For Everton, Phil Jagielka and Sylvain Distin have been really good and might be key to them getting the result because I don't think this is going to be as easy for Everton as everyone will say it should be.
PAUL PREDICTS: 2-0
Newcastle v Southampton
This will be a good game, even though Southampton have hit a bit of a brick wall. They were beaten by Arsenal, Chelsea turned them over quite easily, and then they let in three against Aston Villa in last week.
I think Newcastle have properly turned the corner and what a part Alan Pardew has done there and to then go to Man United and win. I still think it will be hard game for them and I don't think Southampton are as bad as what their form shows. They easily deserved that 1-1 against Man City at home.
The Newcastle fans might turn up at this game and think 'Southampton have hit a brick wall and we're going to turn them over', but I don't think that will be the case. Hopefully it will be a really good game and I'm going to go Desmond here.
PAUL PREDICTS: 2-2
West Ham v Sunderland
West Ham are struggling. They've got no Andy Carroll or Kevin Nolan and if you take away the Fulham result they haven't really looked like winning any games.
Sunderland need to get winning quickly, losing their last two games - I know it was against Chelsea and Tottenham - but I still think losing both at home makes this another must win game.
If they lose this, West Ham go eight points ahead of them which means they need to win three games to catch up and I think that would be too much. I know it's only early but they've only won two in 15.
I think if they lose they're not far from bring relegated. I'm not being horrible but Sunderland need to keep West Ham down there in that scrap.
PAUL PREDICTS: 1-1
Norwich v Swansea
I watched Norwich last week and I didn't expect them to beat West Brom and I'm going to go for them to win this one as well.
I thought they would be in a relegation battle this season but they've really impressed me and have good home form.
Swansea haven't really impressed me this season.
They weren't great on Monday Night Football against Hull and then on Thursday they went to Switzerland and lost and that's a lot of travelling as well.
PAUL PREDICTS: 2-1 (But they have to play well)
Think you know better than Merse? Prove it with our Super 6 game and win £250,000