Paul Merson's Premier League predictions - Week 22
Merse expects wins for Chelsea, Liverpool, Everton, Arsenal and Man City
Last Updated: 17/01/14 7:30am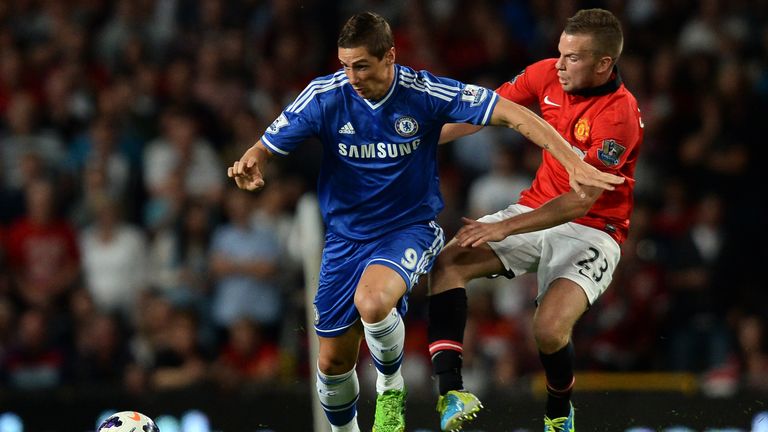 I'm not sure about the appointment of Pepe Mel. I just think it's a bad move by West Brom. He can't speak the language very well, he's just left a team that's rock bottom of La Liga and he's joining a team in a relegation scrap. It looks like Shane Long is off and he was their go-to centre-forward; he might not score a million goals, but he works his socks off. Nicolas Anelka was as good as I've seen in his younger days, but won't work his socks off now, and Saido Berahino is a good player, but is only 20 years old and you can't rely on him. I worry badly for them and I hope they don't start bringing in strikers from Spain who don't know the league. This will be a good game because Everton will need a result to stay with the top four and I think they will get it.
PAUL PREDICTS: 1-2
Chelsea v Man Utd (3.30pm, Sun, Sky Sports 1 & Sky 3D)
I don't see anything but a home win here. Manchester United are not the Manchester United of old and they've got injuries; Robin van Persie and Wayne Rooney are both likely to miss this game and that's massive. I know Rooney might make it, but without him I don't know how they can get a result. Even their fans will be going there thinking they've got little chance, which is extraordinary really. They are not good enough. If Van Persie and Rooney don't play then which Man United player would get in the Chelsea team? Not one of them. Adnan Januzaj has been really good for them, but he probably wouldn't get in Chelsea's squad, let alone the team. If Van Persie and Rooney are injured then I don't think Jose Mourinho would take any of them. Chelsea are just starting to get going and are getting back to the Mourinho way. Winning 4-3 at Sunderland or losing 3-2 at Stoke is not his way. He likes it tight at the back, he likes his teams to be hard to beat and they have started winning games 2-0 and 1-0 again. Chelsea look like a real danger in this title race now.
PAUL PREDICTS: 3-1
Swansea v Tottenham (12.30pm, Sun, Sky Sports 1)
Swansea have been on a poor run, but I don't think they're a bad team and I think they've got enough to finish in mid-table. Yes, they got beat at Man United last week but they have had injuries and I think they will bounce back in this game and I actually think it will be a very entertaining game. Tottenham have got to go for it because Arsenal and Man City will surely have won by the time this game kicks off. They were lucky to beat Crystal Palace last week, but fair play to them for keeping going after a poor first half and they should have goals in them again here.
PAUL PREDICTS:2-2
Liverpool v Aston Villa (5pm, Sat, Sky Sports 1)
Villa showed signs of promise in the last 15 minutes against Arsenal, but they were 2-0 down and had nothing to lose. It's much easier to play then. They won 3-1 at Anfield last season, but they are under a bit more pressure this year and I don't know how they can live with Luis Suarez. We saw against Stoke just how good Liverpool are and I can't see anything but a home win.
PAUL PREDICTS: 3-0
Arsenal v Fulham
Arsenal have not been playing well in the last couple of weeks and they need to be careful. I know they have been winning, but they haven't been playing big teams and I think they need to improve. They probably won't need to play better to beat Fulham, but if they play like they did at Villa when they go to Bayern Munich then it will be a cricket score. They have some big games coming up and need to get better, but I see them winning this and it's another game gone by with them still top of the league. I expect them to do a job before Chelsea play Man United.
PAUL PREDICTS: 4-0
Crystal Palace v Stoke
What a big game this is for Tony Pulis. It's against his former club and it's a game they really need to win. They were bang unlucky in the first-half against Tottenham when they could have been 4-0 up and missed the worst penalty in the history of the Premier League (but Jason Puncheon didn't mean it and needs to forget it). I know Stoke scored three last week, but they let in five and that's not the usual Stoke (and shows you how good Liverpool really are). I have a feeling Palace are going to win this.
PAUL PREDICTS: 2-1
Man City v Cardiff
Cardiff beat Manchester City at the start of the season, but I just don't see anything but usual service from Man City - and that's a 5-0 win. That seems to be the norm these days and is not being disrespectful to Cardiff. You have to say Cardiff had a shocking result at home to West Ham last week, absolutely shocking, and with games against the two Manchester clubs coming up they are going to be stuck in the bottom three for a while.
PAUL PREDICTS: 5-0
Norwich v Hull
Norwich need to win this, they absolutely have to win it. They had a shocking result in the FA Cup against Fulham and while you may say they can concentrate on the league, I don't understand why Chris Hughton didn't play all the kids in the first game instead of drawing and then losing the second game. It would be better to go gung ho and either win or lose than end up with a replay. Hull are very organised and I can't believe West Brom have let Shane Long join them, but I just have a funny feeling Norwich will win. I don't know why, but this is their cup final and they will be majorly in trouble if they lose.
PAUL PREDICTS: 2-0
West Ham v Newcastle
West Ham had a massive win last week, as big as it gets. How many times do you see Big Sam jumping up and down on the touchline? Not often. That shows how big it was. Newcastle were hard done by with a referee who had a nightmare last Sunday and he should probably be reffing my Sunday League game this weekend until he learns the rules of football again. I think Newcastle are a decent team when they get their best players on the pitch and I think they will go there and win.
PAUL PREDICTS: 1-2
Sunderland v Southampton
Southampton have been in disarray this week. The manager has said all the off-field issues won't affect them, but I think it will. Who would have predicted Sunderland's result at Fulham? That was a great result for them and they really need to win this one because otherwise last week becomes a waste of time. However, they've been really struggling for wins at home. Maybe Gus Poyet should tell them that this is a cup game and then they'll be okay! I'm going for a draw because Southampton are dangerous.
PAUL PREDICTS: 1-1
Think you know better than Merse? Prove it with our Super 6 game and win £250,000