Paul Merson's Premier League predictions - Week 25
Merse expects wins for Tottenham, Chelsea, Man City
Last Updated: 07/02/14 8:41am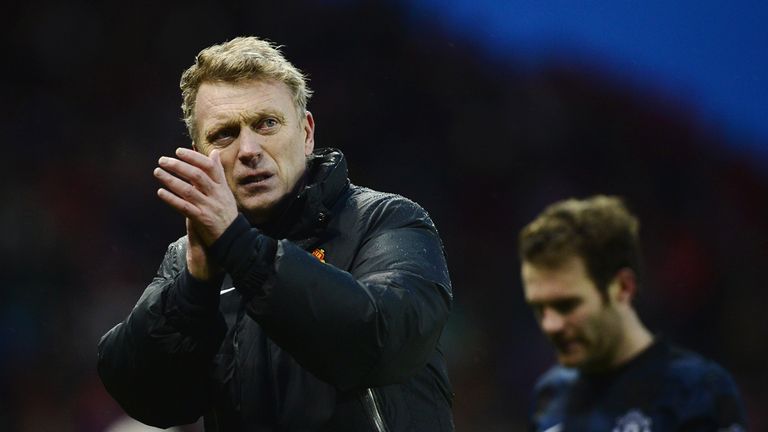 If you include the penalty-shoot-out against Sunderland at Old Trafford as a defeat then Man United have lost six of their last eight games. That's unbelievable. But they will win this one because Fulham look like a relegated team to me. I expect Fulham to lose this and then to lose to Liverpool in midweek and that'll be another two games gone so they need to sweat that the teams around them don't open a gap. Sooner or later, Man United will absolutely rip someone when they get their confidence going and I think they'll win easily. They won't be frightened of Fulham.
PAUL PREDICTS: 4-0
Tottenham v Everton (12.30pm, Sun, Sky Sports 1 & Sky 3D)
There's a long way to go in the race for fourth, but both of these teams are right in it. The most important thing for Everton after they were battered by Liverpool was to get back on the horse and win again - and thanks to that unbelievable Kevin Mirallas free-kick against Aston Villa they did. Tottenham rely on Emmanuel Adebayor to play well, but I'm going to pick them to win this at home. Romelu Lukaku is a big miss for Everton and I think Spurs will have too much. They struggled at times against Villa and Tottenham will punish them more than Villa did.
PAUL PREDICTS: 2-1
Swansea v Cardiff (5pm, Sat, Sky Sports 1)
I can't wait for this game, but don't understand the Michael Laudrup sacking. Three months ago I thought he was going to become the Tottenham manager, but Swansea told them to keep their hands off - and now all of a sudden they've sacked him. They need to smell the coffee. They've won the League Cup - the first thing they've won since I was born - and suddenly they think they should be a top-four team. Every team bar the current top seven should have one aim: to get to 40 points ASAP and then you go from there. This is a bad move by them in my opinion. I also can't believe they have put Garry Monk in charge, a lad who has never managed before and who was fighting with other players a few weeks ago. I think all this is a big advantage to Cardiff and I don't see Swansea winning this. Cardiff won last week and after all that's gone on I think this will be a draw - and to be fair, that won't be the worst result for Swansea.
PAUL PREDICTS: 1-1
Aston Villa v West Ham
West Ham had a big result against Swansea last week, while Aston Villa were unlucky to lose to Everton and had a great result in their last home game against West Brom. I fancy Villa to win on Saturday because of Andy Carroll's suspension. West Ham are a different team when he plays; Kevin Nolan is a good player, but he's 20 times better when Carroll is in the team. I thought Carroll swiped out at Chico Flores last week, but the Swansea lad won't be getting a Victoria Cross for his reaction. It was pathetic!
PAUL PREDICTS: 2-1
Chelsea v Newcastle
I thought Newcastle's season was picking up, but they had a shocking result against Sunderland, they've lost Yohan Cabaye and Cheick Tiote is out for a while. Chelsea will be flying after what they did at Manchester City on Monday night and I think this will be walk in the park for them. They were outstanding at the Etihad, as good as it gets, and Nemanja Matic looks top-drawer. He hardly gave Yaya Toure a kick.
PAUL PREDICTS: 3-0
Crystal Palace v West Brom
West Brom are struggling and are my dark horses to get sucked into relegation this year. It was a big result for them to get a draw with Liverpool, but they're still worryingly close to the bottom three (although you can say that about half the league). Crystal Palace played well against Arsenal and Cameron Jerome should have scored in that game, but they lost and now they are fourth bottom again. I like Crystal Palace at home because they're a hard-working team and they will have highlighted this as a must-win game. West Brom would take a draw but I think Palace will sneak it.
PAUL PREDICTS: 1-0
Norwich v Man City
Norwich dominated the last 20 minutes against Cardiff last week, but they lost the game and it was a shocking result for them. I can't see them living with Man City and I don't think you can say that Chelsea have showed other teams how to beat them after what happened on Monday. Remember, Chelsea have players like Eden Hazard and Willian and not many teams have defenders as good as John Terry and Gary Cahill. Monday night was a wake-up call against the big teams and they need to be a bit more cute in big games, but they can go out and say "you-have a-shot, we'll-have-a-shot" against Norwich and they'll win comfortably.
PAUL PREDICTS: 0-3
Southampton v Stoke
I think Southampton have picked up again. Three weeks ago they looked tired and jaded and were letting in too many goals, but I watched their game against Fulham last week and they were outstanding, just as they were against Arsenal. Stoke had a big result against Manchester United which kept them out of the bottom three, but I'm just going to lean towards the home side here because they are picking up their form.
PAUL PREDICTS: 2-0
Sunderland v Hull
Hull were on a bit of a slippery slope, but they stopped the rot by drawing with Tottenham last week and they have got a threat up front so I expect them to score a goal. However, Sunderland are flying and are the in-form team at the bottom. I think Gus Poyet is a top-drawer manager tactically and I think he's doing a very good job. A couple of weeks ago, Southampton outplayed them at the Stadium of Light but generally they have been playing well and I do think they will win this game.
PAUL PREDICTS: 2-1
Liverpool v Arsenal
This is a hard game for Arsenal and if they win it then I think you've got to start saying they're the favourites to win the Premier League. They have got some big fixtures coming up and this is the first of those. With Luis Suarez and Daniel Sturridge playing so well I think Arsenal would take a draw. Arsenal have not been playing well, but they've been winning and I think a draw would do them. It's also a big game for Liverpool after a bad result against West Brom and there's pressure on them as well.
PAUL PREDICTS: 1-1
Think you know better than Merse? Prove it with our Super 6 game and win £250,000