Paul Merson's Premier League predictions - Week 26
Merse expects a victory for Stoke and a draw between Newcastle and Spurs
Last Updated: 12/02/14 10:24pm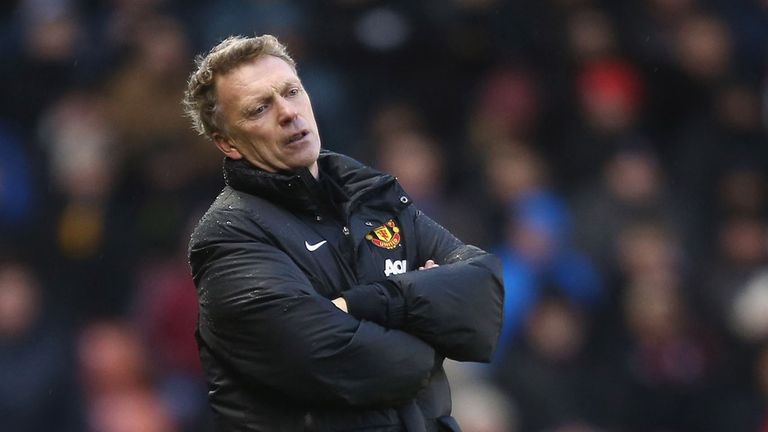 This has always been a big game in the past, but is this such a big match any more given where Man United are in the league? It's a big game for Arsenal because they need to get back on the horse quickly after their blip at the weekend against Liverpool. You need to win very quickly after a defeat in this league because a defeat and a draw is five points dropped. However, I can't see anything but an Arsenal win because even though their confidence is shot, it can't be more shot than Man United's. I still can't work out what happened against Fulham. When you're on a bad run nothing seems to go right, but they are in desperate need of a win here. A draw isn't much good to them. Also, why have they spent almost £40million on Juan Mata and put him out of position on the wing - especially when their best player this season, Adnan Januzaj, ends up on the bench? With all that's going on I can only see Arsenal winning.
PAUL PREDICTS: 3-1
Everton v Crystal Palace
Crystal Palace always seem to win the games they have to win. It's almost like they've got a chart and they've highlighted the must-win games to stay out of trouble - and they always perform in those games. We saw that at the weekend against West Brom and since Tony Pulis took over they've won almost all of the games against the teams around them. This game is a free swing for them and if they defend like they did at the Emirates then I don't see why they can't get a result, but I do think Everton will win. I thought Everton were unlucky not to get at least a draw against Tottenham, so I think they'll make up for it here - but you can't rule out Palace.
PAUL PREDICTS: 2-1
Man City v Sunderland
Man City were flying along, but that defeat to Chelsea changed everything. Norwich suddenly had the belief that they could get a result against them and if they don't beat Sunderland then I think they will struggle to win the league. I watched the Norwich game and Man City were not the strutting team that they were before. However, this is the worst fixture Sunderland could have this week. I thought Sunderland were going to beat Hull at the weekend and start flying up the table, but this should be another defeat and all of a sudden they are bang in the scrap again. If they'd won at the weekend then they could have gone into this game relaxed and tested the water ahead of the Capital One Cup Final. Now they need to try and get a draw and I don't think they will.
PAUL PREDICTS: 3-0
Newcastle v Tottenham
Newcastle really need a result here. They had good moments against Chelsea and probably could have scored, but they were undone by Eden Hazard - who is the best young player in world football and was unplayable at the weekend. This is a dangerous game for them because they will be urged to go for the win after a couple of bad results, but Spurs could easily pick them off. The fans will be getting disheartened by the results and the fact they keep selling their best players. It costs a fortune for those fans to follow that club and every time they get near anything they sell their players. They need a performance for those fans and I think they will cause Tottenham problems.
PAUL PREDICTS: 2-2
Stoke v Swansea
Swansea enjoyed a really good result at home to Cardiff on Saturday, but I never back against Stoke at home - and I'm not going to change my mind here. I thought they had a great result against Southampton - I think a 2-2 draw against an in-form team is a very under-rated result - and I expect them to follow it up with a win in front of their own fans at the Britannia.
PAUL PREDICTS: 2-1
Fulham v Liverpool
Fulham will be exhausted because their approach against Man United takes up a lot of energy. Steve Sidwell must have covered every blade of grass and Kieron Richardson was out on his feet after running up and down the wing a thousand times. The air gets back in the lungs a lot quicker after a last-minute equaliser, but I can't see how they will live with Luis Suarez and Daniel Sturridge. They are playing unbelievably well and there is no doubt they are in the title race. I've said all along they should focus on their main aim of finishing in the top four, but if you look at their home fixtures and the fact they don't start playing in Europe again next week then you've got to say they are in it. I think this is a nice game for them and they should win it.
PAUL PREDICTS: 0-4
Cardiff v Aston Villa
Aston Villa are one of those weird teams. If they'd won at home to West Ham you'd think they'd be out of the relegation scrap, but they had a shocking result and all of a sudden they are back in it again - even more so if they lose this one. The big advantage they have is that they are always going to score goals and win games away from home - and I can see them going to Cardiff and winning. If Cardiff lose this then, for me, it could be goodnight. Their confidence will be shot after losing to Swansea and the fans have been on their backs a little bit. If they don't score in the first 15 minutes the atmosphere could turn and I think Villa will play off that. They'll shut up shop for a while and then go and pick them off.
PAUL PREDICTS: 1-2
Hull v Southampton
This Premier League is just so hard to call. Hull seemed to be on a slippery slope and you thought they were bang in it if they went to Sunderland and lost. But they bought some good forwards in January and they ended up playing against 10 men for most of the game on Saturday and winning comfortably. With their front two you would probably think they'll score enough goals to stay up now, so it really does all change so quickly. Southampton are one of those teams who can't get in Europe and can't get relegated - and so should be a really good cup team. This should be a good game because there's not much between the two sides.
PAUL PREDICTS: 2-2
West Ham v Norwich
One minute it looks like West Ham are bang in trouble with Andy Carroll suspended, but they got a great result at Villa and if they win at home to Norwich then they'll be well on their way to safety. However, if Norwich win this game then it's a very different kettle of fish. Chris Hughton's team were very good against Manchester City and thoroughly deserved their draw. This is another hard game to call, but even though Norwich work hard I don't see where they are going to hurt West Ham, as they don't have much going forward. I think West Ham will just nick it.
PAUL PREDICTS: 1-0
West Brom v Chelsea
Chelsea are more than a little horse - they are a very big and impressive horse. I wouldn't necessarily agree that they are the title favourites because of the games that Man City have got coming up, but they won't be far off. I can't see anything but an away win in this game because I'm quite worried about West Brom. I've tipped them as my dark horses for the drop and they haven't been letting me down. I'm afraid I can only see them getting ripped to shreds in this game.
PAUL PREDICTS: 0-3