Paul Merson's Premier League predictions - Week 31
Merse expects wins for Chelsea, Liverpool, Everton, City, Newcastle, Norwich and Villa...
Last Updated: 21/03/14 10:32am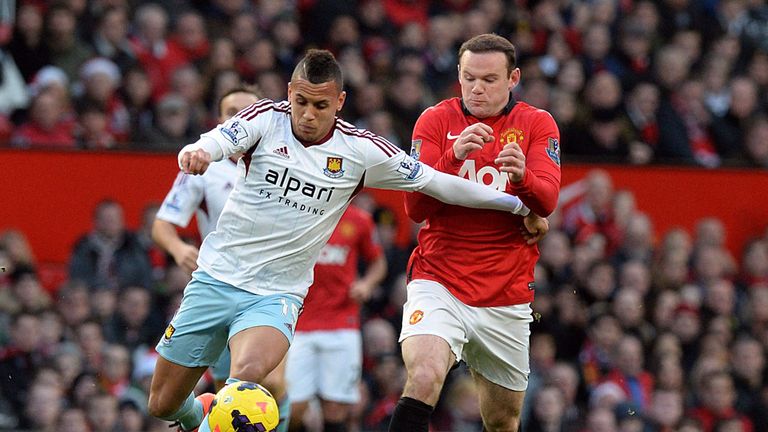 You've got to be impressed with Villa - and not only because they beat Chelsea. They've got a squad full of young kids, they don't really have any household names and yet they stay up. I think people take it for granted that they won't go down; they think that because they're a big club they won't be relegated. But I think Paul Lambert has done a great job there, I really do. His impact has been really under-estimated. Villa's home form has improved but, to be fair, it couldn't have got much worse. The young kids are getting older, more experienced and more confident every week and that makes a difference. Whatever sport you play, if you haven't got confidence you are going to struggle. I think this will be a good game because both teams have got the shackles off; they can afford to go out and really entertain. I could never see Stoke going down - even when they were struggling a bit - because I knew they had results in them. But Villa's job now is to go out and give their fans faith for next season. They won't want their season to fizzle out so that they finish fifth-bottom in the league. If that happens people will ask 'is it worth getting a season-ticket next year?' If you want to build a team you need people buying season tickets so you can get the money upfront. So I think this will be an entertaining game but Villa's energy and athleticism should just give them the edge.
PAUL PREDICTS: 2-1
Tottenham v Southampton (12.30pm, Sun, Sky Sports 1)
Tottenham's top-four chances may have gone but the players still have plenty to play for; they're at a big club, after all. This is a dangerous football match for Tim Sherwood because I thought they did alright last week against Arsenal at home; I felt they deserved a draw and Tim could come out and say 'we were better than them but we never got the rub of the green'. But this is Southampton and fans will be turning up at White Hart Lane expecting Tottenham to win. But I think this is a difficult game, I really do. If Spurs lose this, it ain't looking good for them, but I thought they looked alright the other day; with a bit more guile and a bit more luck they could definitely have got a result against Arsenal. Tim got the commitment he wanted from the players in that match; the teams that have beaten Spurs have been good teams. If they are getting beaten by bottom-five teams then, with all due respect, you'd say 'wait a minute, what's going on here?' But Chelsea and Arsenal are top teams. This is a difficult game because Southampton have got nothing to play for in the league but four or five of their players are playing for a World Cup place, which makes them dangerous. Southampton can go out and play but if they do lose, they aren't going anywhere. I'm expecting this one to be very open.
PAUL PREDICTS: 2-2
West Ham v Man Utd (5pm, Sat, Sky Sports 1)
Despite their win over Olympiakos, I think United are still papering over the cracks. If David de Gea didn't have an absolute blinder on Wednesday and Phil Jones didn't have a good game they would have been in trouble. People can go on about Ryan Giggs and Wayne Rooney and how good they were but what about the others? If De Gea doesn't make those saves and Olympiakos score a goal they're through and all of a sudden there's absolute carnage at the club. There'll be no Robin van Persie on Saturday but Danny Welbeck will probably play anyway because he's doing alright. I'm going to go for a draw here because West Ham is a hard place to go. United have just had a hard game and even though Olympiakos weren't the best team in the world there was a lot of nervous energy about the place when they were 3-0 up because one goal meant that all of that hard work would have gone out of the window. That is tiring in itself. West Ham are in a decent spell and they are hard to beat. Sam Allardyce was manager of the month for February. Man Utd aren't really going anywhere in the league now - they're concentrating on the Champions League - but they won't want to beat West Ham 3-0 and then get a good turning over by Manchester City because that won't go down well. They are probably better off struggling in this game and stopping Man City from winning the league.
PAUL PREDICTS: 1-1
Chelsea v Arsenal
If Arsenal lose this, they are out of the title race - so it's a huge game. Arsenal have got to go to the Bridge and make sure they don't lose because then they're still in it. There's no question about that. If they go to the Bridge and do even better and win, then they're massive title contenders. Chelsea can't afford to have the mind-set that they'd take a draw. They have to win every game to keep the others at bay. But Arsenal can't keep falling over the line because when you play against top teams like Chelsea, as Tottenham found out not long ago, they'll rip you apart. If Arsenal don't pick their game up, I can see Chelsea winning this game by two goals.
PAUL PREDICTS: 3-1
Cardiff v Liverpool
It seems there's no stopping Liverpool at the moment. As long as they don't forget their boots this is the sort of game that should be a banker. But this is the Premier League and it's the best league in the world for a reason - and that reason is that Cardiff can beat Liverpool on their day. Cardiff played well at Everton last week, to be fair. They were decent and were unlucky not to get something out of it but they conceded that last-minute goal. Sure, Cardiff are going to be petrified at the back but they shouldn't be short of confidence. Still, I expect Liverpool to win this by a distance; I'd say it's a massive football result if they come away with any sort of win because this is Cardiff's Cup Final.
PAUL PREDICTS: 1-3
Everton v Swansea
Swansea are getting dragged into things down the bottom. I watch them and think 'ok, they'll win this game and be out of it' and then they don't and it's happening too often. I didn't think Everton were great against Cardiff but they win football matches against good teams. I think Everton will be too strong for Swansea and that could start to spell real trouble for Garry Monk's men. Swansea are in that relegation mix big-time.
PAUL PREDICTS: 3-0
Hull v West Brom
Hull are just one point ahead of Swansea but I'm tempted to say they're out of that mix given the number of teams beneath them; that many teams have got to overtake them that I reckon things are just in the favour. West Brom had a massive, massive football result last week by beating Swansea away. It's given the manager and the players confidence and I'd imagine the fans have a bit more faith in the manager now too because people were asking 'is the manager up for it? Is he the right man for the job?' Now, if he wins on Saturday, he'll be the best manager to ever manage West Brom. It just shows you how quickly things change. I think West Brom have got to go there and make sure they don't lose - and I don't think they do. Hull, now, are going to have that FA Cup semi-final in the back of their mind. It isn't far away and how many times, as a player, do you play at Wembley in a match that big?
PAUL PREDICTS: 1-1
Man City v Fulham
If City get going, they'll need more lightbulbs in the Fulham scoreboard. City will need to start well and start quickly because they've got a massive game on Tuesday night against United, so they need to put this one to bed very quickly. They can't go out with that saw them get beaten by Wigan. They haven't wiped the floor with anyone recently and I think they've got to put their game heads on, on Saturday, and finish this game quickly and concentrate on Tuesday. There will be no Vincent Kompany but I reckon they can win this without him.
PAUL PREDICTS: 3-0
Newcastle v Crystal Palace
Fulham had a big result against Newcastle last week - that win brought them right back into it at the bottom of the table. I've got some sympathy for Newcastle and Alan Pardew, though. I think banning a manager from the ground is a bad rule. Managers are paid to get their players going on a Saturday afternoon before the game and at half-time - that's their job. Banning a manager from the ground punishes everybody at the club, not just the manager. Pardew's absence showed in Newcastle's performance. Being a manager is a lot different in football from being a coach. Players are going to listen to the manager because that's the way it is in football. I watched Palace the other day against Sunderland and I'm not sure how they got a 0-0 draw, to be fair, I really don't. They go out and make sure they are really tight and if they can nick something they do, but if they don't they get a point. Fair play to them because it has worked and those points add up. Whatever happened they had to make sure that they didn't get beat by Sunderland.
PAUL PREDICTS: 1-0
Norwich v Sunderland
This is a massive game - probably the biggest game of the weekend for me, bigger than Chelsea v Arsenal. If you win the Premier League you win the Premier League. If you go out of the Premier League and it's 'thank you and goodnight'. In this day and age when so much money is riding on survival, it's a huge match. I think Norwich are decent at home, I really do. If they had a little bit more luck in front of goal, they wouldn't be where they are. They need to show a bit more going forward away from home because they've got some decent players.
PAUL PREDICTS: 2-0
Think you know better than Merse? Prove it with our Super 6 game and win £250,000