Paul Merson's Premier League midweek predictions
Merse expects Liverpool to beat Sunderland and West Ham to draw with Hull
Last Updated: 25/03/14 3:33pm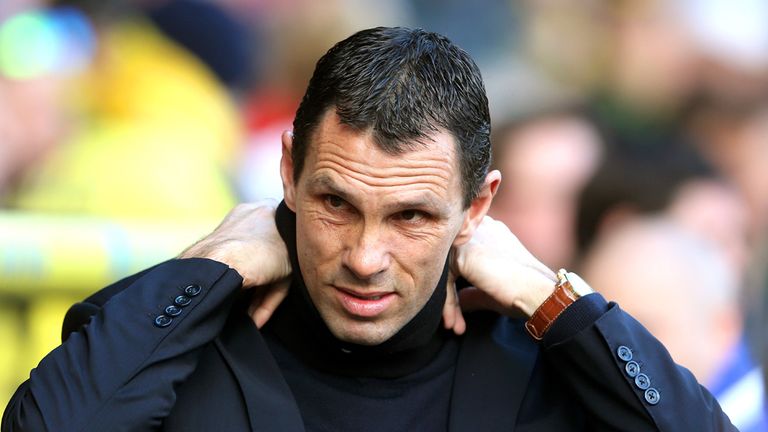 If I was Gus Poyet I would not take my first team to Liverpool on Wednesday night. I would play the reserves.
I say that 100% because the next game is West Ham at home on Monday and looking at their fixtures they absolutely have to get three points in that game.
That one is a must-must-must-must-must-must-win game because after that they play Tottenham, Everton, Man City and Chelsea back-to-back.
Let's be honest, they are not going to get anything at Liverpool whatever team they play so you have to weigh things up. West Ham is such a big game and they have to get things right in that one.
You've got to be realistic. They have a chance of beating West Ham, but they haven't got the best of chances at Anfield, so why not rest everybody? People will talk about goal difference - but it won't even go to that if they don't win any games and get some points on the board.
I would take the gamble and rest the first team on Wednesday night. It doesn't matter if they get walloped, just forget that. West Ham at home is 100% more winnable than Liverpool away and I really believe that.
If you take your best team you will sit back and defend for 90 minutes - but Liverpool will break them down because their front players are on fire.
So if you lose the game 1-0 or 2-0 what's the point? They've got to travel all the way there and all the way back with a must-win game coming up on Monday.
If they don't beat West Ham then you'd have to bet they would be relegated - even if they won one of the four games against the big teams after that.
People might not agree with me, but that's the way I look at it. They have to beat West Ham at home and I honestly believe that's what they should do.
Phil Thompson was watching Sunderland's game with Norwich on Saturday and if they play like that at Anfield then Liverpool will score at least six or seven. At least.
Liverpool are majorly in the title race now. However, Chelsea achieved a very big football result against Arsenal and I just think Jose Mourinho will be able to go to Anfield and do something. Liverpool are playing great, but I think he can go there and stifle them
But I can't see Sunderland doing that. It will be a big win for Liverpool, no matter who plays for Sunderland.
PAUL PREDICTS: 5-0
West Ham v Hull
Both of these teams are just one or two results away from safety and if one of them wins this game then that would pretty much be their safety secured, for me.
West Ham have seen how ruthless the Premier League is. They went on a good run and were in the top half of the table and now they've lost three on the bounce and they're back in it all of a sudden.
As long as they win another game soon, I don't think they will get relegated because I can't see Sunderland winning three more matches than them. West Ham and Hull would need to have a shocking end to the season to get relegated from here.
Hull have been playing well. They got a good result against West Brom and I think they need to get their points on the board very quickly so they can concentrate on the semi-finals of the FA Cup, which is a big game for them.
They don't want to go to Wembley in the middle of a relegation battle and they need a couple of wins so they can focus on that.
I think this will be an entertaining draw - and both sides would be fairly happy with that.
PAUL PREDICTS: 2-2