Paul Merson's Premier League predictions - Week 34
Merse says Norwich, Cardiff and Sunderland will lose and slip towards relegation
Last Updated: 11/04/14 9:45am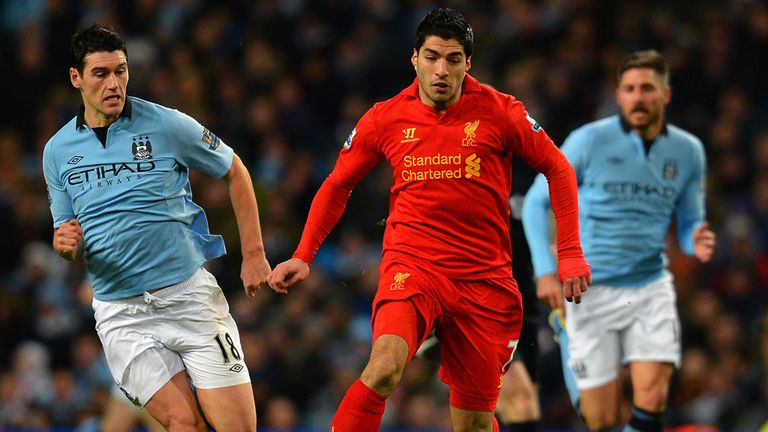 For me, whoever wins this match will win the Premier League. The winners will have all the momentum, but if I'm being honest I don't see either of them winning it. I can't wait to watch it, though, and I think it will be a very entertaining football match because Man City don't go anywhere and defend, while Liverpool won't sit back because this is their chance to win the league.
There's not a lot between these teams at all, but the return of Sergio Aguero will make a lot of difference to City. Liverpool will struggle to live with him - but at the same time I don't see how Man City can live with Luis Suarez and Daniel Sturridge. The atmosphere at Anfield has been absolutely phenomenal recently - and for the Liverpool fans and players to win this game and virtually win the league on the day they commemorate the 25th anniversary of Hillsborough is the sort of script you couldn't write. They have been brilliant this season and winning nine games on the trot is a huge ask in any league, but I'm going for a 1-1 draw - although it really wouldn't surprise me if it was 3-3.
PAUL PREDICTS: 1-1
Swansea v Chelsea (3.30pm, Sun, Sky Sports 1)
If I'm right and the Liverpool v Man City game is a draw then Chelsea can put themselves right in the hunt by beating Swansea. That would mean Liverpool have to beat them at Anfield instead of the other way around - and that makes a big difference.
Chelsea just kept going and going against PSG and there wasn't a lot of panic. They showed their European experience; they weren't just lumping the ball in the box and the fans were brilliant too. They could easily have got restless in the second half, but they have experience of being in the Champions League now and stayed behind the team and that played a major part. It was a great result, but they must carry it forward and make sure they don't slip up here. Fair enough if you slip up at Liverpool away, but don't slip up before you get there.
PAUL PREDICTS: 1-2
Crystal Palace v Aston Villa
I've got to go for Palace to win this game. The job Tony Pulis has done is bordering on unreal, absolutely unreal. Aston Villa have been hit with a double whammy because they're in a bad run of form and their best player - Christian Benteke - has got injured at the same time. All they had to do was not lose to Fulham last week and I thought they'd stay up fine - but they lost it and now they are in a bit of trouble. I still think they will avoid relegation, but I have to back Palace to win this one.
PAUL PREDICTS: 2-0
Fulham v Norwich
I can't believe what Norwich did with their manager. Why sack Chris Hughton before this game? This was always the big game because the next four are matches they shouldn't win anyway. I can understand why you would want to do it after this match, but if they lose this one they will be relegated - because Fulham have got nice games and the momentum would have changed. I watched Norwich last week and they weren't great, but this is just an act of panic. I'm going to back Fulham to win this game and stay up - and it's relegation for Norwich. I wouldn't have said that seven days ago!
PAUL PREDICTS: 2-0
Southampton v Cardiff
Cardiff had a shocking result last week, losing 3-0 to Palace and I think it could be a similar scoreline again here. Cardiff have got to have a go and Southampton's players have got to keep their performance up because so many of them are trying to get into the England squad. Roy Hodgson turns up to watch them play almost every week (and I feel sorry for poor Jay Rodriguez by the way), but people like Rickie Lambert and Adam Lallana have got to keep going because they're not certs to go to Brazil. It's a big game for them and I fear for Cardiff.
PAUL PREDICTS: 3-0
Stoke v Newcastle
I've got to go for Stoke to win this game at home, all day long. Newcastle have hit a really bad patch; I know they've had some injuries but they've lost their last three games 4-0, 4-0 and 3-0 and that's not good at all. I very rarely go against Stoke at home and I don't think you can read too much into the defeat at Chelsea. Nobody has been to Stamford Bridge and won when Jose Mourinho has been in charge, so forget that result. Stoke should win at home.
PAUL PREDICTS: 2-0
Sunderland v Everton
Everton are in dreamland - and now they have to keep it up. I watched them against Fulham a few weeks ago and I thought they were lucky if I'm honest, but they absolutely ripped Arsenal to shreds last week. The pressure is on them a bit more now because fourth place is in their hands, but I've got to say they will win this game because Sunderland were so poor against Tottenham it was beyond a joke. I don't know how they are going to get anything out of Everton playing like that.
PAUL PREDICTS: 1-2
West Brom v Tottenham
West Brom aren't out of it yet, but they had a great result against Norwich last week and were unlucky to be denied a win over Cardiff with the last kick of the game the week before. They would have been clear if it wasn't for that result, but I still think they will be ok. This is a tough game for them because Tottenham will be full of confidence after a good result against Sunderland and both teams will have a go. West Brom are at home and Tottenham won't sit there, so there will be plenty of goals. I predict a Desmond.
PAUL PREDICTS: 2-2
Think you know better than Merse? Prove it with our Super 6 game and win £250,000