FA Cup Final: Paul Merson previews Arsenal v Hull
Paul Merson expects Arsenal to enjoy FA Cup glory, but fears for Arsene Wenger if they don't.
Last Updated: 17/05/14 8:41am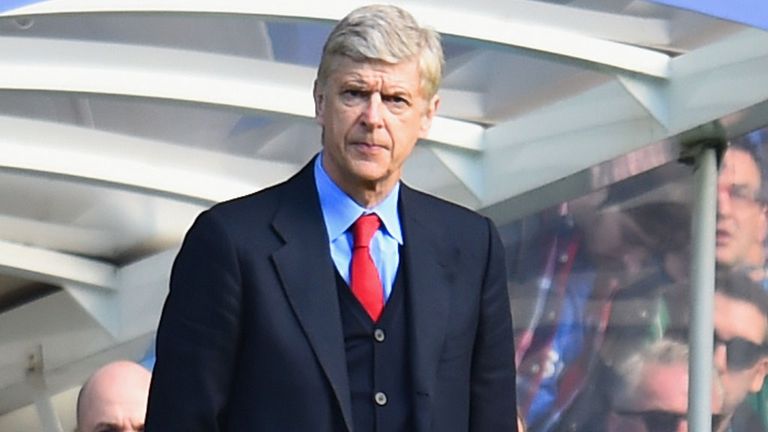 Look at Chelsea. They aren't going to win anything this year. Liverpool aren't going to win anything this year. Neither are Man United - and we are talking about top, top teams there.
Arsenal may only have finished fourth but they were unlucky not to win the league in my opinion. If Theo Walcott and Aaron Ramsey had stayed fit I honestly think they could have been going for the double on Saturday.
I really believe that. Ramsey was the best player in the country at the start of the season - and you saw what he could do with that goal against Norwich last weekend. He is an outstanding footballer and if you combine it with Walcott's pace then who knows where they might have finished?
They should end their nine-year wait for a trophy on Saturday, but if they don't then it will be interesting to see the fans' reaction. I think they may want Arsene Wenger to go if they don't bring home the trophy.
They were on the edge in the semi-final against Wigan. When they went 1-0 down and it was getting near the end of the game a lot of fans were set to turn on him. It might sound harsh because it looks like he could be judged on the result of this one game, but it's not one game, is it? It's nine years.
Don't get me wrong, I'm a big Wenger fan, but those fans pay a lot of money. It's not cheap to go and watch Arsenal play and they want to see the club winning trophies. They could go the other way if the team doesn't win this.
So there will be pressure on the players the longer the game stays 0-0 on Saturday. As time goes on, people will remember the situation against Birmingham in 2011 when Arsenal lost the League Cup Final in similar circumstances. All the memories of nine years without a trophy will work in Hull's favour the longer the game goes without a goal.
So Hull have to go there and keep it tight. They were ripped to shreds 3-0 at home by Arsenal a few weeks ago and they know that if they play you-have-a-shot-we-have-a-shot there is only going to be one winner.
That's how they have to approach it. I remember 11 years ago, Arsenal ripped Southampton apart a few weeks before the FA Cup Final - and then Southampton went to Wembley, decided they weren't going to play the same way, sat 10 men behind the ball and only lost 1-0.
It's exactly the same for Hull and I think this is going to be a very cagey FA Cup Final because if they open the game up it is impossible for them to win.
Remember, they aren't turning up to make the numbers up. I played in Cup Finals for Arsenal and we were always the favourites, but I remember playing for Aston Villa against Chelsea in 2000 and we were underdogs. You don't turn up thinking "we've done well to get here" - you want to win the cup.
This means everything to them and I think they, like Arsenal, have had a brilliant season. They have stayed up and got to a cup final when so many teams are mugging off the cups so they can concentrate on avoiding relegation.
I was reading the paper the other day and Alan Pardew was saying Newcastle still won't put their best team out in the cups because it's all about staying in the league - and that shows you what a feat Steve Bruce has achieved. Hull have balanced both and what they have done is absolutely phenomenal.
I have to say they have been poor in the last few weeks of the season and Bruce needs to tell his players to forget about that and remember what they did in the first 30 games when they were pushing for a top-10 finish.
It will be hard for them without Nikica Jelavic and Shane Long (who are both cup tied) because they're the ones that give them a bit extra. Matty Fryatt is a good goalscorer - probably a better goalscorer than the other two - but he hasn't got the pace and he isn't going to run away from anybody. They will have to give him good service.
I think if Arsenal score first then that will be it because I don't see Hull coming back and scoring two. It is going to be a hot summer's day and if the game opens up then you don't want to be chasing a football match against Arsenal.
The first goal is going to be so important. If Hull score it then it's game on - but if Arsenal score it then it's game over.
PAUL PREDICTS: Arsenal to win 3-0.