Peter Beagrie
Football League Expert & Columnist
Middlesbrough v Norwich: Peter Beagrie's Championship play-off guide
Last Updated: 25/05/15 11:08am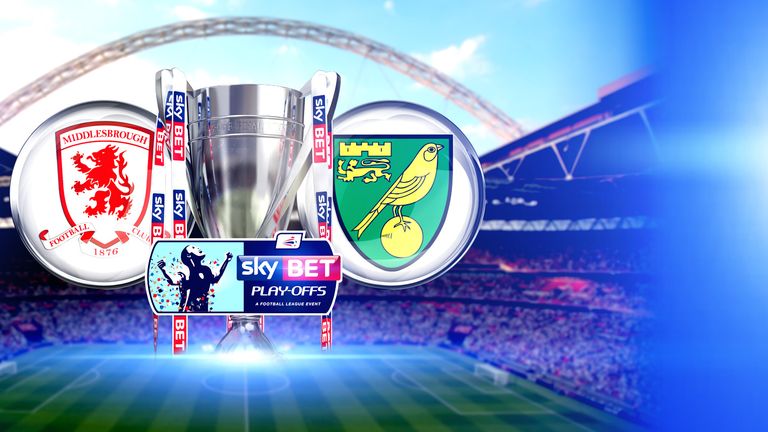 The biggest game in club football takes centre-stage on Monday as Middlesbrough and Norwich battle it out for a place in the Premier League.
Sky Sports' Football League expert Peter Beagrie assesses the key battles, the influential figures and where the game will be won and lost at Wembley…
Middlesbrough
I gave Middlesbrough the best team performance award because I thought Brentford could be very hurtful but their defensive diligence in both ties was superb.
I spoke to Grant Leadbitter and Adam Clayton and they were in good spirits as you would be after producing the displays which they and their team have had. All aspects of the game – in possession, out of possession – it was a masterclass. It had everything Aitor Karanka would have been looking for going into a big final and everybody played their part.
He was even able to resist the temptation of risking Patrick Bamford, with Kike coming in and getting a goal. It has reinforced that Middlesbrough have one of the best squads in the Championship. As a manager you've got to pick the best options and, more often than not Karanka has done that.
He definitely got the best shape for the side, the 4-2-3-1 is brilliant Leadbitter and Clayton stressed the importance of having runners ahead of them in attack.
Ones to watch
In Lee Tomlin, Middlesbrough have definitely got a player capable of being smart in the final third. He's a little magician, he's the one who pounces when Boro regain possession.
They have the lightening pace of Albert Adomah who was at the forefront of their semi-final triumph. If Middlesbrough are going to sit in deep and Leadbitter and Clayton are going to sacrifice themselves for the team they'll be looking to get Adomah on the ball.
If Bamford starts instead of Kike, Vossen could drop in behind him and that means Tomlin plays off the left. They are a little bit lopsided because Adomah stays with chalk on his boots and is always the out-ball.
Tomlin really doesn't have to play wide because, if we talk about unsung heroes in this Middlesbrough team, then George Friend, who has incredible energy, can operate all the way down the left-hand side. Without having a midfield player in front of him Friend, and Ben Gibson, who has played 25 out of the last 26 games in an ever changing defence, have developed a brilliant understanding.
Norwich City
The Canaries had an incredibly tough semi-final against local rivals Ipswich, they had to win at any cost – they were under enormous pressure.
I've said about Norwich throughout the course of the season they under achieved at the start because they didn't know how to defend, everything was attacking. What has been impressive is the way Alex Neil, who is not a big name, has gone in shown them what they have to do fundamentally in the Championship, and that is work hard out of possession to earn the right to play when you do have the ball.
Wes Hoolahan is as every bit as creative as Lee Tomlin and he was used to good effect against Ipswich. The sending off played a huge part in the victory, but Norwich created the chance by penetrating the Ipswich rearguard and they got their reward for it.
Middlesbrough will certainly not be underestimating Norwich because of the plethora of talent Alex Neil has at his disposal.
Ones to watch
Norwich can score goals from all over the place; none more so than Bradley Johnson and his wondrous left foot.
I suspect there will be a ploy for Nathan Redmond, should he play, to hit the diagonal from the right for Johnson because he's magnificent in the air.
Jonny Howson can get big goals in big games from midfield as well. Cameron Jerome has been terrific for them and he is their outlet. Boro will not want the game to get stretched as that gives more space for Wes Hoolahan to operate in.
Beags' Championship play-off verdict
This is where the managers earn their corn. There is a whole host of experienced players in these two squads and it's an amazing head-to-head, a head-to-head in which I just give the edge to Middlesbrough.
As far as the aggregate score between these two sides in the regular season, Norwich trail 5-0, but Leadbitter and Clayton assured me the Boro squad that this game was a one-off for them. This game is a different proposition all together, although if Middlesbrough start well, it is a negative and seed that has been planted so Norwich may have to overcome that.
It springs to mind another brilliant Middlesbrough performance and, ironically, it was against Norwich earlier on this season. Boro did a job on Norwich that day, they condensed the space, and won the ball closer to the Norwich goal. It was a brilliant performance for them.
Boro go into the final one the back of two incredible performances but again you underestimate Norwich at your peril.
Norwich have scored their goals this season in periods of games controlled by their manager. When games appear to be petering out, Neil adds this injection of pace and creativity and goalscoring prowess, can he find the winning formula at Wembley?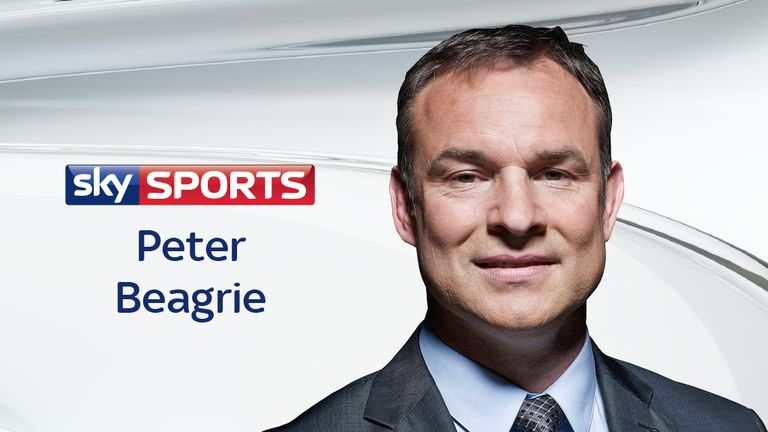 It is an absolute privilege to go and witness the play-off finals this year. To the thousands and thousands of fans going to support their teams, regardless of the scoreline, make sure you get to and from Wembley safely.
Peter Beagrie - Sky Sports
Watch Middlesbrough v Norwich in the Championship play-off final, Monday, Sky Sports 1HD