The anguish on every Brazilian face in the Estadio Mineirao said it all. Some with tear-stained face paint, others in sheer disbelief. Eleven drenched in cold sweat.
This was history in the making; the 2014 Mineirazo to rival 1950's Maracanazo. At least on that occasion Brazil were afforded the chance to play in Rio.
With each passing moment a nation unravelled. After 26 minutes it was the first time Brazil had conceded four goals in a World Cup match since a 4-2 defeat by Hungary in 1954; after 29 minutes it was the first time they had let in five at the finals since a 6-5 win over Poland in 1934; 69 minutes signalled the first time Brazil had conceded six at the World Cup; the final nail brought their record defeat, surpassing a 6-0 loss to Uruguay in 1920. Oscar reduced the deficit at the death but Brazil had long since succumbed. Consolation it was not.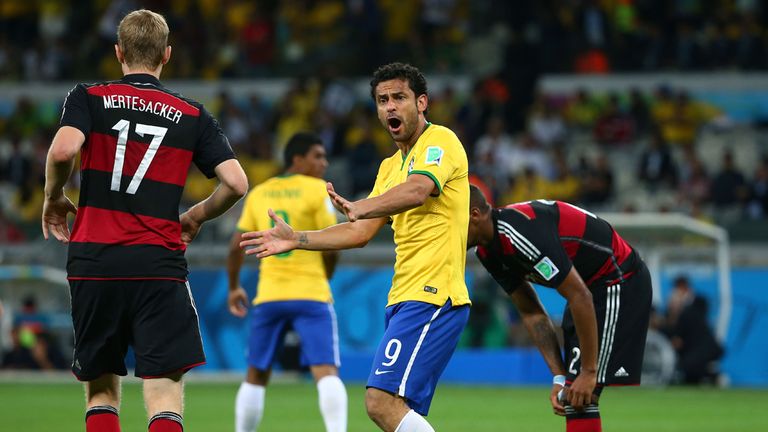 The damage was done in six incredible first-half minutes. If you blinked, you missed it. Thomas Muller had opened the scoring with his 10th World Cup strike after Germany cleverly blocked David Luiz in the box to allow the forward space for a simple finish, but suddenly Joachim Low's side found another gear. It was sparked by Miroslav Klose becoming the first player to score 16 goals at the World Cup in front of the watching Ronaldo. On any other night that would have been headline news, but it barely registered amid the chaos.
Toni Kroos followed Klose's lead with two in two minutes as Brazil were left chasing shadows. Sami Khedira scored the fifth. 'Brace yourself, the sixth is coming,' reads the slogan scribbled across the side of Brazil's team bus. This was not what the marketing department had in mind. At half-time the home fans began to pour through the exit gates and out on to the streets. Those who remained were treated to a stunning brace from Andre Schurrle before showering Germany in "olés" for every touch. The ultimate embarrassment for their humiliated heroes.
Brazil's reputation for jogo bonito had already been tarnished by several uninspiring displays over the past month, particularly the quarter-final clash with Colombia that Low described as "brutal". Perhaps a new definition is required after the scenes we witnessed on Tuesday. With the star of the show, Neymar, absent through injury, the locals would have accepted a win by hook or by crook, but their dreams were ruthlessly extinguished by a blistering Germany performance.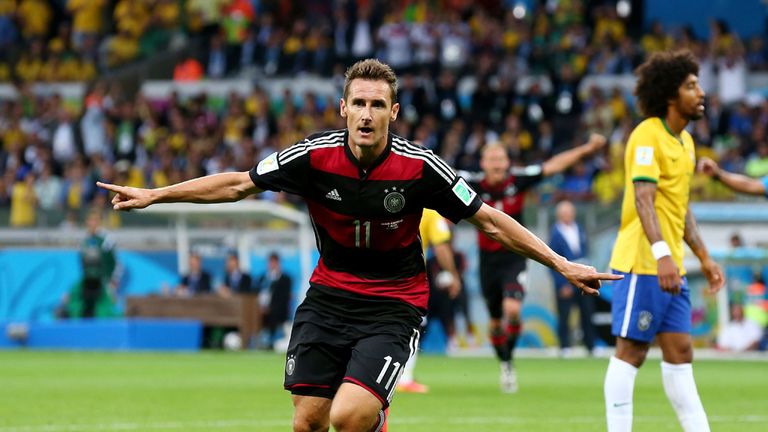 The tired cliche of ruthless German efficiency should not define this momentous occasion. The visitors played with a flair and fluency once exclusively reserved by their opponents. They eviscerated Brazil. They ripped away any lingering sense of the Seleção's footballing identity with each wonderful flowing attack and then wore it as a badge of honour amid a sea of yellow. Fearless does not do it justice, relentless only tells half the story.
Luiz Felipe Scolari's legacy lies in tatters. His World Cup win in 2002 almost appears insignificant in the aftermath and he will now always be remembered for this ruination. Scolari made mistakes, he allowed the reaction to Neymar's injury to spiral out of control. The image of the manager arriving at the stadium in his '#ForcaNeymar' cap conjured up memories of Kenny Dalglish being interviewed in a Luis Suarez T-shirt during his second spell in charge of Liverpool. It was a siege mentality that backfired spectacularly.
"This would have happened even with Neymar," said a shell-shocked Scolari in his post-match interview. Big Phil has never looked so little. Perhaps he was merely protecting a group of players who will be scarred for the rest of their lives, or perhaps he had finally realised the error of his ways. It matters little in the context of Brazil's catastrophic failure. It will take a generation to recover from this night and it will never, ever be forgotten.