U21 Euros preview
Jon Holmes begins his preview of the Uefa European Under 21 Championship which starts in Denmark on Saturday by looking at Group A. Hosts Denmark, along with Switzerland, Iceland and Belarus are profiled.
Last Updated: 11/06/11 10:15am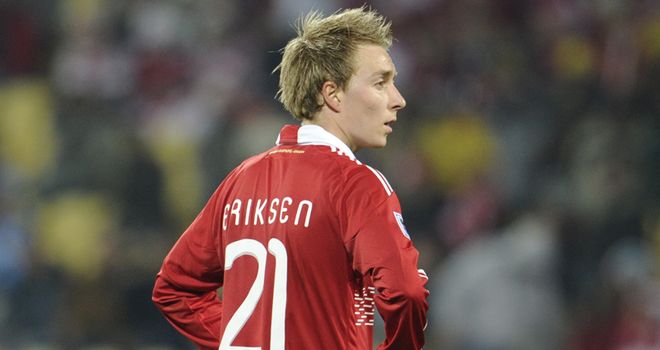 England's poor performance in their Euro 2012 qualifier against Switzerland at Wembley brought back painful reminders of their World Cup misadventures in South Africa last year.
But for those who love tournament football, there's plenty to look forward to this summer. Manchester United's Javier Hernandez is already hitting hat-tricks for Mexico in the CONCACAF Gold Cup in the United States (runs until June 25), while Argentina host the Copa America in the first three weeks of July.
And for those of us in Europe, the growing prestige of the U21 Euros suggests we're about to experience an exciting fortnight of football in Jutland.
The Danish peninsula is the venue for the 18th staging of the European Under-21 Championship, and with a spread of eight countries from across the continent - the 'big guns' duo from the west, a pair of highly-rated central European national teams, two sides from the former Soviet bloc, and another Scandinavian country to join the hosts - it's about as cosmopolitan as you can get in a Uefa competition.
There are certainly some surprise absentees. Five-time winners Italy will be missing after they were beaten 3-2 on aggregate in the play-offs by Belarus, while two-time champions Russia (as Soviet Union) and the Netherlands (2006 and 2007) also failed to qualify. Holders Germany didn't even make the play-offs, and neither did France.
This year's tournament is particularly interesting as there is an extra incentive on offer - three places in next summer's Olympic football tournament at London 2012. If England reach the last four (as part of Great Britain, they will play in 2012 as hosts), the remaining semi-finalists will qualify. Otherwise, a third/fourth place play-off will be added to the schedule.
Four stadiums are being used by the Danish FA. Aalborg, Viborg and Herning all have capacities of around 10,000, while Aarhus (around 20,000) will host the final, as well as three group games.
Only players born on or after 1 January, 1988, are eligible for the tournament, which means there are plenty of 23-year-olds involved - but they were all Under 21 at the start of the qualifying phase.
Hosts Denmark were placed in Group A alongside Iceland, Switzerland and Belarus. Here's the lowdown on the teams...
GROUP A
Denmark
One of the few downsides of being named as hosts is the lack of competitive action afforded by not having to qualify. The young Danes, coached by Keld Bordinggaard, were beaten 4-0 at home by England earlier this year and only ended a bad run of results in friendlies by beating Turkey by the same scoreline on Monday night. However, the team were runners-up in last year's Toulon tournament in France.
Former Denmark midfielder Bordinggaard has been in charge since 2006 and will hand over the reins to ex-Celtic man Morten Wieghorst after the tournament. Only five members of his squad ply their trade outside Denmark and two other more experienced potential picks were unavailable - Wolfsburg blocked Simon Kjaer from playing and Arsenal's Nicklas Bendtner chose to spend time with his family.
Ajax's Christian Eriksen is the great home hope after impressing as the youngest player at World Cup 2010 (the 19-year-old also grabbed his first senior goal for Denmark in Iceland last weekend) but his rapid progress means this tournament marks his first involvement with the U21s.
Nevertheless, the gifted playmaker is capable of lifting the crowd and inspiring his team-mates, while Villarreal striker Nicke Bille Nielsen has been in fine scoring form in recent friendlies.
Other players of interest are Brondby forward Nicolaj Agger, cousin of Liverpool's Daniel, while Reading goalkeeper Mikkel Andersen is alo in the squad.
Possible line-up: Lossl; Randrup, Bjelland, Zanka, Boilesen; Wass, Poulsen, Jensen; Eriksen; Jorgensen, Bille Nielsen.
Iceland
These are hugely exciting times for Icelandic football, with a golden generation emerging from the island nation which has a population a little over 300,000.
The Under 21s' qualification for the finals was a landmark moment in Iceland sporting history. Significant investment made in artificial pitches and indoor sports halls paid off in style as an attack-minded Iceland side top scored in qualifying with 33 goals.
Coach Eyjolfur Sverrisson - the father of former West Ham starlet Holmar Orn Eyjolfsson, who scored the winner in the impressive 2-1 friendly win over England in Preston in March - also masterminded a 4-1 rout of holders Germany.
However, their focus on firepower means their defence is susceptible and they were beaten home and away by the powerful Czechs.
Fans of British clubs will be familiar with the likes of defender Eggert Jonsson (Hearts), midfielders Bjarni Vidarsson (once of Everton) and Aron Gunnarsson (Coventry) and star man Gylfi Sigurdsson (sold by Reading to Hoffenheim for £7million last summer).
Sigurdsson scored two outstanding goals in the play-off tie second leg against Scotland in Edinburgh.
AZ Alkmaar duo Johann Gudmundsson and Kolbeinn Sigthorsson are also ones to watch, the latter being one of the top scorers in the Dutch Eredivisie last season.
Possible line-up: Bjornsson; Fridgeirsson, Eyjolfsson, Jonsson, Valgardsson; Bjarnason, Vidarsson, Sigurdsson, Gudmundsson; Gislason, Sigthorsson.
Switzerland
The Swiss are arguably the most exciting group of talents in Europe at the moment, with coach Pierlugi Tami the beneficiary of a youth policy that is producing outstanding results. They are the youngest squad on average age at the tournament.
Nine of the U21s have already represented the senior Switzerland side, with three players - midfielder Granit Xhaka and forwards Innocent Emeghara and Admir Mehmeid - recently making their debuts against England at Wembley.
The Swiss competed in the 2004 U21 finals, but claimed just one point in the group. However, much more is expected this time round, partly on the back of the Under-17s' victory at the FIFA U17 World Cup in Nigeria in 2009. Xhaka and striker Nassim Ben Khalifa were in that squad, along with midfielder Pajtim Kasimi (briefly with Liverpool) and goalkeeper Benjamin Siegrist, who is currently on the books of Aston Villa.
Yann Sommer is the Swiss number one though, and his value to the team was shown when he saved a penalty in the play-off tie against Sweden.
However, the main focus of attention is sure to be Xherdan Shaqiri, a colleague of Sommer, Xhaka and winger Fabien Frei at FC Basel. The Kosovan-born schemer scored a sensational goal for the seniors against England in Euro 2012 qualifying back in September and is tipped for greatness.
The Swiss are a physical outfit with something of a disciplinary problem (they collected 35 bookings in qualifying, by far the most of all teams who made the finals) but there is no shortage of skill in their ranks either.
Possible line-up: Sommer; Koch, Berardi, Rossini, Pavlovic; Frei, Hochstrasser, Feltscher, Abrashi; Shaqiri; Ben Khalifa.
Belarus
Two years ago in the U21 finals in Sweden, Belarus finished bottom of Group A with one point, but they come into the 2011 tournament on the back of the most sensational comeback in qualifying.
Trailing 2-0 to Italy going into the play-off second-leg in Borisov, the young Belarussians promptly levelled the tie with two Vladimir Yurchenko goals in the first five minutes and then won through in extra-time courtesy of defender Oleg Veretilo's header.
It was a glorious night for coach Georgi Kondratiev, a former Dinamo Minsk striker, and gave him a second chance to impress in the finals.
However, Kondratiev suffered a major blow in the final friendly before the action kicks off in Denmark when Yurchenko suffered cruciate knee ligament damage. Goals were shared out around the side in qualifying though and it is hoped BATE Borisov's Maksim Skavysh in particular will deliver.
The bulk of the Belarus squad is made up of BATE and Dinamo youngsters, and along with neighbours Ukraine, they have the most experienced squad at the tournament with eight players already 23 years of age.
Impartial observers will probably not expect much from Belarus this summer as they did not travel particularly well in qualifying, and they also conceded the most goals, along with Iceland. In addition, they were guilty of being overly cautious and shot shy and Yurchenko's absence can only add to that feeling.
Nevertheless, a battling 1-1 friendly draw with Spain in Alcala de Henares, near Madrid, in March, showed they remain a force to be reckoned with, and Kondratiev hopes the inspirational captaincy of Mikhail Sivakov, who netted from the centre circle last month while on loan at Wisla Krakow from Cagliari, will take his team through the group stage.
Possible line-up: Gutor; Politevich, Filipenko, Veretilo, Polyakov; Dragun, Sivakov, Rekish, Nekhaychik; Skavysh, Voronkov.