New York City's Jack Harrison says England U21 call 'special' after paying £1,200 for own flight to UK
By Katie Shanahan
Last Updated: 05/10/17 10:11am
Jack Harrison says it was a "special moment" when he heard he would be joining the England U21 squad for the first time.
The New York City midfielder was called up to the England U21 team by manager Aidy Boothroyd to replace the injured Sheyi Ojo for the Euro 2019 qualifiers against Scotland and Andorra.
Harrison joined up with the side at St George's Park on Monday evening after flying 5,000 miles and having to spend £1,200, as he was late for his original trip from America.
The 20-year-old began his career in Manchester United's academy, but decided to move to the USA at 14, where he made his debut on the big stage for New York City in May last year.
"It's definitely a special moment," Harrison said. "It's an honour to represent England and hopefully I'll be able to do it very well.
"No (Aidy) didn't call me, we had a game against Chicago on Saturday night and Patrick (Vieira) wasn't supposed to tell me, but he told me before the game and I was ecstatic as soon as I heard."
So far in the 2017 campaign, Harrison has made 32 appearances with 10 goals and three assists as New York City look set to make the MLS Cup play-offs as they occupy second place in the MLS Eastern Conference table.
"Patrick Vieira, Andrea Pirlo, David Villa, and Frank Lampard are all great players that I admire so much. It's something very special, not many people can say they've played with those types of players," he added.
"They're so nice and down to earth as well. they are always willing to help out younger guys like myself and I'm just willing to listen to anything they have to say."
Harrison was not able to make his NYCFC debut until May 2016 after it was discovered he had a fractured pelvic bone, but eventually made his bow in a 7-0 defeat to the New York Red Bulls as a 57th-minute substitute.
He went on to make 23 appearances with four goals in the 2016 season.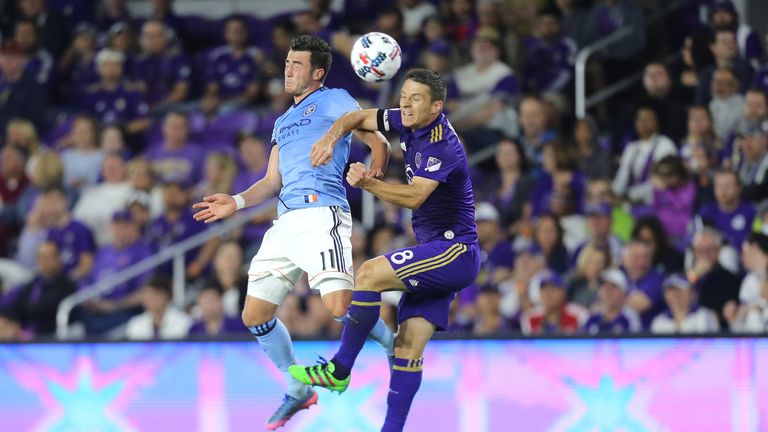 Speaking about meeting the rest of the England team, Harrison said: "I didn't know anybody, it was different coming in. A lot of the guys were interested in America, asking a bunch of questions which was nice to have. It's great to be around the guys, they are brilliant.
"I definitely wouldn't think that they were looking out there for players to represent the national team. For me to be selected is a great moment that I'm very grateful for.
"I'm looking to make the most of it and thankful to Aidy Boothroyd for looking out there for players."