Alan Smith: Abou Diaby return could be defensive midfield solution for Arsenal
Sky Sports' pundit gives his thoughts on the forgotten Frenchman's return
Last Updated: 23/09/14 2:55pm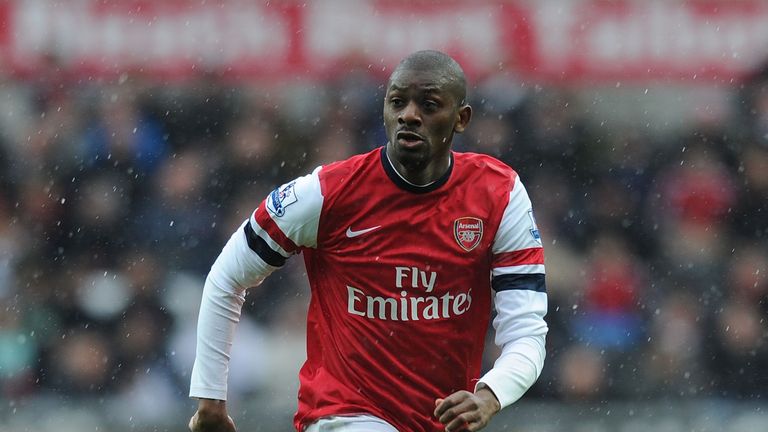 Alan Smith says Abou Diaby's return from an injury-plagued spell on the sidelines could be the answer to Arsenal's defensive midfield problems.
The Frenchman is set to make his first appearance of the season in Tuesday's Capital One Cup tie with Southampton, having recovered from the anterior cruciate knee ligament injury which limited him to just a single substitute appearance in the league last season.
Former Gunners striker Smith believes Diaby's anticipated return could be the reason Arsene Wenger chose not to pursue a defensive midfielder this summer, with moves for Germany international Sami Khedira in particular, failing to materialise.
"Diaby has had a terrible run of injuries and he is a talented boy," he told The Morning View.
"But I think Arsenal fans have almost forgotten about and lost patience with him to some extent. He is different to the small technical players they've got. He's powerful; he can open those legs and get up and down the pitch. He had a little run of games last season and then he got injured.
"He's a top player and I think he can move to defensive midfield. He hasn't had that run of games to bed himself into that position but this is maybe why Wenger hasn't gone for this sort of player.
"That holding player is the kind that fans are crying out for but I don't think he'd dare to say publically that he was hoping for Diaby to do the job because he's been let down by injuries so many times."
Smith believes the Capital One Cup presents Arsenal with a genuine trophy prospect, despite feeling other competitions will take precedence.
He predicts Wenger's approach to the game with Southampton will follow a recent trend employed by the Arsenal boss, where a core of experienced players allow youth prospects to get valuable first-team opportunities.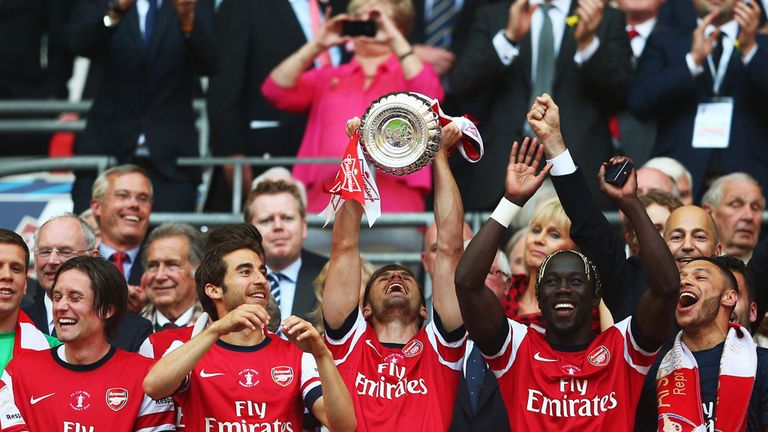 "It's obviously one of four cups you can win if you're Arsenal so it does play a big part," he added.
"It's fourth in the list and there's no getting away from that but I think we've seen with Wenger's team selections over the years is that he hasn't thrown in as many kids as he once did; having used it as a practice ground almost to blood them and he has not done that over the last couple of years.
"He was a bit unlucky last year to get Chelsea in the fourth round and they got knocked out but he will want to avoid a below-par performance, the kind you saw against Bradford a couple of years back when they got knocked out, and you just want to see some consistency.
"He will play some fringe players. The likes of Abou Diaby will come in; he was on the bench at Villa Park, Hector Bellerin maybe. He will play some of these lads but he'll still have a spine I think, quite an experienced spine."
Speaking in the Sky Sports News HQ studio Gerry Francis praised Wenger for his successful use of youth throughout his years at the club but disagreed with Smith and argued the cup competitions are more valuable for clubs not playing in Europe.
"I agree with Alan in some respects but last year when they won the FA Cup that was their first trophy in a lot of years so cup competitions are important.
"But it's a different scenario for Southampton, Sunderland, Stoke and Crystal Palace for example. For teams like that the cup competitions are something they can go out and do well in and it can take them into Europe.
"We went to the FA Cup final at Stoke and went into the Europa League from that point of view so I think it's really important.
"Clubs need to play strong teams. When you're playing against the likes of Arsenal not playing at their best, in terms of their strength in depth, then it always gives you a chance. So those clubs really want to take the Capital One Cup very seriously."