Denmark manager John Jensen praises 'heroes' after 'best defeat'
Denmark fielded a team comprised of lower-league and futsal players
Last Updated: 06/09/18 1:14pm
Manager John Jensen praised "24 heroes" following the "best defeat" in his career as a makeshift Denmark side lost 3-0 against Slovakia.
Denmark fielded a team comprised of lower-league and futsal players for Wednesday's international friendly in Slovakia amid a contract dispute with the country's football association.
The makeshift Danish side, captained by third-division forward Christian Offenberg, lost 3-0 in Trnava without Christian Eriksen and Kasper Schmeichel who led them to the last 16 of the World Cup.
Why Danish football is in crisis
Bizarre Denmark side lose in Slovakia
"We got 24 heroes who were called in about 48 hours ago and play in a very, very low division compared to the opponent Slovakia who has world-class players.
"I'm proud, I'm shocked that these players that were on the pitch and also the players that didn't come on the pitch.
"The friendship and what they did tonight is absolutely amazing and I will never forget this defeat. This is the best defeat in my career."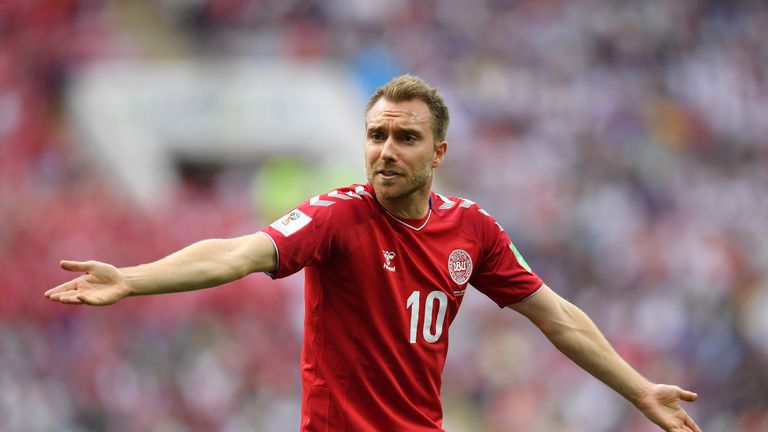 Denmark are due to face Wales on Sunday in their first game of the inaugural UEFA Nations League.
They could have to rely on the same players unless the standoff between the Danish players' union and national federation over commercial rights is resolved.
Slovakia manager Jan Kozak added: "I truly respect Danish soccer. It is a characteristic for its high quality and many interesting players. I was looking forward for the confrontation with them, also because there were players that participated in the World Cup too.
"We didn't know the final Danish team that came to play against us and that's why we couldn't prepare our players for the match in the best way. However, I think our players were going straight for the win."
Watch the Nations League live on Sky and get two football channels for one great price. Get Sky Sports Premier League and Sky Sports Football in HD - now £18 a month.