An entirely weakened Denmark side, filled mostly with third-division and futsal players, lost 3-0 in Slovakia on Wednesday.
Slovakia, which included leading players like Napoli midfielder Marek Hamsik and former Liverpool defender Martin Skrtel, said before the game that its squad had been harmed by the Danish dispute and asked European football's governing body UEFA to deal with the case, and confer "adequate consequences".
Organisers dropped ticket prices to €1 because of the depleted visiting team.
"It was tough to get motivated for a game like that," Hamsik said.
Why Danish football is in crisis
Giggs: Denmark situation unusual
The home side went ahead when forward Adam Nemec beat Denmark goalkeeper Christoffer Haagh, who is a futsal player, with a header in the 11th minute.
Albert Rusnak made it 2-0 in the 37th minute before substitute Adam Fogt put through his own net with 11 minutes left.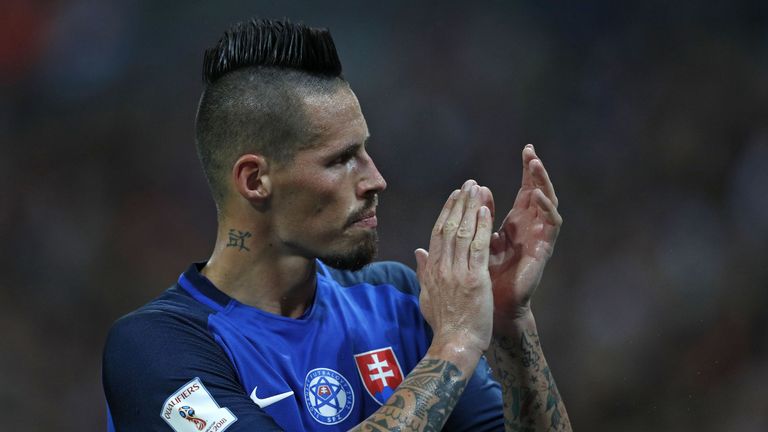 Negotiations collapsed between the Danish footballers' union and the national federation (DBU) over a new collective bargaining agreement regarding commercial rights, and players from the original squad were sent back to their club teams on Monday.
The previous collective bargaining agreement expired on July 31 and the two parties have been unable to agree a new one.
The DBU called the result an "honourable defeat".
It remains to be seen what sort of team Denmark will field in its opening UEFA Nations League game at home to Wales on Sunday. Slovakia begins its campaign in Ukraine on the same day.
Denmark starting XI
Christoffer Haagh (GK) - Jaegersborg Boldklub - futsal
Simon Vollessen - Birkerod - fourth tier
Daniel Nielsen - Vanlose - fourth tier
Nicolai Johansen - Vanlose - fourth tier
Mads Priisholm Bertelsen - Tarup-Paarup IF - third tier
Rasmus Johanson - Hellerup IK - third tier
Christian Bannis - Tarup-Paarup IF - third tier
Oskar Hojbye - Vanlose - fourth tier
Rasmus Gaudin - Vanlose - fourth tier
Kasper Kempel - Skovshoved - third tier
Christian Offenberg (captain) - Avarta - third tier