Football Expert & Columnist
'Unai Emery needs time at Arsenal - but he should play Alexandre Lacazette with Pierre-Emerick Aubameyang'
The Gunners travel to Cardiff live on Renault Super Sunday
Last Updated: 02/09/18 2:43pm
No manager would be able to get Arsenal into the top four with the squad Unai Emery has at his disposal, says Sky Sports pundit Jamie Redknapp. But he thinks a new formation could help the Spaniard in the short-term...
I don't think any manager could [get this team into the top four], not at the moment. I just think it is going to take time. Arsenal have been falling further and further behind and I think Arsene Wenger has left Unai Emery with a badly-balanced squad with not enough quality in it. It's as simple as that. I don't care who the manager is - Pep Guardiola or whoever - it is going to take time and he needs it.
What the squad and the type of players Emery has brought in has told you, is that the finances have been pretty strict on him. You look at the squad that Wenger inherited with that famous back four and the goalkeeper, he's got a lot more work to do with this group. I don't think he's inherited a great squad. I don't think they're as bad as what they showed last year but he's got a lot of work to do with them.
If you've got the right manager, it's going to take a couple of windows. I said last week, with the Arsenal team that played Chelsea, how many of those players would have got in the Blues' side? Not many, maybe Pierre-Emerick Aubameyang ahead of Alvaro Morata but there wouldn't be many more and I think that's the most worrying thing for Arsenal.
I think they've got a good manager now, they needed to change, but when you want to play out from the back like he does, I think you've got to give it a bit of time because it doesn't happen straight away. My only worry with it is that I don't think he's got the personnel to do that, I really don't, but then comes the question of 'do you adapt or do you keep working that way even if you're going to make mistakes and concede goals?'
I do think a subtle change might help and I think if they had done that against West Ham, again it's not a system he wants to play, but Aubameyang and Lacazette look good together. The look like a really good pair, they look dangerous and they look like two players you wouldn't want to play against. But, again, if he plays those two as a strike partnership, that means you're going to lose a player in midfield and it does become very difficult. I do think playing those two at the moment would help them and make them a bit more exciting.
Against Cardiff, it's probably a game where, last year under Wenger, they would have gone there and lost. The away record towards the end of the season was disgraceful and they were spineless. Something Arsenal fans will demand is that the manager makes Arsenal difficult to beat away from home and if they decide to play out from the back and spilt the centre-backs away at Cardiff, the Cardiff fans will love that, the players will love it because they'll press them in and stop them playing out.
That's where Cardiff can get some success against them, and I've said it before that you've got to have a game-plan when the team you're playing against are going to put you under pressure, which Cardiff will. Long balls, long throws into the box and when you think about Arsenal over the last few years, it's been their kryptonite.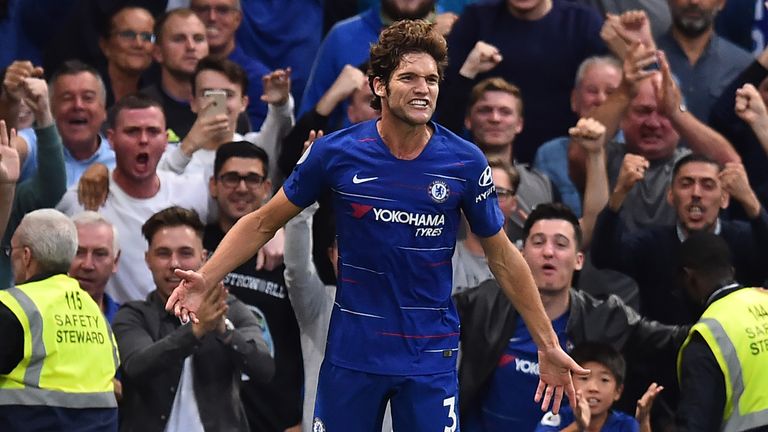 It's not just me saying it, but they are outsiders to get into the top four. If he gets into the top four, for me, with that squad, it will be a great achievement. I just think about how they could look like a more dangerous side and it would be to play those two up front. The fans are calling for it, the two players themselves will like it, but as I said, what that does then is make it a 4-4-2 and that means there is a lot more work for the two in midfield and they haven't really got great energy in there.
Granit Xhaka seems to struggle in there, he hasn't got the legs to get around and he's always going to get booked, so I feel it is very difficult for this team, they haven't got the legs or energy in midfield. How he changes it is not going to be that easy, but that is certainly one thing I would look at. Maybe more so at home where you know you're going to have more possession.
They've got to buy better players, it's a simple as that. The players they've bought, like the right-back Lichsteiner, yes he's been a great player in the past for Juventus, but he's 34 now. The centre-back Sokratis is not tried and trusted in the Premier League.
They're not doing what the likes of Liverpool have done where they've gone out and bought Virgil van Dijk for £75m and gone and bought players who you know are going to be a success in the Premier League. I feel like it's going to take time and it is going to take more investment. Jose Mourinho moans about not having enough money all the time, but he has got a lot of good players there. At Arsenal, the argument would be slightly different because I don't think they've invested in some great players.
This is a great chance for the Arsenal players to say, 'Yes, we are a different team this year, we are going to be more efficient away from home, we are going to be up for the fight," because if they're not, they'll get run all over by Cardiff.
Watch Cardiff v Arsenal live on Super Sunday.