Danny Welbeck looks like a great buy for Arsenal after his England heroics, says Jamie Redknapp.
Welbeck's £16million transfer from Manchester United was one of the last deals to go through in the final hours of Deadline Day, with the move relying on United bringing in Radamel Falcao on loan from Monaco.
However, the 23-year-old shone in England's European Qualifying match against Switzerland on Monday night, scoring a brace to ease pressure on manager Roy Hodgson, who had to defend his side and tactics this summer after a disappointing World Cup outing.
The 2-0 win in Basel puts England in the driving seat in Group E with the Swiss, listed 11 places higher in the FIFA rankings, arguably the toughest opponents the Three Lions will face in their quest to reach the France finals in 2016.
Sky Sports expert Jamie Redknapp, who was joined by Chelsea captain John Terry for analysis on Sky Sports 5 - our channel dedicated to European football - believes Welbeck could be the 'perfect fit' for his new club Arsenal.
"I like what he does and the desire he shows to get into the box," said Redknapp, while analysing Welbeck's second goal.
"People talk about whether he's this instinctive player; here I actually think he's really relaxed. He knows he's got a bit of time and he just bends it into the corner and that shows you what confidence he's playing with.
"It was a crazy transfer window but I think Arsenal have got such a bargain with this man. They paid £16million and when players are going to Championship clubs for £12million, that is the bargain of the century.
"He gives you an outlet. If you look at that Arsenal side and the pace they have where they can break and counter, he's perfect for it, he really is."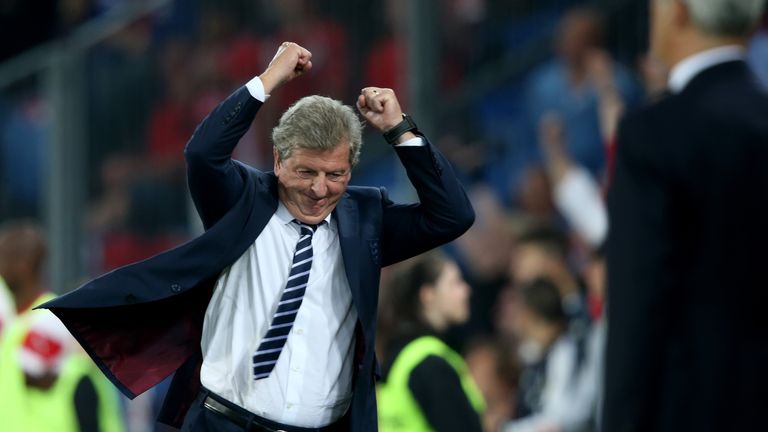 Confidence
After a less than inspiring 1-0 win in a friendly against Norway last Wednesday, which only attracted 40,000 fans to Wembley Stadium, the mood surrounding the national team was distinctly negative, but Redknapp feels this win is just what the players and supporters needed.
"A lot of it is belief and confidence now with this England side - that will do them no end of good," said the former midfielder, who won 17 caps for his country.
This result go a long way to repairing the damage that was done at the World Cup.
"I've had it many times in my career: when the manager is under pressure it transmits to the players and you start to play with that little bit of fear, every pass seems that little bit more difficult than when you're winning games and everything is going well. 
"Now, with that result, they'll go back to Wembley and it will give them a bit of confidence. You can't underestimate what a big result that is, not only for them but also for the manager.
"I don't think for one second that they would have sacked Roy Hodgson if they'd have lost that game but it would have put him under tremendous pressure and every single England game – even joining up as a player – you're like, 'this is going to be hard work'. Whereas now there's going to be a bit of enjoyment. 
"They're going to fly back tonight or in the morning and there'll be a feel-good factor on that plane on the way home and that's what England needs right now because 40,000 people turning up at Wembley is not great 
"This result goes a long way to repairing the damage that was done at the World Cup. It won't go all the way because we still have a few problems, but to win games and get that under your belt is so important."