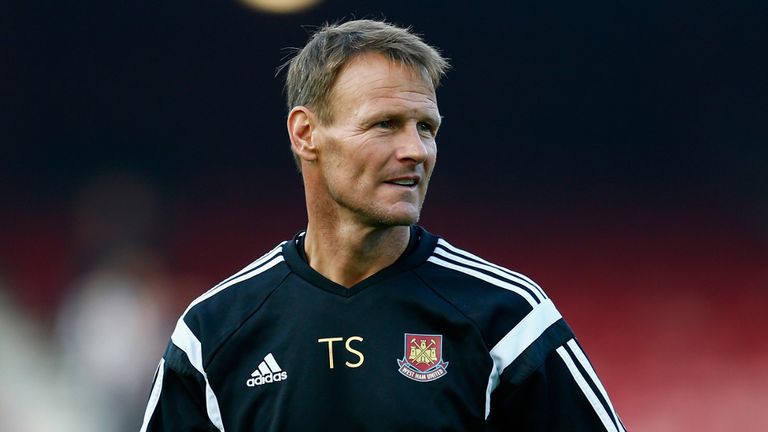 Teddy Sheringham has been confirmed as the new manager of League Two side Stevenage.
Sheringham takes over at Broadhall Way from Graham Westley, whose contract expires at the end of the month.
Westley guided Stevenage into the 2014/15 play-offs, but they were beaten 4-2 on aggregate by Southend in the semi-finals last week.
Sheringham retired from the playing ranks in 2008 after a spell with Colchester and he had most recently been on the coaching staff at West Ham.
"I'm very excited," Sheringham told Sky Sports. "I've had six years out, not being involved with football, and in the last year I've been involved with West Ham doing the strikers down there.
"I really got the bug after spending a year with Sam Allardyce and his staff, and got the feeling I could do a little bit more in football - now here comes this chance and I have grabbed it.
"I'll be coming in with enthusiasm and excitement, and I hope the players come back for training in July with the same enthusiasm.
"I know it's hard once you have had that disappointment of not doing so well in the play-offs and staying in the same league, after all the optimism, but I'll be getting on them straight away.
"Even if they had have been promoted, it's still a big season. This is just the same, it's a massive season and I want to do well. That's what the players want as well, no doubt."
A Stevenage statement read: "Stevenage FC have confirmed that former Manchester United, Tottenham, West Ham and England international Teddy Sheringham will take over as as manager in the summer.
"The 49-year-old will arrive at the Lamex Stadium from West Ham where he spent last season as attacking coach."
Premier League club West Ham paid tribute to their outgoing coach on social media.
They tweeted: "West Ham United would like to wish attacking coach Teddy Sheringham all the very best in his new role as Stevenage manager.
"The Hammers would like to thank Teddy for his hard work and contribution to the Hammers during the 2014/15 season."