Pirlo - England are predictable
Andrea Pirlo has labelled England 'very predictable' ahead of Italy's Euro 2012 quarter-final showdown with the Three Lions.
Last Updated: 24/06/12 1:15pm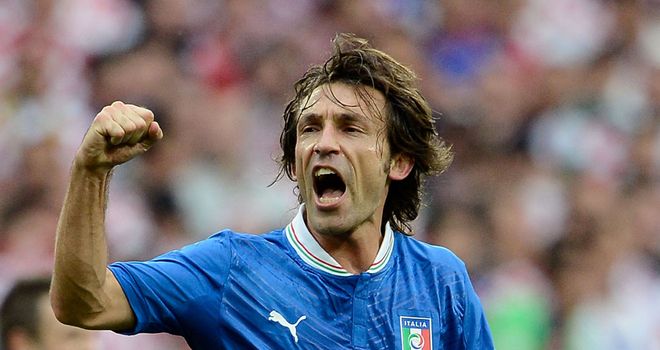 Andrea Pirlo has labelled England 'very predictable' ahead of Italy's Euro 2012 quarter-final showdown with the Three Lions.
Sunday's encounter at Kiev's Olympic Stadium is expected to be a tight affair, with both sides having based their success so far on their ability to perform as a solid unit.
Italy are renowned for their defensive resilience and have favoured a counter-attacking approach for some time.
England are new to that system, under the guidance of Roy Hodgson, and have yet to prove that they can strike the right balance between defence and attack.
Pirlo believes that will work in Italy's favour, with the Azzurri brimming with confidence as they look to book a semi-final date with Germany.
The Juventus midfielder said: "People talk about England playing the Italian way, but that's rubbish. Only Italy can play the Italian way. And we do not care for anyone who tries to impersonate us. It's like trying to play against Spain the Spanish way.
Practical
"Roy Hodgson knows Italian football, which is a small advantage, and he is very tactically astute. But I have seen some of England's games in this tournament. They have been more practical than impressive, and we are confident of beating them.
"They have weaknesses that we can exploit, particularly in the midfield. They are missing some key players and I think we will have the measure of them in that area.
"They also look very nervous at times in defence and, France aside, they have not had to play too many big nations.
"I think they were more adventurous under Fabio Capello and I would have been more concerned if he was still in charge.
"It is very odd to see an English side play counter-attacking football. Maybe they will adopt a different approach against us, but I doubt it because in some ways they are very predictable.
"They have been very fortunate in getting this far. Against France they were completely outplayed, then they struggled against Sweden and were extremely lucky to win against Ukraine."
Unpredictable
It has been suggested that England will look to target Mario Balotelli's fiery temperament should the Manchester City striker be handed a starting berth by Cesare Prandelli, and Pirlo admits he is 'slightly concerned' as to how the youngster will react if provoked.
He said: "As for Mario, he is very unpredictable but a very special talent. He's young and needs to mature but sometimes you have to treat players differently.
"He needs to be pampered a bit. He is fired up for this game and wants to do well with a worldwide audience watching.
"I just get slightly concerned that he is easily provoked and the English players will try and take advantage of this.
"He needs to stay calm and ignore any provocation because there would be dire consequences if he reacts to something and gets sent off and Italy lose the game."