FA chairman Greg Dyke says the announcement that Sepp Blatter is to resign as FIFA president marked "a brilliant day for football".
Dyke had called for European football to unite and boycott the 2018 World Cup in Russia following Blatter's re-election for a fifth term last Friday.
He had also asserted he did not think Blatter would be able to serve a full term as president - but speaking on Sky Sports News HQ, Dyke admitted he was surprised just how quickly Blatter's reign had come to an end.
"I never thought he could sustain his position but even I am shocked he only lasted four days," he said. "He was triumphant in Zurich - four days later he's gone. So – who got him? That's the interesting question.
"Something has happened between then and now which means he has to resign.
"I just don't think he's the kind of person who would have a moral conversion on the 'road to Damascus' – he would have hung on forever. There's no doubt something has happened and we'll find out over the next few days.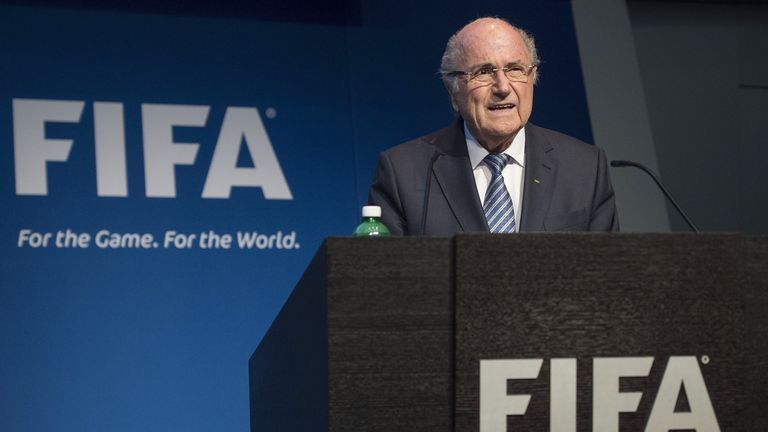 "The real issue now is that whoever replaces Blatter has to be squeaky clean – it has to be someone who can bring in the forensic accountants to sort out the money and find out where it's gone.
"We don't even know how these people get paid, what their expenses are – we know nothing.
"It's got to be transparent."
The FA chairman - one of FIFA's fiercest critics over the last few years - said he wanted to see root-and-branch reforms across the organisation including a maximum of two terms for members of FIFA's Executive Committee (ExCo).
"There are a lot of good people in FIFA who must be dismayed as what they've had to endure in the last week," he added. "We've now got to say what sort of organisation we want but you also need to look at how people get elected to the Executive.
"It's my view that you shouldn't be elected for more than two terms and that the president shouldn't be able to stand for more than two terms – what we've seen with Blatter is the longer he stayed the more suspect the organisation became.
"The countries who did vote for Blatter – they need to know change is coming. This won't necessarily affect their finances but it will affect the way that money is distributed.
"Nothing is more important that establishing where the money is coming from and where it's been going to – because we just don't know that."

Asked if the resignation could mean the decision to award the 2018 and 2022 World Cups to Russia and Qatar will come under renewed scrutiny, Dyke said: "If I was the Qatari organisers I wouldn't sleep very well tonight.
"There has been less evidence about corruption involving Russia. Qatar was never understandable - to have a World Cup in the middle of summer in Qatar when even FIFA's health and safety people advised not to do it.
"I think if the evidence comes out which shows the bidding processes were above board that's fine. If it shows they were corrupt then obviously the bids should be re-done, it's as simple as that."
Dyke's comments drew an immediate response from the president of Qatar's FA, who urged him to let the legal process take its course and concentrate on fulfilling his promise to deliver an England team that will win the World Cup.
"Mr Dyke's instinct to immediately focus on stripping Qatar of the World Cup speaks volumes on his views concerning what will be the first FIFA World Cup to take place in the Middle East," Sheikh Hamad Bin Khalifa Bin Ahmed Al-Thani told Sky Sports News.
 
"Having already co-operated fully with Mr. Garcia's investigation – and been subsequently cleared of any wrong-doing – we welcome the Office of the Swiss Attorney General conducting its own work into the bidding process for the 2018 and 2022 World Cups.
 
"We would urge Mr Dyke to let the legal process take its course and concentrate on delivering his promise to build an England team capable of winning the 2022 FIFA World Cup in Qatar."