FL72 Review: Andy Hinchcliffe reflects on Football League weekend
Every Monday night, the Sky Sports experts will review the weekend's Football League action on FL72. Here's Andy Hinchcliffe's take on big wins for Blackpool, QPR, Peterborough and Chesterfield.
Last Updated: 25/09/13 11:59am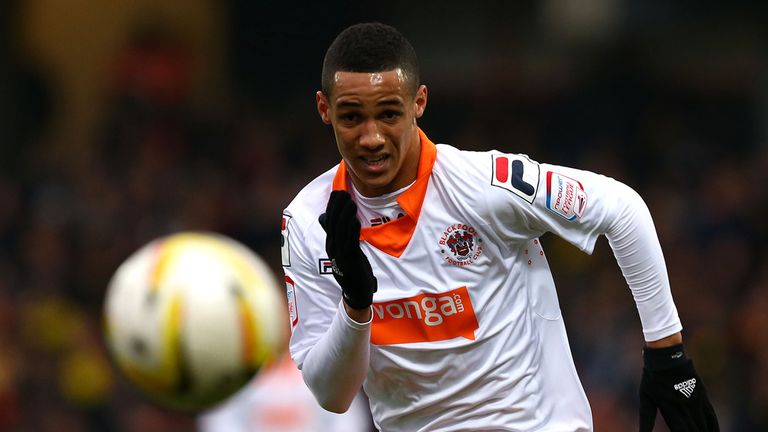 The effect that Tom Ince has on any side, certainly the Blackpool side, is enormous. But they are not a one-man team. Paul Ince has gone there and has built a genuine team spirit, which is what it is all about in the Championship. If any team is to be successful, you need that spirit. He has some good players there who want to play for him. I played with Paul Ince with England and he was driven as a player, and as a manager I think he wants to be successful. So he will do everything in his power and will ask that of his players as well. Blackpool are pretty similar to most teams in the Championship in that they will want to bring in creative players and strikers in the loan window. They have a pretty solid defensive base, which has not been the case in the last few years. Under Paul they have tightened up and have some exciting attacking players. If they add one or two more they have a real chance this season to finish in the top one or two, not just the play-offs.
QPR 1-0 Birmingham
All Harry Redknapp is bothered about is getting back to the Premier League. We saw it with Hull and Cardiff last season - you have to grind out results in the Championship. You have to be hard to beat and pinch a goal to win games. That is what QPR are doing. So even though the football is not that flamboyant, Harry will be very pleased with the start and how they have applied themselves in the Championship after coming down. Redknapp said that Birmingham were the best side in the first half, one of the best side they've faced, but it is about putting the ball in the net. It is all well and good having possession and creating chances but you need strikers to finish things off. If you are playing well consistently, you need the strikers there to win games. I think Birmingham will be fine once they get a win. I think then they will win back-to-back matches but it is about getting that first win.
Millwall 1-5 Derby
I know Millwall are really struggling but Derby lost 3-0 at home to Burnley in their last home game so for Derby to recover from that and play as well as they did away from home, Nigel Clough will be absolutely delighted. Not only did they score five goals but they played very well and completely dominated the game.
Bolton 0-1 Leeds
When Brian McDermott first went to Leeds he would have wanted to make them into a side that is difficult to beat and that is what he's done. In this Championship you go a long way if teams struggle to break you down. It is just whether you have the strikers at the other end to pinch games and it worked for them at Bolton. Dougie Freedman will probably say that he has not got the striking option that he needs. I am sure he will be saying that his team is playing well enough but they are not getting the rub of the green and losing games by the odd goal. That is true. But the expectations when Dougie went there were very, very high and they should be pushing for a play-off spot. Ok, it is early in the season and things can change, but you just wonder because they have a tough run of fixtures coming up and if things don't go so well Dougie will be worried.
Bristol City 0-3 Peterborough
Britt Assombalonga is looking like the signing of the division so far. He was unstoppable at the weekend: the goals he scored, the pace, the power. He held the ball up well and moved well for his first goal and he didn't even look at the goal when he struck it. But there is no goalkeeper in the world that could stop it. For the second goal he showed his pace and power, his intelligence to run away from defenders, know where the space is and then be composed with his finish. It is not just about power with him. It was an equally good goal as his first one. Peterborough are scoring goals for fun and confidence is high. They were relegated but nothing has really changed. They have not panicked. Darren Ferguson is still in charge and encouraging them to play great football and the goals they are scoring, and the way they are playing, is fantastic.
Chesterfield 2-0 AFC Wimbledon
Chesterfield's success so far this season is all about team spirit and having those key individuals that can change games for you. Gary Roberts has been in sensational form for Chesterfield. At this level it is about sticking together as a team and being hard to beat. But scoring the goals that Chesterfield are, and playing the football that they are, is terrific. The stylish way that they are playing is absolutely incredible and they have key individuals who can change the course of games. That is why they are flying high at the top of the table. The most important thing for a manager when they are winning is consistency of team selection. They have a relatively small squad. If the manager can pick 10 of his best starting XI each week, the team spirit builds, the players understand what each other is doing and they get stronger. That is happening at Chesterfield.
Click here to sign into Sky Go and watch FL72-Review in full.
See all of the weekend's Football League highlights for free on your computer