Meet 'The Purples', the third team in Liverpool worth keeping an eye on....
Last Updated: 17/12/16 4:19pm
Monday night's match between Everton and Liverpool is the first meeting of the Reds and Blues this campaign. It's a fixture that has always stirred the emotions of supporters in the city; a fierce and passionate rivalry. But one group of fans from both clubs have been putting aside their rivalries all season in support of a third club in Liverpool that is winning over an increasing number of converts.
City of Liverpool FC play in the North West Counties League First Division - 11 levels below Liverpool and Everton. The club was only formed in the summer, but they have taken the league by storm. Last Saturday they beat Holker Old Boys 6-1 to go top of the table. City of Liverpool is run as a community club, with inclusivity for all at the heart of their ethos.
Chairman Paul Manning was one of the founders and explains why he felt there was a space for the club in the city. "In the summer we looked around and realised Liverpool as a borough didn't have a non-league team," he said. "There are plenty of teams in the surrounding area, in places like Sefton and Knowsley, but not within the city. We wanted the people of Liverpool to have a choice. You can see Liverpool and Everton in the Premier League if you can get tickets and if you can afford those tickets, but it's not easy. If you can't, the only other alternative is pub football. So we thought people would want this.
"Normal working-class people can't access tickets for the Premier League. This is about community not capitalism. We're hoping this can fill a gap. We're not asking anyone to walk away from Liverpool or Everton. Personally I'm a Liverpool fan of 40 years and have experienced all the ups and downs that come with supporting the team, but you can come here as an alternative and support The Purples."
The club's colours are the civic colours of the city. City of Liverpool are still searching for their own ground, currently they share the Delta Taxis Stadium with Bootle, but they have a strong identity in the community. Every week there are bucket collections for local charities and the club also runs a food bank on matchdays. It's an impressive set-up.
The Purples are sponsored by a not-for-profit social housing company called Regenda. Part of the company's sponsorship involves giving young local children a matchday experience where they meet the players and management and become mascots for the day. Across the entire North West Counties league, children under 16 get in for free when accompanied by an adult.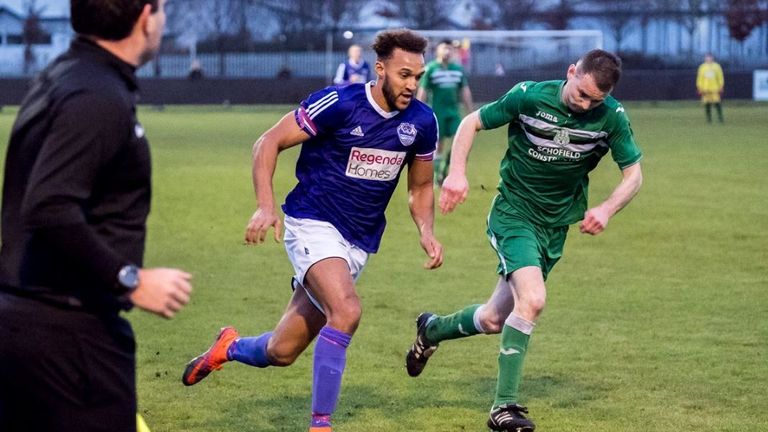 Director Gary Johansen adds: "It's really taken off. We had a thousand members following us on Twitter before we even put the team together. We've got a huge number of Liverpool and Everton fans who enjoy coming to our matches together."
Manager Simon Burton had the unenviable task of putting the team together from scratch in the summer after leaving Runcorn Town with his entire backroom team of assistant manager Tom Spearritt, first-team coaches Chris Lawton and Phil McDiarmid and physio Lucy Orme.
"It was a bit of a leap of faith because when I spoke to the chairman, we didn't even know which league we were going to play in," he explains. "We knew at the start it would be difficult, but there was a base of players who came with us and then we had open trials and gradually we got a good team together over pre-season.
"The players get great support. We've got 500-odd fans at home games who never stop singing and shouting all game and they really get behind the lads. It's like having an extra man, it's fantastic."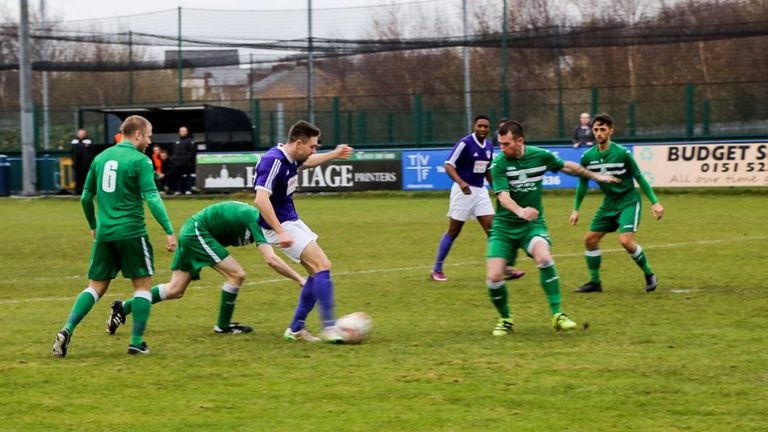 One of those players is Aaron Rey. The 33-year-old has played semi-professional football all his adult life, but is enjoying this challenge as much as any he's had. "There's a lot of very good players in this city, but it's the fans that make it really special. The support is brilliant and they just get behind us."
Word is getting out about the unique atmosphere at matches. On Saturday a group of Norwegian supporters came through the turnstiles. Unlike at professional games, fans can watch the team whilst having a drink. At four pints for a tenner, the bar was doing a roaring trade all afternoon. Although with six goals to cheer there was plenty of spilt beer across the terraces.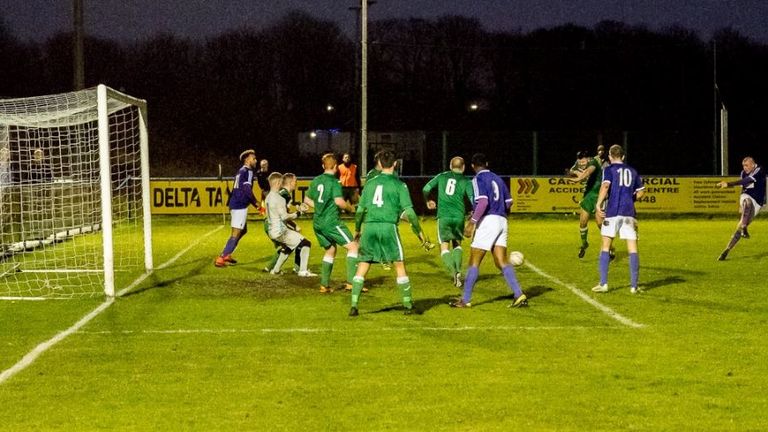 The standard of football is excellent. Burton's men like to get the ball down and play. And with pace out wide they have plenty of options going forward. Three of the goals came in the last 10 minutes as Holker looked visibly worn down in the closing stages. After hearing that Litherland REMYCA managed a last-gasp equaliser against previous league leaders Whitchurch Alport, the supporters had another reasons to celebrate - The Purples had gone top of the table.
Post match, players and management mix with fans in the bar. It's a world away from their illustrious neighbours over at Anfield and Goodison Park, but the third team in Liverpool is well worth keeping an eye on.
You can see Johnny Phillips' feature with City of Liverpool FC on Gillette Soccer Saturday, and catch Everton v Liverpool on Monday Night Football - 7pm, Sky Sports 1 HD.
Upgrade to Sky Sports now and get six months half price