Gary Neville believes Chelsea's clean-sheet mentality is breeding confidence, and that their lack of European football will be beneficial in the title race.
Antonio Conte's side beat Southampton 2-0 at St Mary's on Super Sunday, their fourth Premier League win and clean sheet on the trot.
It puts them one point off the top of the Premier League, and Neville believes that defensive confidence is becoming evident, adding Sunday's performance was near-faultless.
He said on the Gary Neville Podcast: "The very, very top teams make the fewest mistakes, and that was a team performance today (Sunday) of no mistakes.
"That clean sheet mentality has definitely been forced into them. It's a way of being, it builds so much confidence. When the goalkeeper and defenders are happy, when they are comfortable and relaxed, the crowd aren't getting anxious.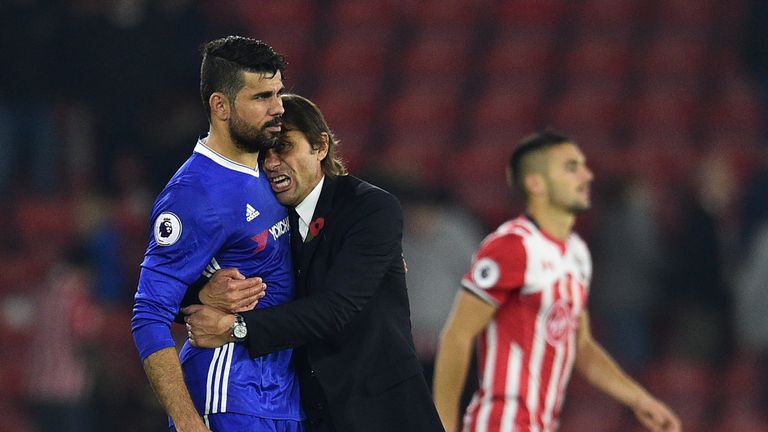 "I'm seeing Chelsea players do the right things, staying with their runners, and they've got two very, very good central midfield players from a defensive point of view, they've got a wonderful ability to read the game and fill in the gaps.
"Are they the finished article? Probably not, but I wouldn't rule them out of the title, because I don't trust the others enough to think that Chelsea can't win it."
Chelsea finished 10th last season with Jose Mourinho and then Guus Hiddink at the helm, meaning a year out of European competition for Conte's first season in charge at Stamford Bridge.
Despite insisting European competition is a good distraction, Neville sees the benefit in the likes of Chelsea and Liverpool retaining their energy levels for the Premier League.
"I think the fact that Chelsea have free weeks, and don't have the confusion and disruption of European football, even though it is a good disruption being in the Champions League or Europa League, it gives them a big advantage.
"Certain players in their team - like John Terry, Branislav Ivanovic, Diego Costa, even Eden Hazard and Nemanja Matic - I think they all benefit hugely from it.
"They would have been in that dressing room after the game, having put in a wonderful performance, and be thinking: 'I've got a week now, I can get my body right, have a massage and not think about training on Tuesday ahead of another midweek game.'
"It's a big thing for players of that nature, so I think that gives them a competitive edge, and Liverpool the same, who have players who give huge energetic performances. Their recovery between games is important.
"It will be an advantage. I think Tottenham are as good as Liverpool, I think Tottenham are as good as Chelsea, there's no doubt, but because Spurs are in European competition I would put Chelsea and Liverpool ahead of them in the Premier League for that reason.
"I think Manchester City and Arsenal are the better teams, but can you trust either of them fully yet? I don't think you can. That's not to say they won't go and deliver, but because they're in Europe, and that they've shown glimpses of the old Arsenal and old City, they've got to give me more yet before I trust them.
"That's without even mentioning United, who have fallen behind a little bit."
Hazard was in fine form again on the south coast on Sunday, netting his fifth league goal of the season, one more than he achieved in the entire 2015/16 campaign.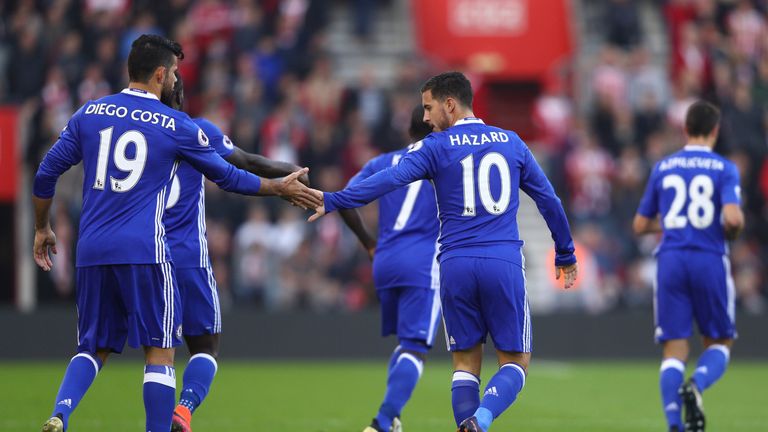 Neville says Hazard is an "unbelievable" player and despite suffering from poor form last season, looks back to his best.
"I'm quite tough on Eden Hazard, not because I dislike him, but actually because I think he's an unbelievable player. A player like him should be reaching the level of [Gareth] Bale, [Cristiano] Ronaldo, [Lionel] Messi.
"That is the level I would put him at. He cannot afford to have seasons like he did last year when you're at that level, you have to build up a trust of being a world class player.
"World class isn't just one season and then miss a season, it has to be every single season. The standard is higher now, the players like Bale, Ronaldo, Messi, they don't drop, they've not dropped for seven or eight years, they've kept performing.
"What we've seen so far this season is a player who is devastating, and it looks like he's back to his best."