Gary Neville describes the first time he saw Cristiano Ronaldo play
Last Updated: 08/11/16 11:02pm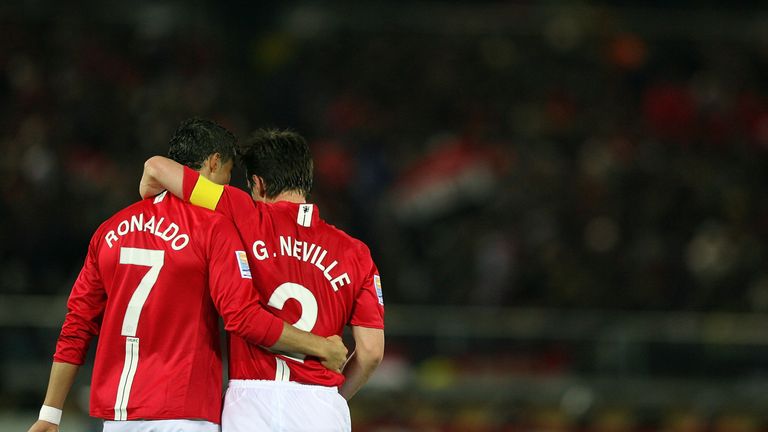 On August 6, 2003 an injured Gary Neville was at home watching his Manchester United team-mates playing against Sporting Lisbon in a televised pre-season friendly. The opposition's 18-year-old left winger quickly caught his eye...
It was the first time I'd seen Cristiano Ronaldo play.
He was up against John O'Shea, who was obviously a good defender; he was strong, he was quick and he knew where to position himself.
Sheasy was playing in the position I would normally play - right-back - but I was injured and I was watching the game at home on MUTV.
Like Sheasy, I'm very aware of how difficult it is to play against certain types of movement. I specifically remember Cristiano making a certain move where he cut inside and ran between O'Shea and our centre-half. He made this double movement and I remember thinking 'oh my God'. 
Obviously you could see the skill he had on the ball and his natural talent, but these days what you see less and less is players who make runs without the ball in between the full-back and the centre-back. I would say that's possibly the most underrated run of all.
It's so difficult for the full-back and centre-back to defend against, as the full-back doesn't know when to pass over the attacker to the centre-back or play offside. The centre-back then could have a decision to make whether to leave him or track the runner. It's a really difficult issue, especially when the ball is in a central area.
I remember watching Cristiano make that run between the full-back and centre-back and thinking 'wow, you don't normally see that from experienced players, never mind a young kid'.
What a player, I thought. After the match I remember sending a text to my brother, saying 'we need to sign him' and apparently there was a lot of talk about him on the coach after the game.
Obviously players should never be involved in signings, but he certainly made everyone sit up and take notice. I'd never heard of him and I'd never seen him before that night, but there was a huge excitement among the players afterwards.
The only other opposition player I've felt like that about was Louis Saha. I remember playing against him as a centre-back when he was at Fulham and he destroyed me three seasons on the bounce. I was devastated when I had to play against him and I thought 'we've got to sign him'.
He was clearly a different type of player to Cristiano, but we spoke about him in the dressing room in the same way. After that game against Sporting Lisbon, there was a great admiration and there was no doubt the players were all talking about Cristiano. 
What we didn't realise is that the manager had been dealing with it for a period of time before then. Sir Alex Ferguson signed him shortly afterwards. 
Cristiano was very raw when he first came to the club; he had a lot of growing up to do and like all young players he needed time to develop.
It took a few years for his body to fill out and he needed time to get his decision-making right but you would expect that from a young player. And over two-and-a-half years he became a devastating player, improving himself both physically and mentally.
For me, it felt like he matured and became a man after the 2006 World Cup. After that tournament he became a completely different player.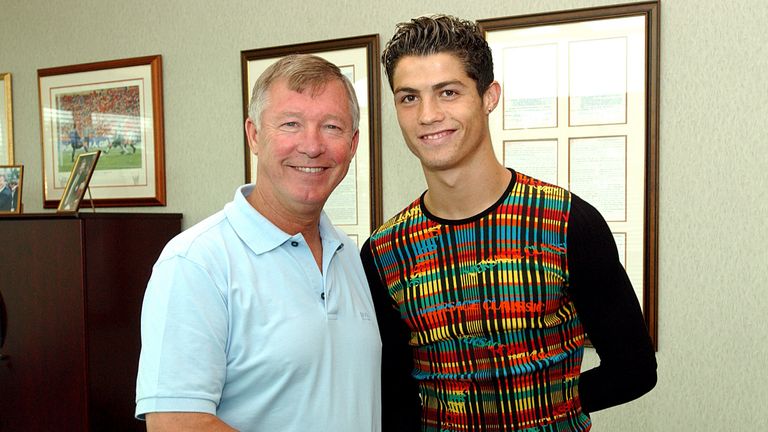 Suddenly he knew when to pass, where to pass and he knew when and where to run. It all seemed to come together at once. 
That was the time he was getting criticised the most by fans in this country after his famous wink at Wayne Rooney, but I would never criticise him for that. 
I always felt all was fair in love and war when it comes to the football pitch. As long as it was legal and you were acting within the rules of the game, then a player should try to gain all competitive advantages possible to try and win.
I've always said that Paul Scholes, Ryan Giggs and Roy Keane were the three great players I played with over a long period, but for three years from 2006 to 2009, Ronaldo set a standard you can only dream about. 
It was a magical time when he was playing with Rooney and Carlos Tevez; I've never seen anything like it. It was amazing to watch and he was the pinnacle of it.
After leaving United, he has gone on to become the best player in the world - and I think that's been proven by the Ballon D'Or wins.
There has long been an argument over who the best player is - Ronaldo or Lionel Messi - and in my mind we've been blessed to have both. I would always favour Cristiano because I played with him, but it's almost unfair to say that because both are sensational players.
But I'll never forget that game against Sporting Lisbon and the chat among the players when they got back to Manchester. Poor Sheasy was the butt of a lot of jokes for being given a run-around.
But I have to be honest, I felt for him. 
If I'd been playing that night he'd have done the same to me.
Watch #CR7Live tomorrow at 1pm on SkySports.com, Sky Sports Facebook page and on the Soccer AM You Tube Channel.