Gary Neville praises Chris Hughton as Brighton secure Premier League safety
Last Updated: 04/05/18 11:32pm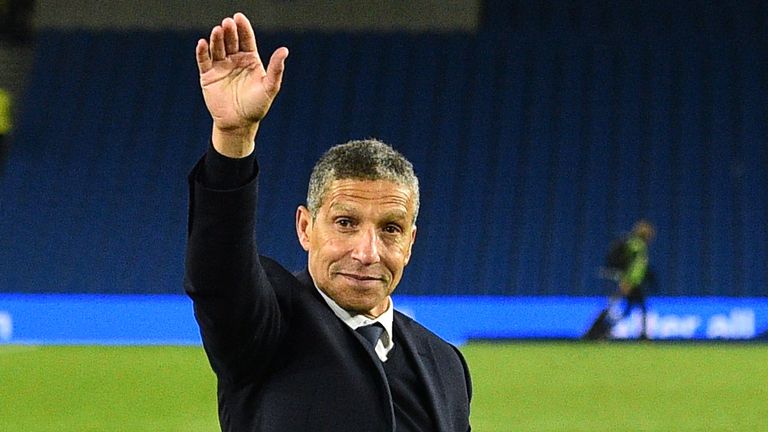 Gary Neville says Brighton's Premier League survival will earn Chris Hughton the plaudits he has long deserved.
The south coast club, who were promoted from the Sky Bet Championship last season, secured Premier League safety on Friday night when Pascal Gross' second-half goal saw off Manchester United 1-0 and lifted them to 40 Premier League points.
And Neville said their achievement is largely down to the hard work of manager Hughton, who has also worked at Newcastle, Birmingham and Norwich during the last decade.
"It is a real achievement for Brighton, it really is," Neville said on Friday Night Football.
"It's great for Chris Hughton and I'm delighted for him because he's coached for a long, long time and he's starting to get some of the credit and rewards he deserves for a professional career.
"When you watch a team, you see the impact of the training work and the training ground and you see every time you watch Brighton that they have discipline and they buy into it.
"It's hard work, it really is, to keep doing what they do.
"Tonight it wasn't just what I would call a 4-4-2, getting into shape and shuffling across - they sprung out of that shape.
"It really was a great performance tonight, and Steve Sidwell has said they were working on it all week.
"You can tell that Chris is a coach, he is somebody who will put the hours in on the training pitch for the team. The rewards then come on match day.
"It really is a great coaching performance and it's reflected in the fact he is now getting credit for all the work he has been doing for years."
Neville said Brighton were one of many relegation candidates this season, and he was sceptical about their chances after watching them earlier this season.
And he said they are worthy of praise for completing the job with two matches to play.
He added: "If you think about the spending power and might of the top six, then you're talking about three from 14 that are going to go down.
"Brighton absolutely would be in that mix. Even before Christmas, I had doubts about whether they would be able to do it and they deserve to celebrate tonight."