Gary Neville: Man City must avoid complacency against Aston Villa
Gary Neville says Man City can't be complacent against an Aston Villa side capable of "daft" results.
Last Updated: 06/05/14 8:09am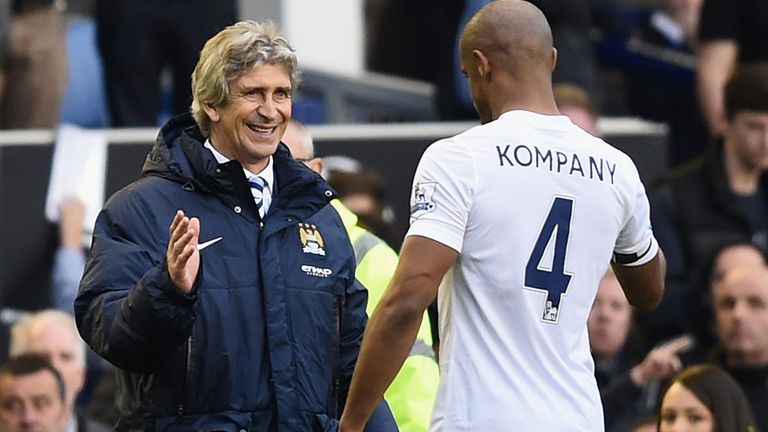 Following Liverpool's 3-3 draw at Crystal Palace, Manuel Pellegrini's side know that four points from their final two games of the season against Villa and West Ham should secure them the Premier League title.
However, a repeat of the scoreline at Villa Park earlier in the season - when Paul Lambert's team picked up a surprise 3-2 victory over City - would see Liverpool remain a point clear going into the final round of matches.
And Sky Sports expert Neville says Pellegrini must make sure his players are focused on Wednesday night against a side that have also beaten Chelsea and Arsenal this season, but only confirmed their Premier League survival at the weekend.
"They will have to be careful," he told Sky Sports.
"If you were Pellegrini and the experienced players in the spine of the team who have won a championship before then you would be guarding massively against complacency. They must really prepare to have to win these last two matches.
"Aston Villa put in some daft performances, some performances that surprise you every so often. They are capable of it.
"Aston Villa will be relieved. Those young players have been under pressure in these last few weeks. They could have gone into the weekend, lost the home game and if other results had gone against them they were under huge pressure.
"They'll have probably had a little bit of a celebration, I would think, on Saturday / Sunday which could help them in relieving pressure on Wednesday night. For Manchester City it's purely about them getting their minds right in the next two or three days and not thinking that the job's done.
"It's all transferred towards City. It's City's to lose now."
Slip
Manchester City were close to letting the Premier League title slip through their grasp on the final day of the 2011/12 season when they relied on two injury-time goals to beat QPR 3-2.
And Neville says the potential absence through injury of Sergio Aguero, who scored the winning goal on that day, could have an impact on their chances in the final two games.
"Liverpool have got to live in hope that Manchester City have a nervous point in the next two games," he added.
"I have to say that it's the perfect position for Manchester City to want to be in - the opportunity to play at home in two games against opposition who, if you like, are not playing for anything in particular. The season's over from that point of view and they are playing for pride.
"It's the perfect position, but if Aguero doesn't play then Manchester City, for me, always lose a lot. Any team would because he's a world-class striker that provides something that none of the others can.
"As well as Edin Dzeko and Alvaro Negredo have done and as good as David Silva is they really do miss Aguero when he's not playing.
"If he's not playing it sometimes becomes a little bit more difficult for Manchester City to produce their absolute best football."
Romped
Manchester City's win at Everton on Saturday, coupled with Liverpool and Chelsea dropping points, has seen them emerge as overwhelming favourites to win the Premier League for the second time.
But speaking before Liverpool's draw, fellow Sky Sports pundit Jamie Carragher said he had seen signs that City could slip up again.
He said: "You can't say you see it or expect it. The thing with Manchester City with the squad that they've got and the team they've got, they should have romped away with the league.
"But they have complacency in them and I saw that at the weekend as well. It's too easy at times for them. When they get to 3-1 you'd expect them to go to 4-1 or 5-1 with the quality they've got.
"They let teams get back into the game. I remember the Villa game at Villa Park this season. They lost 3-2.
"You'd expect at home they would win the game, but I've seen Villa at Anfield this season and they sometimes do put in a performance every few months that takes you totally by surprise.
"That's what Liverpool supporters will be hoping for and Manchester City fans and players will be fearing."