Gary Neville says Manchester City must learn to see games out if they are to compete for the Champions League crown.
The reigning Premier League champions have never made it past the last 16 in Europe's top club competition and lost their opening game of this year's tournament away at Bayern Munich on Wednesday night.
Neville was at the Allianz Arena to commentate on the match and was disappointed by City's display against a weakened Bayern team that took the points thanks to Jerome Boateng's last-minute winner.
Difficult
He told the Sky Sports Champions League Podcast: "You can have the thought that they were unlucky because they held out for 90 minutes or you can have the thought that City are a team that hasn't progressed and haven't learnt – I think the answer is somewhere in the middle for me.
"When you think back to two years ago when they got beat in Madrid, conceding two goals with five minutes to go, they have to somehow see those games out.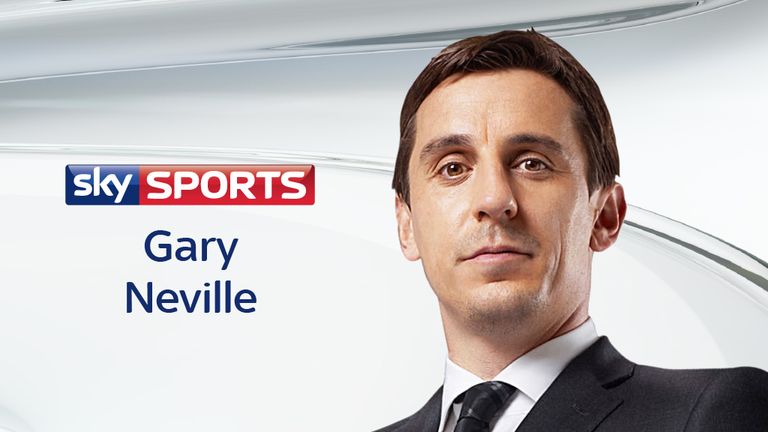 If City want to win the Champions League they are going to have to raise their level beyond that quite a lot.
"They've made it more difficult for themselves in the group than it already was – and they are in a tough group.
"I think in the last two or three years we've had some sympathy with City for the tough draws they've had – it has been 'group of death' every single time for them but when I look at the fact that this team has been together now for three years, the majority of them, I think this is their year where they have to come to the fore.
"I didn't think that they played particularly well in the game last night; I thought that they defended well, but I didn't think that they showed enough going forward.
"Munich are going to get a lot better than that and City – apart from Zabaleta and Fernando – had a full-strength team out. He chose not to play Aguero.


"Joe Hart had to make two or three really good saves. City can't have any complaints that they've been beaten. I don't have massive sympathy for them because they didn't do enough in the game."
Disappointing
City have won the Premier League title in two of the last three seasons but ahead of Sunday's crunch clash against title rivals Chelsea, Neville is worried by the form of Yaya Toure and the lack of attacking intent shown by Manuel Pellegrini's team against Europe's biggest sides.
"The disappointing thing for me is that this team has won two Championships but you've got to show progression year in, year out," he said.
"They showed a little bit of progression last year getting to the knockout phases but I thought last night was a step back for them.
"With Bayern Munich having their three star players out - Bastian Schweinsteiger, Arjen Robben and Franck Ribery – they could really go and say 'let's go for this'.
"City have had an education for three years – you would have hoped that education would have come to the fore last night."
Neville added: "I thought we saw a really poor performance from Yaya Toure. I said on commentary that he looked absolutely knackered.
"He has a little bit of that look in the Premier League games sometimes, where it looks like it takes him quite an age to get back. But last night I'd never seen him as heavy as that; he looked like he was on quicksand at times.
"Whether it's the impact of not quite being right physically – there could be a number of factors that we don't know about – so we have to be careful, but certainly in terms of the way he performed, it was a massive struggle for him last night."
Head to http://www.skysports.com/podcast/0,20494,30383,00.html to listen to the Champions League Podcast in full