Gary Neville questioned Mesut Ozil and Alexis Sanchez's responsibility for their team-mates after Arsenal's draw with Liverpool.
Arsenal and Liverpool played out a goalless draw on Monday night as the home side's wait for a Premier League win at the Emirates this season continued.
The Gunners have now failed to score in five of their last six Premier League home games and Neville thinks the Arsenal forward line are not stepping up to the plate when their side need them most.
Neville said: "They're fantastic players but do they take responsibility for their team-mates? No. 
"I don't think I've ever seen Mesut Ozil take responsibility for the rest of his team. I've seen him have good games, where he passes the ball well, gets involved and gets assists but doesn't get enough goals.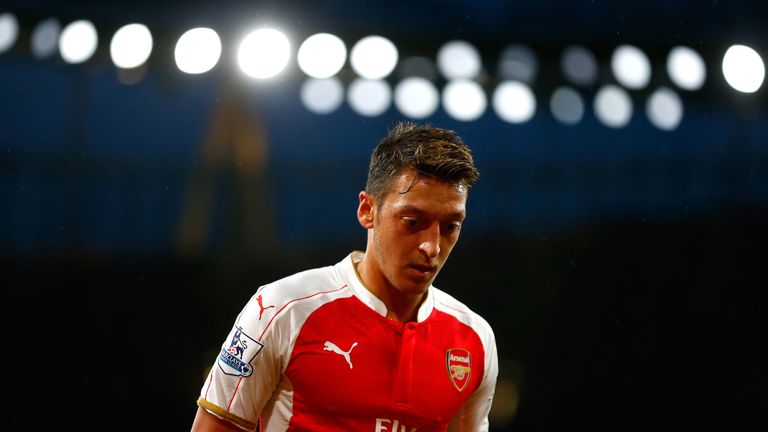 "Alexis Sanchez is someone that plays in moments and is tenacious. If you look at that back six tonight, Cech is the only experienced one. The experience was in the front of the pitch, Olivier Giroud, Sanchez and Ozil – they're not the type of players that will take responsibility for the players behind them.
"I was so surprised tonight at the poor quality Arsenal showed on the ball, they gave it away time after time." 
Ahead of Monday Night Football, Neville also questioned why Arsene Wenger had refused to opt for powerful midfielders in the 11 years since the club last won the title.
"I think Arsene Wenger has done an incredible job with that net spend," said Neville in reference to the club's spending since that 2004 triumph.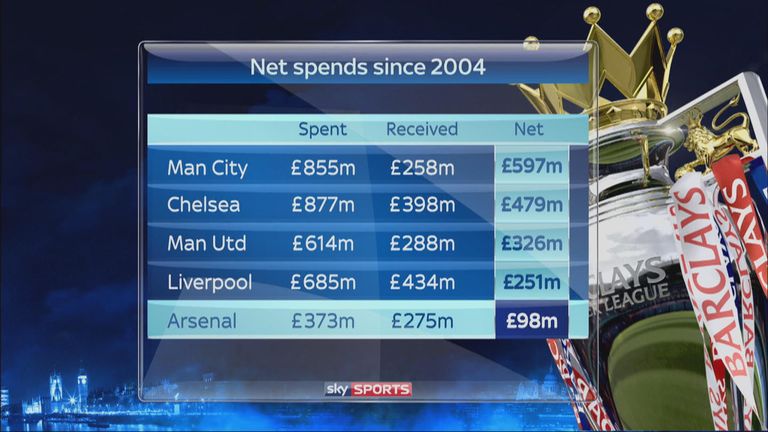 "Where I've got less sympathy is with the type of players that have been signed in that period.
"We've talked about those players like (Patrick) Vieira, (Emmanuel) Petit, Gilberto Silva, Edu, (Martin) Keown, (Sol) Campbell, (Tony) Adams, (Steve) Bould… all strong people. 
"All of a sudden, the type of signings between 2004 and 2009 – they're certainly not the type of characters that you would want to win you a league.
"Powerful characters with strength that you want running through your team, whether it's a Blackburn team or a (Manchester) City team with Yaya Toure and Vincent Kompany.
"The profile of player has changed and the style has changed and that is where I have no sympathy, to be honest."
While fellow Sky Sports pundit Thierry Henry stressed that the emergence of Cesc Fabregas had prompted Wenger's change of approach, Neville was adamant that was no excuse.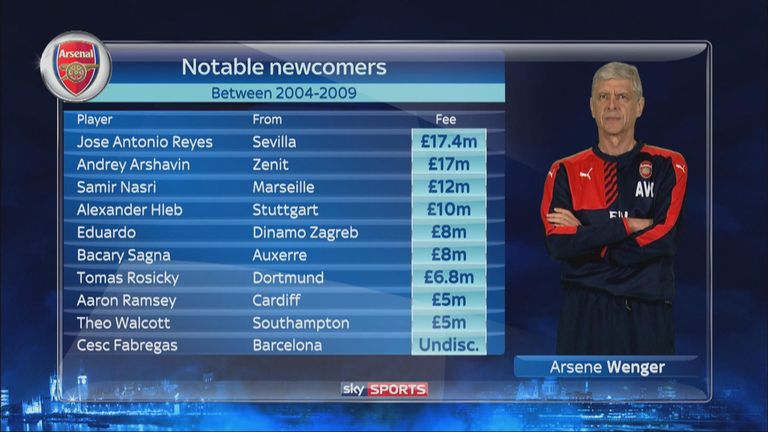 "You can make one mistake by playing (Mathieu) Flamini with Fabregas and not being powerful enough," he added. 
"But it's not just Cesc Fabregas. It's 10 years and a string of errors over a sustained period of time.
"I've got great respect for Arsenal as a football club. It's a fantastic football club and the job Arsene Wenger has done is amazing. 
"But I cannot get my head around why you would not sign players of power to assist these talented players to enable you to win the league.
"It's the one big black mark against Arsene Wenger in these last 10 years. 
"Why hasn't he identified this issue with these types of players in midfield? They cannot win the league with those players. It cannot happen.
"I think it's arrogance to think you're not going to adapt your team to impact on the other teams that you're playing against and their strengths. 
"It's either naive or it is arrogance because they keep losing this way."