Football Expert & Columnist
Does Pep Guardiola make too many changes at Man City? The MNF panel discuss...
Last Updated: 05/12/16 9:24pm
Does Pep Guardiola make to many changes at Manchester City? Jamie Carragher and Sean Dyche discussed the Spaniard's tinkering on Monday Night Football.
Guardiola made six changes to his starting line-up in City's 3-1 defeat to Chelsea and he has made more alterations to his team than any other manager in the Premier League this season.
However, constant changes to formation and his starting line-up is not a new thing for the Spanish manager, who has had success doing it.
During the title winning seasons at Barcelona in 2009/10 and 2010/11, Guardiola made the second most changes of any team in La Liga and while at Bayern Munich he made the most alterations in the league as he led his side to the Bundesliga title in 2013/14 and 2014/15.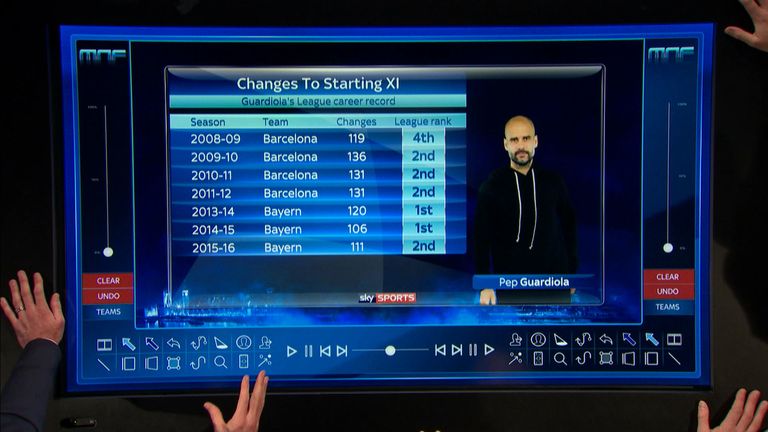 And Carragher thinks the Manchester City players will have to get used to more changes under Guardiola.
He said: "We talk about personnel and the changes that he makes, but Manchester City will have to get used to that.
"This manager has had great success throughout his career, changing formations and changes players."
Dyche, who was a guest on Monday Night Football, thinks constant changing of tactics and personnel can be difficult for players but thinks Guardiola will continue to make changes at City, and find a way of making it work.
"He's obviously used it wisely because he wins a lot, however, the double mixture of changing personnel and changing tactics, even at this elite level of player, I think that's difficult sometimes", the Burnley manager said.
"At his other clubs he's found a way of making it work. Now, it's still early on and I think players will get used to his ways, I think he'll stick with it and he'll keep changing formations and personnel.
"He likes his changes and he'll make it work."
In contrast, Burnley have made just 18 changes so far in the Premier League this season.
Last season they made fewer changes than any other team as they went on to win the Championship, and Dyche explained why that works for him and his side.
"We need continuity," Dyche said. "Our players need a frame work to work from, they need understanding and clarity of how we work and how the team works. It gives them the chance to go onto the football pitch clear minded.
"We're Burnley, our players have got enough on their plate being in the Premier League so we try to give them a simple format to work form. Now and again we do flex it and we have done this season and it has worked for us.
"With all due respect to my players, at City they are elite players. They've played in many different formations across different countries at times and many different mangers. I can see why he does it but I still think it's a challenge, even if you are an elite player to change formation it's a challenge.
"Jesus Navas was playing wing-back and I wouldn't imagine it's that natural to him him. On the other hand, he's a manager that wins a lot so he'll know how he's working with those players to try and get the best out of them."