Football Expert & Columnist
Jamie Carragher: Blame the rules not the referee for Arsenal's defeat to Bayern Munich
Stop ruining big matches with red card rules, says Jamie Carragher, after Arsenal's defeat to Bayern.
Last Updated: 01/03/14 11:25am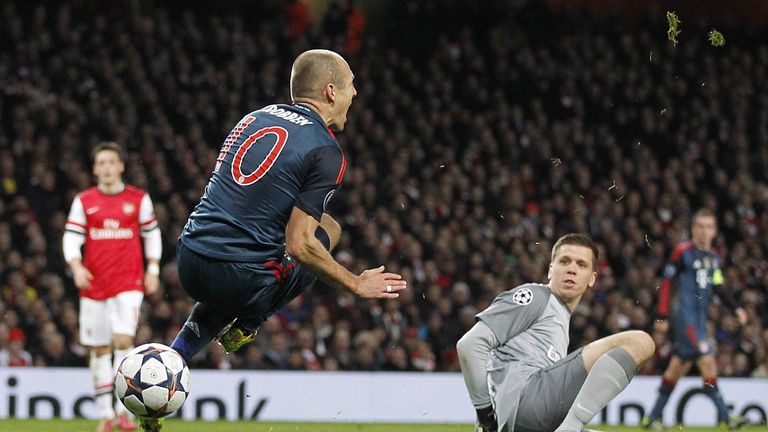 Szczesny was dismissed for taking out Arjen Robben, just before half-time in Wednesday night's last-16 first leg at the Emirates, as the Holland international controlled an exquisitely-flighted through-ball from Toni Kroos.
David Alaba missed the resulting penalty but Bayern went on to win the match 2-0 with Kroos curling a terrific strike into the top corner in the 54th minute before substitute Thomas Muller headed the visitors' second minutes from the final whistle.
Carragher admitted that, according to the current rules, the Arsenal goalkeeper should have been sent off. But he insisted that those rules must be revised as the decision transformed a "top Champions League tie into a training session".
"It has ruined it as a spectacle for everybody in the stadium and everybody watching at home. I am sure Bayern Munich are delighted, but it has ruined the game," he told Sky Sports.
"He got the red card because he denied the goalscoring opportunity - that is in the rules, of course it is. But he has got the penalty. I think it should be something that is talked about.
"With the rules today, it is a red card. I am not saying that it is not. I would like to see it changed. The wording of the ruling is, 'denying a goalscoring opportunity'. Now you get that when you get a penalty.
"If somebody is about to roll the ball in the net and someone takes him out, it should be a red card. Of course it should. These are the biggest games now in world football.
"A top Champions League game has become a training session. That is what we have had and I am not saying it just for us, but for everyone, for coaches and players. If you just got a penalty for it, I think we would all agree it would make the game a lot better."
Butterfly with sore feet
Fellow pundit Jamie Redknapp insisted that the referee had made the right decision in sending off Szczesny and rejected the suggestion that Robben would not have scored if he had not been taken out by the Arsenal goalkeeper.
Redknapp, who described Robben's control as "like a butterfly with sore feet", went on to say the game is up for Arsenal and there is no way back in the tie.
"Look at his touch - it is so delicate," said Redknapp. "Don't tell me that he is not going to get that ball and knock it into the goal. No chance. Of course he is. He is the quickest thing on two legs.
"He did it in the Champions League final last year. He has got such twinkle toes. Arsene Wenger may have a different opinion but I thought it was definitely a red card."
Redknapp added: "The only thing that you can hope for is a little bit of complacency from this Bayern Munich side. Do they stick or bust in this second leg?
"I just look at this Bayern Munich side and they are purring at the moment. I just don't see any weakness in them and I can't see a situation where Arsenal can comeback from this. It is a shame. The game was ruined to a certain extent by the red card. It is all about opinions and I think it is a red card.
"Up until that point, Arsenal were right in the game. They played extremely well, they looked a threat going forward and they created opportunities. They should have been 1-0 up with the penalty miss. It [the penalty] just ruined the game, not for Bayern, but certainly for Arsenal."