Jamie Carragher has hit out at some of Newcastle's players for failing to put in enough effort for their under-fire manager Alan Pardew.
Supporters held up a banner calling for the manager to be sacked during Saturday's 4-0 win at Southampton; the latest poor result in a run that has seen them pick up just 18 Premier League points from a possible 69 in 2014.
Analysing the match on Monday Night Football, Carragher highlighted a period in the game when at least half the team appeared to be walking and not showing sufficient effort.
The Sky Sports pundit also focused on Yoan Gouffran's unwillingness to close down the ball in the opening minute of the match and said the players must start showing more desire.
Carragher said: "There's lots of talk of Alan Pardew losing his job. Forget Alan Pardew for a minute, some of those players are a disgrace.
"We're not talking about an end-of-season game, which still isn't acceptable, but this is four or five games into a season.
"I played against a lot of these players towards the end of my time at Liverpool. We beat them 6-0 at St James' Park and the performance was shocking.
"You think of a club like Newcastle, a working-class club and the fans go there. You want to see great players do great things, score goals and win games – but you want to see a bit of graft, heart and intensity.
"For Newcastle to be seeing that for the last few years is a disgrace."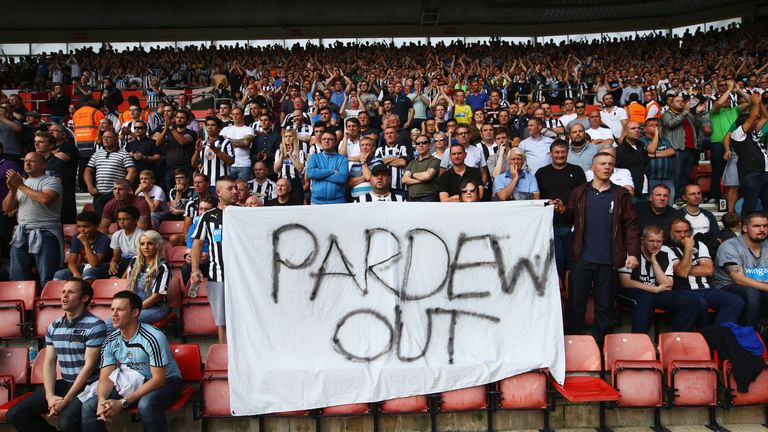 Pardew believes the fans' behaviour was making it difficult for his players and Carragher says their jeers may prompt Mike Ashley to axe the man who has been in charge since 2010.
And he fears there could be another hostile reception when Newcastle host Hull in the Premier League on Saturday.
Carragher added: "Alan Pardew said after the game that the reaction of the supporters didn't help what was going on out on the pitch. That was just an away section – probably 2,000 or 3,000 of them.
"I would never advocate a manager losing his job. I've never been one and I don't know how tough it is, but can you imagine 50,000 people with banners screaming for Alan Pardew to go?
"Whether you agree with it or not, I've said before with managers – David Moyes last season and Roy Hodgson at Liverpool – it becomes untenable.
"To lose your job after four or five games is ludicrous, but he's on a poor run from January when they lost Yohan Cabaye and we all felt for him then.
"If that carries on, those supporters have turned so far that it might become untenable."