Arsenal must spend big on the final day of the transfer window says Graeme Souness
Graeme Souness says Arsenal must still spend big on deadline day despite beating Tottenham.
By Graeme Souness
Last Updated: 01/09/13 7:08pm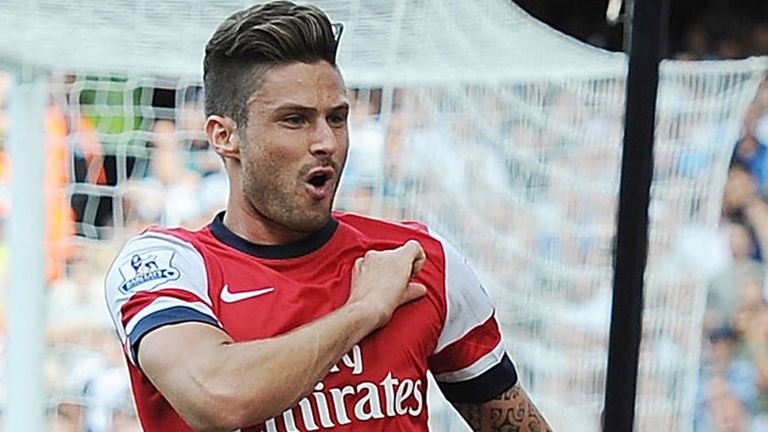 Olivier Giroud scored his third goal in as many Premier League games, flicking Theo Walcott's cross into the net at the front post, to give Arsenal a 1-0 victory at the Emirates Stadium. Read the full report.
And while Souness praised their overall performance, and especially their resilience, against their North London rivals, the Sky Sports pundit insists Wenger must add to his solitary summer signing Yaya Sanogo.
Asked if there was a danger Arsene Wenger will think he does not need to sign any players before the transfer deadline, Souness said: "No, no. This was a really good game for them. They spent a lot of time without the ball which is unusual for Arsenal at the Emirates. That actually helped them in today's game. They showed a resilience today.
"The touches that Tottenham had in their box (Arsenal's) compared to what Arsenal had, tells you that Tottenham bossed the game in terms of possession and in dangerous areas.
"But it made Arsenal more compact. They were not stretched out because they had to defend all the time. They stood up to the challenge, whether in the air or on the ground. They were resilient and looked dangerous on the break. But nothing changes on today's result. They still need players."
Souness added: "That won't change his mind. You don't get to the day before, win a game and then all of a sudden think, 'I am going down a different route'.
"There is no doubt that Arsenal have quality. No one who understands the first thing about football would doubt Arsenal's quality. For me they need a different type of midfield player: someone who is better at sensing danger.
"They also need to improve their numbers. I think as well as Giroud did today they need another goalscorer."
Legacy
Wenger will have until 11pm on Monday night to finalise any deals to bring in new players and Souness feels clubs will now ratchet up the prices by up to 30% in the knowledge that Arsenal are desperate to make additions.
And Souness fears Wenger's legacy at Arsenal could be in jeopardy if they fail to challenge for silverware this season.
"I fear for him because it is eight years - this is the ninth year - if he goes without winning something that is what he is going to be remembered for," he said. "And that would be totally wrong."
"May be he has just got caught up in the financials. May be he sees the bigger picture for Arsenal when he is no longer here. And his legacy will be that he had a great eight years and a bad nine years and that would be a terrible, terrible thing to happen to him."
Souness admitted Tottenham's lacked creativity and spark without Gareth Bale, who is joining Real Madrid, bu he insists Tottenham, who have been busy in the transfer window this summer, have a squad that is strong enough to have a good season.
"I think Tottenham will be fine," he said. "I didn't think they played well. They went a goal behind and spent it chasing. But I think that there are signs there if you are a Tottenham supporter that you wouldn't be too unhappy."
He added: "But they never had the real sparkle. The Gareth Bale. That is may be the obvious thing to say but the really special players are the ones that make the difference in these games. Townsend threatened to do that in the first half but not in the second half."
On the Bale deal, Souness said: "The way Tottenham were splashing the cash, there is no doubt that deal was done a long time ago. For whatever reasons it has been held up and announced the day before the transfer window ends. I think there have been some smart tactics from Tottenham and Daniel Levy."