Leicester City's Jamie Vardy is the Premier League's top scorer with nine goals, but can he keep up his remarkable goalscoring form? Adam Bate takes an in-depth look...
The list of top scorers in Europe's major leagues brings up some familiar names. There's the Bayern Munich duo of Robert Lewandowski and Thomas Muller. Barcelona forward Neymar is up there. But it's the presence of Jamie Vardy that really stands out.
The Leicester and England forward has nine goals already this season, three clear of last year's Premier League top scorer Sergio Aguero who is among a group of players with six to his name. That achievement has earned the praise of Sky Sports pundit and England assistant Gary Neville.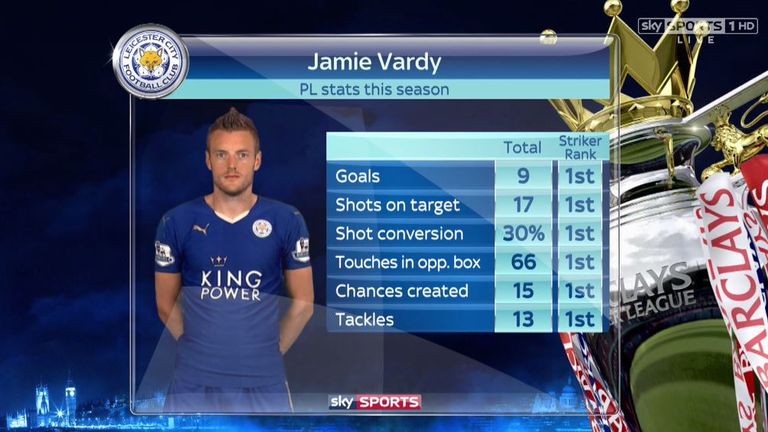 "It's a massive return that, scoring nine goals at this stage of the season," Neville told Monday Night Football. "If he can maintain that, he's got all the qualities you'd want in respect of a centre-forward."
Vardy can join Thierry Henry, Alan Shearer and Ruud van Nistelrooy by becoming only the eighth Premier League player to net in seven consecutive games if he scores against Crystal Palace this weekend. But can Vardy keep this up?
Encouragingly, much of the underlying data is positive. Vardy's success appears to be no freak sequence but instead a by-product of the qualities that he brings. Here we examine some of the reasons for optimism…
Goals in Europe's major leagues in 2015/16
| | | |
| --- | --- | --- |
| Robert Lewandowski | Bayern Munich | 12 |
| Pierre-Emerick Aubameyang | Borussia Dortmund | 10 |
| Jamie Vardy | Leicester City | 9 |
| Thomas Muller | Bayern Munich | 9 |
| Neymar | Barcelona | 8 |
TEAM APPROACH
Leicester have been a revelation in the Premier League so far this season, not only with their impressive results that have taken them into the top six, but also the manner of their performances. They have even recovered from two goals down on three separate occasions.
"You talk about the Premier League being fast-paced, high tempo, yet over the last two or three years you've seen a slowing down of that tempo," added Neville. "But when you watch Leicester every game it feels like what you would call old-style Premier League."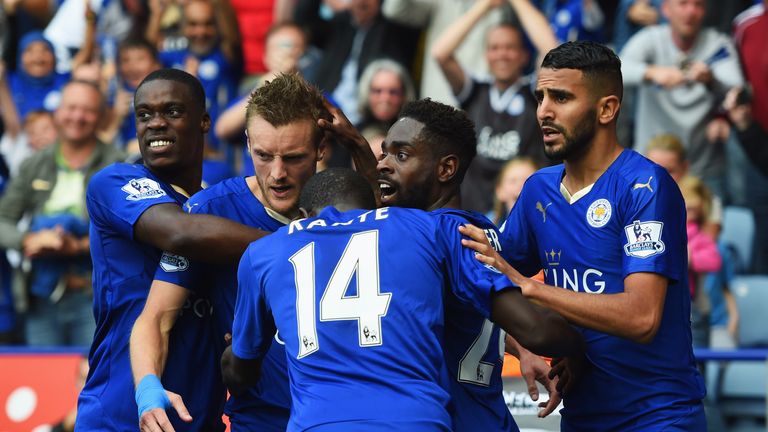 In a team game, any player is reliant on those around him. As a result, Leicester manager Claudio Ranieri deserves considerable credit for facilitating Vardy's fine form. Specifically, he has actively encouraged Leicester to play this attacking game.
"I'm an Italian but I'm a strange Italian," said Ranieri. "I would never take 0-0 beforehand. Since I've been here, only once, in a friendly match, have we maintained a clean sheet. This is our weakness, but it's also important to score one more goal than the other team."
Unusually for a player at a team outside the accepted elite, Vardy is at a club committed to open, risk-taking football. If Ranieri sticks with that approach, it should ensure that the chances continue to come Vardy's way.
Premier League 2015/16 - Goals
| | | |
| --- | --- | --- |
| Jamie Vardy | Leicester City | 9 |
| Sergio Aguero | Manchester City | 6 |
| Alexis Sanchez | Arsenal | 6 |
| Georginio Wijnaldum | Newcastle United | 6 |
CONVERSION RATE
When the chances come, can Vardy be relied upon to finish them? "Where you would have talked about Jamie Vardy last season would have been 'will he score a high percentage ratio of his shots when he gets them"," said Neville. "He's doing that now.
"What he's added this year is a higher level of technical ability, the confidence and belief is there and with that comes the goals." That theory is supported by Vardy's healthy conversion rate of 30 per cent of his shots this season.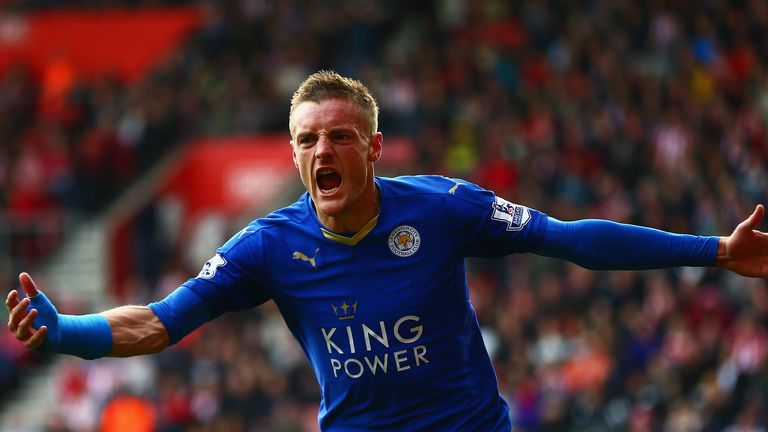 But crucially, for those questioning whether he can continue to score so freely, while we might expect that number to come down, it is not a ludicrously unrepeatable rate.
By way of comparison, prior to his unfortunate injury, Callum Wilson had scored with 63 per cent of his shots, while Anthony Martial struck with three of his first four Premier League shots. It is clear that both players would need to up their scoring opportunities in order to continue finding the net so regularly.
In contrast, even if Vardy's conversion rate was 17.7 per cent - the current average among Premier League strikers - he would still have scored five goals this season. To put it another way, even if Vardy's finishing had been average, only three men would have scored more.
Premier League 2015/16 - Shots on target
| | | |
| --- | --- | --- |
| Player | Club | Shots on target |
| Jamie Vardy | Leicester City | 17 |
| Alexis Sanchez | Arsenal | 15 |
| Sergio Aguero | Manchester City | 14 |
SHOTS BRING GOALS
The reason for this is that Vardy has had more shots on target than any other player in the Premier League this season -- and the link between shooting and scoring is an obvious one. Aguero had the most shots on target as well as the most goals in 2014/15.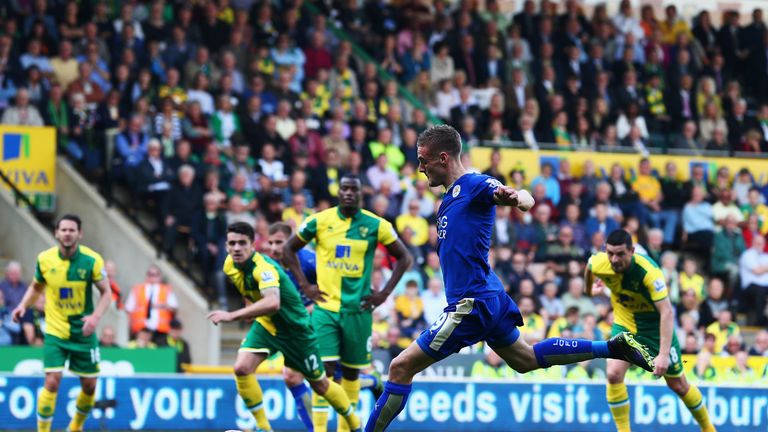 One of Vardy's great strengths in this regard is that he's a difficult man to restrict to one foot and boasts impressive willingness to compete aerially too. "He's scored all types of goals this season," said Neville. "He's very good in the air, aggressive and brave."
There are only three Premier League strikers to have scored with both feet and their head so far this season -- Vardy, Aguero and Romelu Lukaku. But Vardy is the only man in the country to have scored at least twice with his left foot, right foot and head. It's tough to stop.
Premier League 2015/16 - Clear-cut chances missed
| | | |
| --- | --- | --- |
| Sergio Aguero | Manchester City | 6 |
| Olivier Giroud | Arsenal | 6 |
| Theo Walcott | Arsenal | 6 |
| Jamie Vardy | Leicester City | 5 |
| Alexis Sanchez | Arsenal | 5 |
QUALITY AND QUANTITY
It's Vardy's exceptional movement that helps him. That great pace  - recent evidence suggests he's the fastest man in the Premier League - makes it difficult to prevent him finding freedom on the pitch.
"Jamie attacks and breaks the line all the time and it's very good for us," said Ranieri. Vardy has had more touches of the ball in the opposition penalty box than any other striker so it shouldn't be hugely surprising that he ranks top for shots on target and goals too.
Curiously, what might encourage him further is that he could have scored even more goals. Prior to firing home his late equaliser against Southampton at the weekend, Vardy had actually already had a wonderful opportunity to level things up but hit the ball just over the bar.
According to Opta, Vardy is one of only five players to miss five or more clear-cut chances in the Premier League this season. Once again, he's in good company alongside Aguero. Evidently, he is getting into the right positions to receive high-quality chances and, therefore, score goals on a consistent basis.
Premier League 2015/16 - Chances created by strikers
| | | |
| --- | --- | --- |
| Jamie Vardy | Leicester City | 15 |
| Harry Kane | Tottenham Hotspur | 13 |
| Troy Deeney | Watford | 12 |
AND EVEN IF THE GOALS STOP…
All of the above would suggest that Vardy is capable of continuing to score goals at Premier League level. But it's worth noting that the 28-year-old broke into the England squad after scoring only five times last season. There is far more to Vardy than just goals.
The statistics support this view. Vardy ranks among the top strikers in the country when it comes to creating chances for others. In fact, according to Opta, he is the only out-and-out striker in the Premier League to have fashioned three clear-cut openings for a team-mate.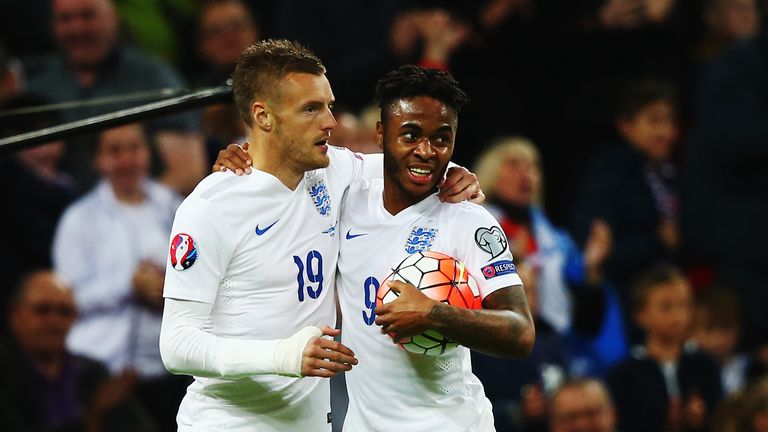 Moreover, he has a defensive role too -- making more tackles than any other Premier League centre-forward. With Leicester playing a 4-4-2 formation, this pressing is vital and, as Neville points out, helps to set the tone for the whole team when they don't have the ball.
"He's a centre-forward I think 95 per cent of teams would love to have within their pool of strikers," said Neville, "because of the fact that he sets the tempo and the tone for the rest of the team and gives no other player behind him any excuse for not working hard.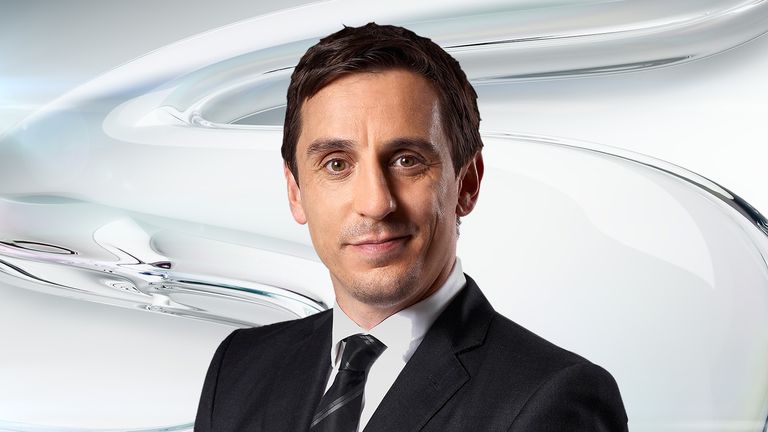 He's non-stop, never stops running. He's got massive energy.
"He's always involved, he gets in where it hurts. He's non-stop [in training], never stops running. He's got massive energy and he's now starting to get the goals that he did at the lower levels of English football."
They are comments that echo those of his manager. "Jamie is positive," added Ranieri. "He is a warrior. Every ball could be the best ball. He never gives up and I love this kind of player. Anything can happen."
Anything can happen, indeed. Vardy's start to the season may have been extraordinary but the evidence is overwhelming -- it has not been a fluke. Don't be too shocked if the goals continue to go in.