World Cup Scout
The Sky Sports Scout has been keeping an eye on rising talent for several seasons, and has already found many players who have gone on to become big hits. This will be no different at the World Cup and here, in association with Wyscout, the Scout looks at USA's DeAndre Yedlin.
Last Updated: 21/05/14 12:23pm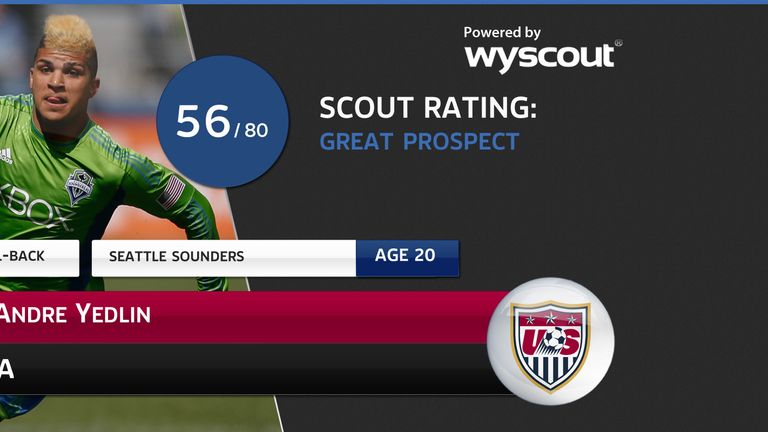 In the build-up to the World Cup finals, the Sky Sports Scout will be taking a closer look at up-and-coming players staking a claim for national-team action this summer.
The Scout is on the hunt for talented stars of tomorrow who could shine in Brazil and make a name for themselves on the biggest stage.
Using the world's leading scouting resource Wyscout (for more information, read our full feature here), he will seek to highlight each selected player's key qualities and provide some additional background knowledge.
Some of the youngsters chosen will be contenders for FIFA's Best Young Player Award at the World Cup, won in previous tournaments by Germany duo Thomas Muller (2010) and Lukas Podolski (2006). Those born on or after 1 January 1993 are eligible for this honour.
You can nominate a player by emailing here, and please check our archive to make sure we have not already covered the player). You can also interact with the Scout via his Twitter feed, @SkySportsScout.
On the Scout's radar in this report is United States right-back DeAndre Yedlin.
The Scout reports...
Former Tottenham and Fulham star Clint Dempsey has been one of the stand-out players so far in the 2014 MLS season - he's hit eight goals for the Seattle Sounders, who at the time of writing lead Real Salt Lake by two points at the top of the Western Conference.
However, there's much more to the Sounders than just Dempsey. Of particular interest with the World Cup just around the corner is attack-minded right-back DeAndre Yedlin, who has been named in Jurgen Klinsmann's 30-man provisional United States squad for the forthcoming Group G challenge against Ghana, Portugal and Germany.
Despite some hiccups along the way, the USA ended up as top dogs in CONCACAF qualifying and are currently ranked 13th in the world by FIFA. Most of the defensive slots appear to be locked in on Klinsmann's roster, but such is the buzz being generated by Yedlin - a swift, determined defender with exceptional recovery qualities - that he is a serious contender to crash the party and make the final 23.
Yedlin's a Seattle boy born and raised, a product of the Sounders Academy system who played college soccer with the Akron Zips. In 2012, he was turning out for the club's Under-23 team in the Premier Development League - the main breeding ground below the MLS - and was named on the Western Conference All-Star team, with the Sounders reaching the post-season semi-finals. Subsequently, he turned pro in January 2013 - and with speed one of his main assets, it's been no surprise to see him turning heads ever since.
Yedlin made 37 appearances in his first MLS season in 2013, which demonstrates the faith Sounders coach Sigi Schmid had in the teenager right from the outset. "The thing with DeAndre is his skill and his energy," said Schmid. "His youth, and as a result his endurance, allows him to be able to attack on that right side of the field. It gives us more attacking flair on that side."
Highly-rated rookie
Even though the Sounders lost 1-0 at home to Montreal Impact in their opener last year, Yedlin made the MLS Team of the Week, becoming the first rookie to do so on his debut. Then in March 2013, he really caught the eye with a crucial, cracking goal against Tigres in the CONCACAF Champions League quarter-final second-leg, triggering a successful fight-back. When the Mexican defence headed out a corner, Yedlin thumped home a volley from 25 yards through a crowd of players, to help the Sounders progress through to the last four.
Tab Ramos, coach of the USA under-20 team, was suitably impressed and named Yedlin in his squad for the FIFA U20 World Cup in Turkey. He started all three games in a super-tough Group A containing eventual winners France, third-placed Ghana and highly-rated Spain. On his return to the States, he was picked for the MLS All-Star Game, coming off the bench against Roma in Kansas City a week after his 20th birthday and setting up two great chances for his team-mates.
In the same month, Yedlin showed tremendous all-round reactions when he headed in an equaliser at home to Colorado (Rapids goalkeeper Clint Irwin having saved his initial effort) and became the Sounders' youngest-ever MLS goalscorer in the process. The team reached the post-season and Yedlin scored again in the Western Conference semi-final second leg against Portland Timbers, although the Sounders lost 5-3 on aggregate.
Klinsmann called Yedlin up to a 26-man squad for a January training camp, which took place in California and at the US's World Cup base in Sao Paulo. At its conclusion, he made his international debut as a 75th-minute substitute in a 2-0 friendly win over South Korea. He came off the bench at a similar time in the 2-2 draw against Mexico in Arizona earlier this month - despite earning a booking, he earned praise for consistently overlapping and giving the team width.
Yedlin's crossing can still improve, and the player has admitted himself that he can be over-zealous in one-on-one situations with tricky wingers. How he might fare against the likes of Cristiano Ronaldo and Marco Reus this summer is a dilemma that's still some way off, but his World Cup chances have improved by the week as the Sounders have prospered.
His combination of acceleration and attacking brio ensures he offers something very different to the likes of veteran Michael Parkhurst, one of his main competitors. In truth, Yedlin could be up against his Sounders team-mate Brad Evans - a midfielder for his club, but a right-back for his country - for a USA squad berth. However, Klinsmann could choose to play more than one wild card when it comes to the crunch.
The Scout says...
Yedlin's fondness for extravagant hairstyles - as well as his explosive pace - means you can't fail to notice him. Even if he does make the odd mistake defensively, chances are he'll make up for it sooner or later by bursting past an opponent upfield or making a last-ditch tackle. Even if World Cup 2014 comes too soon for him, his prospects appear very bright indeed and he could be the States' right-back for years to come. A future transfer to a European league may also be on the cards - following in the footsteps of American defenders such as Geoff Cameron and Tim Ream - so you can expect to hear much more of this exciting talent.
The Scout rating...
Shooting: 4 out of 10
Passing: 7 out of 10
Tackling: 7 out of 10
Heading: 7 out of 10
Pace: 10 out of 10
Vision: 7 out of 10
Current ability: 6 out of 10
Potential ability: 8 out of 10
Overall Scout rating: 56/80
Current value: £2million
Potential value: £10million
Your opinion...
You've read the Scout's report on DeAndre Yedlin - now we want your views. Have you seen Yedlin in action? Do you agree with the Scout's assessment? How do you rate his World Cup and future prospects? Get in touch, either using the form below, email or the Scout's Twitter feed - @SkySportsScout.