Gary Neville does not see himself managing Manchester United in the future, and is fully focussed on his long-term plan at Valencia.
The new head coach suffered defeat in his first match in charge as Valencia were beaten 2-0 by Lyon at the Mestalla on Wednesday, dropping from the Champions League into the Europa League, and they face Eibar in La Liga on Sunday, live on Sky Sports 4.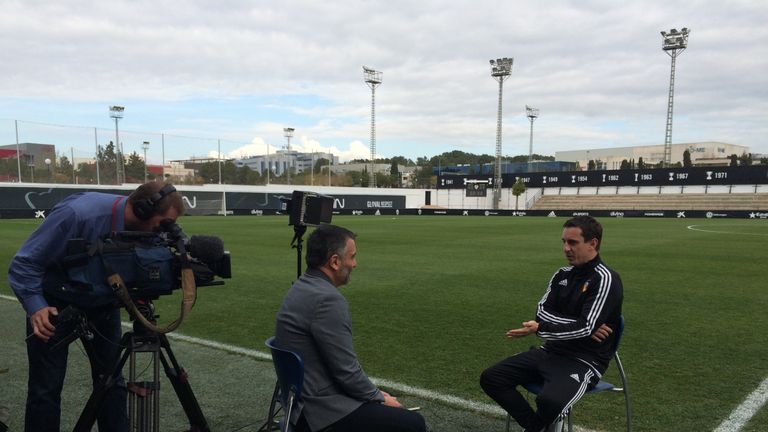 Neville, who is continuing his commitment to England under Roy Hodgson through to Euro 2016, was asked about his long-term ambitions in his opening press conference, and speaking to Guillem Balague for Sky Sports this week, confirmed that he is only thinking about Valencia despite the short-term nature of his contract.
Balague asked the former United defender if he plans to return to Old Trafford as manager, but Neville said: "No, I don't see myself managing Manchester United at all. I know what I want to do in my life, and that's not something that's in my mind.
"From my point of view, this is important for me and a valuable experience. I'm aware I need to succeed. Succeeding for me would be knowing these players have improved dramatically.
"Results come and go, I know we're in a results-driven business, but I have never looked at football like that since I've finished playing. I did when I was a player. As a part-owner, I think about moving forward in the next five, ten years."


The scale of Neville's challenge was evident in their Champions League elimination, with 10 players missing through injury and nine of the club's starting 11 under the age of 22.
His side were committed in attack, and while Neville says he wants a "front-foot" style, he admitted his young team need to learn when to be disciplined.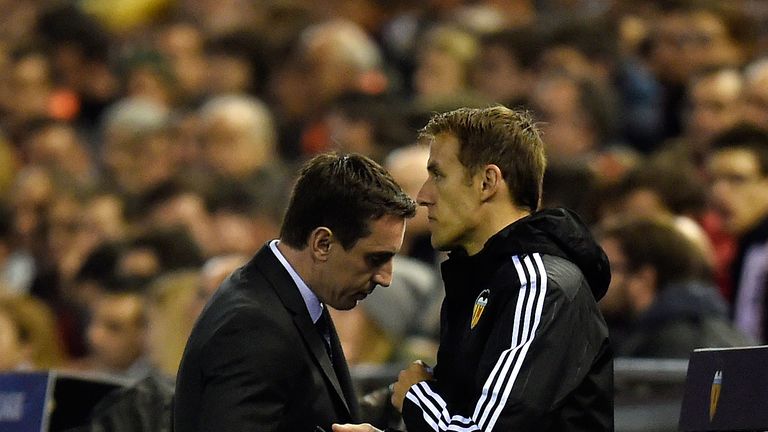 It's something Neville is confident he can coach, though, and when asked by Balague how he would describe a Neville-managed club, the Valencia head coach said: "A front-foot team, one that pressurizes and wins the ball as high up the pitch as possible.
"One that plays quickly, with a high tempo. One that goes forward, but with a little bit more sense than we did against Lyon!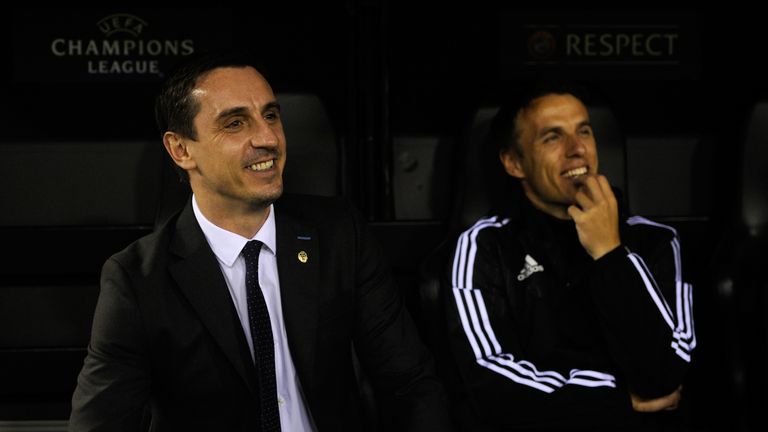 "But I'd prefer that be that way than with a group of older players that drop towards their own box. I can work with that, the intent is there to attack, to do the positives things. We can always come back, rather than thinking we've got to push them up the pitch, which is the hardest thing to do.
"There are some coaches who have a huge emphasis on possession. I have a huge emphasis on possession but I like to counter-attack as well. So I don't say I'm a possession coach or counter-attack. I'm not a one-style coach."