Seven serving FIFA officials have been arrested in Switzerland on corruption charges.
A FIFA spokesman says that president Sepp Blatter is not involved but vice-presidents Jeffrey Webb - the current CONCACAF president - and Eugenio Figueredo from Uruguay have been arrested, along with Eduardo Li, Julio Rocha, Costas Takkas - who is reportedly a UK citizen - Rafael Esquivel and Jose Maria Marin.
In addition two former FIFA officials, Jack Warner - the former president of CONCACAF, who has denied any wrongdoing - and Nicolas Leoz, have been indicted. All nine are or were representatives from South America,  North America, Central America or the Caribbean. Five corporate executives have also been indicted. 
Authorities in Zurich launched dawn raids to detain the officials on corruption charges - connected to wire fraud and money laundering conspiracies involving up to $150m - and extradite them to the United States where a search warrant was executed at CONCACAF headquarters in Miami on Wednesday morning.
US authorities have also revealed that four individuals have pleaded guilty: Charles Blazer, the long-serving CONCACAF general secretary and former US representative on the FIFA executive committee, Warner's two sons Daryll and Daryan, and Jose Hawilla, an executive of the Brazil-based sports marketing firm Traffic. They are potentially facing prison sentences of up to 20 years.
As a result of the arrests, five European football federations have demanded that the FIFA presidential elections, due to take place on Friday, should be delayed and UEFA's executive committee will discuss the issue later today. But FIFA insisted in a press conference on Wednesday morning that the election would go ahead as planned.
The arrests are understood to have taken place after more than a dozen plain-clothed Swiss police officers arrived unannounced at the Baur au Lac hotel. 
US attorney general Loretta Lynch said: "The indictment alleges corruption that is rampant, systemic, and deep-rooted both abroad and here in the United States. It spans at least two generations of soccer officials who, as alleged, have abused their positions of trust to acquire millions of dollars in bribes and kickbacks.
"And it has profoundly harmed a multitude of victims, from the youth leagues and developing countries that should benefit from the revenue generated by the commercial rights these organizations hold, to the fans at home and throughout the world whose support for the game makes those rights valuable.
"Today's action makes clear that this Department of Justice intends to end any such corrupt practices, to root out misconduct, and to bring wrongdoers to justice – and we look forward to continuing to work with other countries in this effort."
FBI director James B Comey said: "As charged in the indictment, the defendants fostered a culture of corruption and greed that created an uneven playing field for the biggest sport in the world.
"Undisclosed and illegal payments, kickbacks and bribes became a way of doing business at FIFA.
"When leaders in an organisation resort to cheating the very members that they were supposed to represent, they must be held accountable.
"Whether you call it soccer or football, the fans, players and sponsors around the world who love this game should not have to worry about officials corrupting their sport.
"This case isn't about soccer, it is about fairness and following the law."
Lynch and Comey will hold a press conference later on Wednesday to explain what has happened, and what happens next.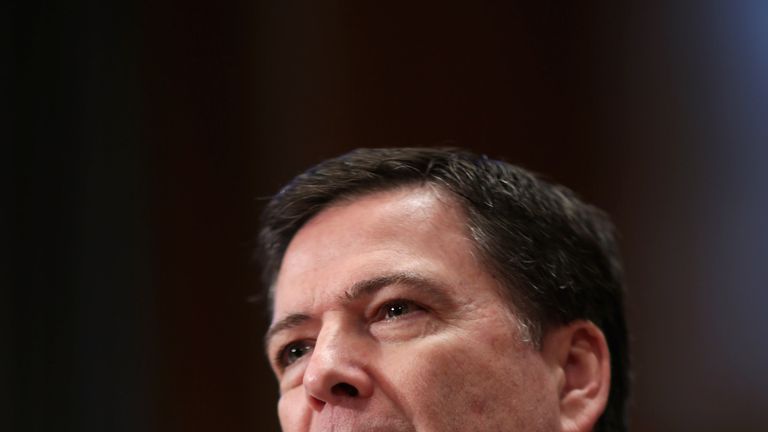 Officials from 209-member nations are gathering in Zurich for the FIFA Congress where incumbent Blatter faces a challenge from Jordan's Prince Ali Bin Al Hussein in a presidential election on Friday. Prince Ali said it was  'a sad day for football'.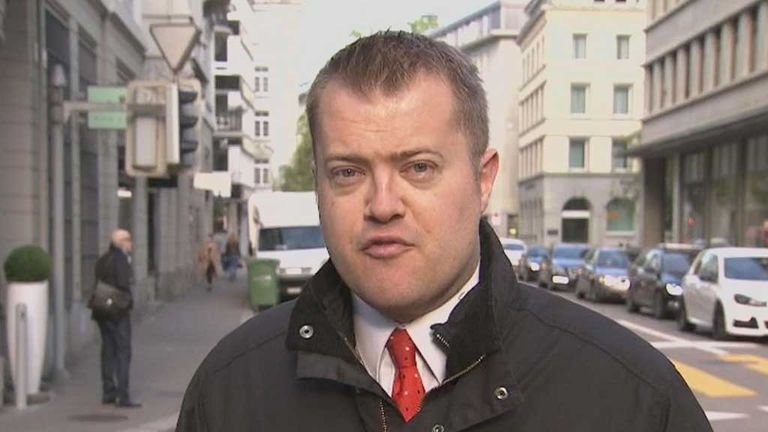 We filmed what appeared to be one senior executive being bundled out of the hotel into a waiting car and driven off.
A statement from The Swiss Federal Office of Justice (FOJ) said: "The US Attorney's Office for the Eastern District of New York is investigating these individuals on suspicion of the acceptance of bribes and kickbacks between the early 1990s and the present day.
"The bribery suspects - representatives of sports media and sports promotion firms - are alleged to have been involved in schemes to make payments to the soccer functionaries - delegates of FIFA and other functionaries of FIFA sub-organizations - totaling more than US$100m."
In a separate move, the Swiss attorney general has confirmed that officers have opened criminal proceedings "against persons unknown on suspicion of criminal mismanagement and of money laundering in connection with the allocation of the 2018 and 2022 football World Cups".
The statement continued: "There are also suspicions of money laundering through Swiss bank accounts. Subsequently to today's seizure of files, the Office of the Attorney General (OAG) and the Swiss Federal Criminal Police will be questioning 10 persons who took part in voting on the allocation of the 2018 and 2022 World Cups as members of the Executive Committee in 2010. These persons should be questioned as persons providing information."
FIFA has endured repeated accusations of wrong-doing over the bidding process for the 2018 and 2022 World Cups, which were awarded to Russia and Qatar respectively.
FIFA appointed an independent investigator - former attorney Michael Garcia - to look into the allegations and though a summary of his report found some wrong-doing on the part of the Qatari and Russian bid committees, FIFA's ethics judge concluded it was not enough to question the entire process. Garcia subsequently resigned from his role after criticising the handling of his report.
However the full report was made available to the Swiss attorney general in Berne last November, in order for him to decide whether criminal charges should follow.