Watford's history in one picture: The Watford Mishmash
By Johnny Phillips
Last Updated: 08/08/16 6:13pm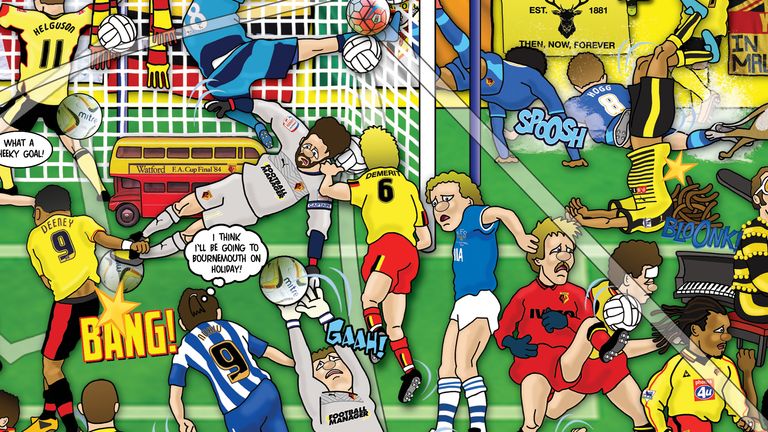 A Watford fan and artist has captured the key moments of the club's history in one piece of work. Take a look here...
The Premier League is back this weekend and with it comes the anticipated drama and excitement that will hopefully accompany the next nine months.
Every week there is a new story. So imagine attempting to write about the entire history of your football team. A daunting prospect, but perhaps a less ambitious step than attempting to illustrate your club's history - in just one picture.
That's what Watford fan and artist Alex Bennett has done and the results are pretty impressive. As the Hornets celebrated a successful return to the Premier League last season, Bennett was putting the finishing touches to the Watford Mishmash. It's an incredible piece of art, somehow encapsulating all the defining moments in the club's 135-year history.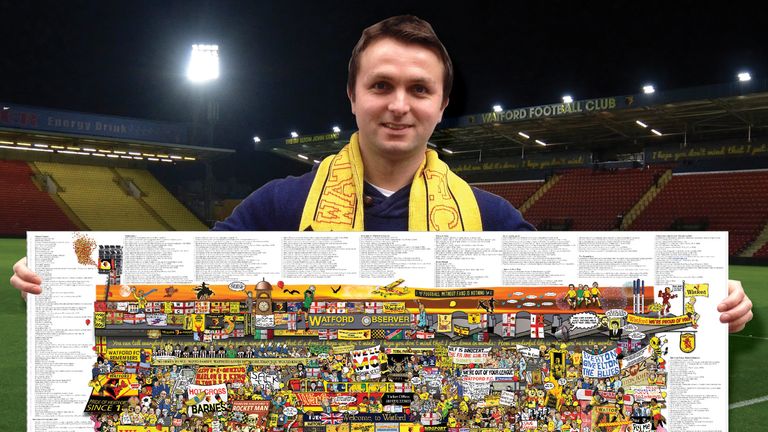 "It is like a 'Where's Wally' image except that everything is relevant to the club from its formation back in 1881 up until the present day", says Bennett. "I chose to create one specifically for Watford Football Club because they are my team. I tend to only draw things I enjoy so it was inevitable that I'd attempt something like this one day. I do a bit of illustrative work for the club so it was straight forward to get co-operation from them."
So how long does it take to commit the entire history of a football club into one drawing? "A scary question!" Bennett admits. "Each Mishmash I have done has taken me between 10-14 months to complete from start to finish. I have done three others, about the history of football, rugby and wrestling. You can have a look at them at roundheadillustration.com.
"I don't work on them full time, but every spare moment I have is usually spent either researching incidents to include, or sketching out each moment. I'd estimate each one takes me well over 1,200 hours.
"During the creative process, I always ask for suggestions on social media of what to include on the illustration. People who are interested get to see the gradual formation of the picture and the possibility of their idea or suggestion being included. 
"It really pushes me on to keep creating them. The original Football Mishmash I did was actually featured on Soccer Am back in 2013."
Bennett was never going to be short of material for his latest work. Watford's recent history has been as colourful has it has entertaining. Watford's opening day trip to Southampton is one of our featured games on Soccer Saturday this weekend. So, with Quique Sanchez Flores departed and Walter Mazzarri now in charge of the team, how will they fare this season?
"It's hard to tell but I think we'll be okay," Bennett explains. "Keeping hold of Troy Deeney was absolutely massive, he really is the heartbeat of the team. We've brought in several new faces but let go of fan-favourite Almen Abdi to Sheffield Wednesday.
"Watford fans fully expect the owners to bring in an attacking/creative midfielder because I think it's fair to say we're lacking in that department and it could be vital to which way our season goes. If someone offered me 13th place again with a handful of scalps from the big boys, I'd happily take that."
Watford prides itself on community roots so Bennett's work was always going to get a positive reception. "The club and the supporters seem very pleased with the finished product. I recently sold posters of it at the club's annual Open Day. There has also been talk that it will be created into a huge mural within the stadium. The original Football Mishmash is currently a mural in the Family Stand, but it would be fantastic to see this up at Vicarage Road."
Watch Soccer Saturday - including Johnny Phillips' feature with Alex Bennett - on Sky Sports News HQ from 12pm