A police investigation has been launched into the disorder that followed Wigan's stunning FA Cup victory over Manchester City, in which striker Sergio Aguero clashed with supporters during a pitch invasion.
The Latics and the FA are also conducting a full review of what transpired after the Sky Bet League One club dumped the Premier League leaders out in the fifth round, as Aguero appeared to lash out at a supporter that encroached the pitch.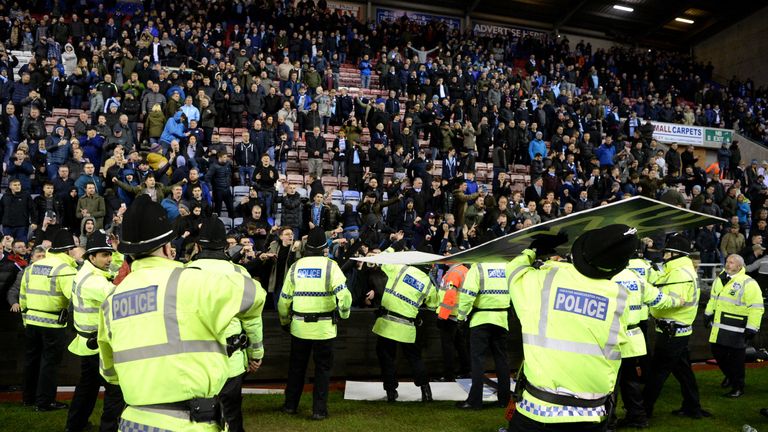 Objects including an advertising board were thrown at police and stewards from the stands and Manchester City officials want answers from Wigan as to how so many got onto the pitch and so close to their players.
A Great Manchester Police statement said: "A small number of fans in the away end became aggressive and started damaging the advertising boards. Officers were swiftly deployed to keep the opposing sides separated, and the situation returned to normality within a very short space of time.
"Two people were arrested on suspicion of affray following an incident outside the ground and remain in custody."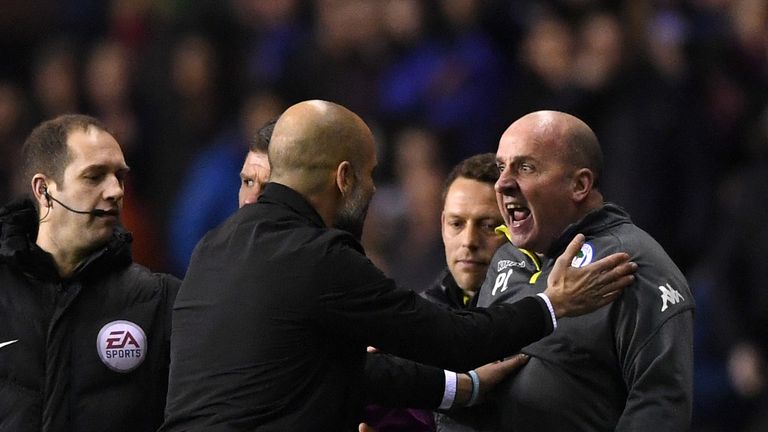 Chief Superintendent Stuart Ellison confirmed: "We have made two arrests but as our investigation into last night's disruption continues, I'd ask anyone with information about the incident to please come forward."
Latics chairman David Sharpe told BBC Breakfast: "The emotions of football can sometimes get the better of fans and that was evident last night. I don't like to see what happened at the end of the game.
"We'll have to look into it properly with the FA and the authorities over what was going on, but it looks like both City and Wigan fans weren't being too pleasant to each other, and there was damage to the stadium.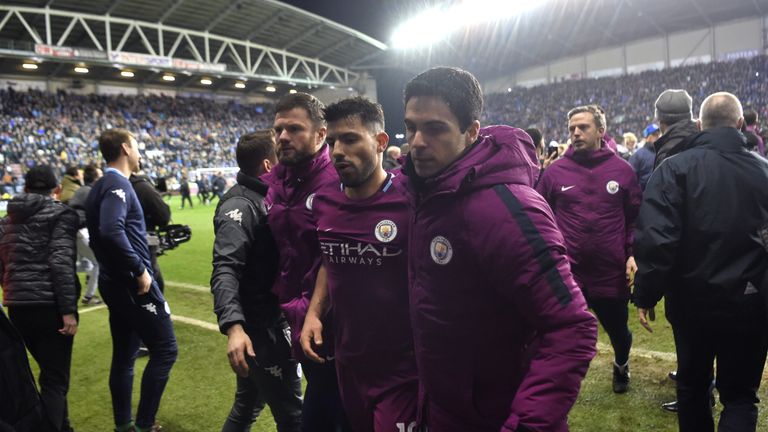 "But that can be the emotion of supporters sometimes. Things can get carried away. We've got to remain classy in certain situations and that's the feeling we're taking from last night."
Events at full-time followed a bust-up in the tunnel at half-time between Wigan manager Paul Cook and Manchester City boss Pep Guardiola following the red card to Fabian Delph just before the interval.
Infuriated City players, Guardiola and Cook disagreed over the decision and had to be broken up by staff and players from both teams - all captured by TV images.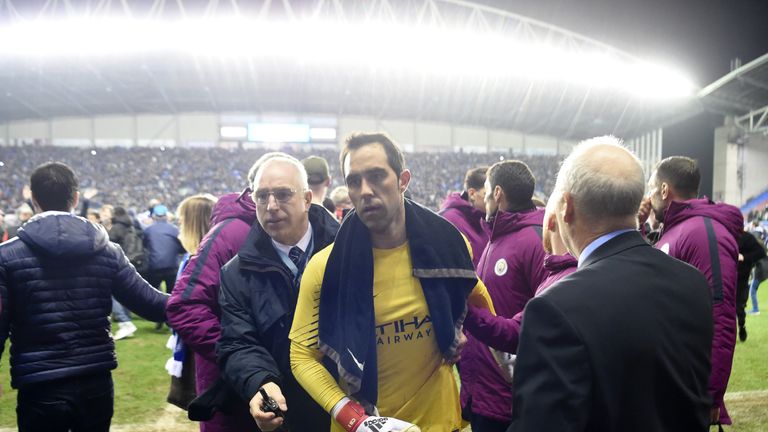 Both Guardiola and Cook said they did not see what happened at full-time but condemned the information that was put to them in their post-match press conferences.
"It's not right is it?" said Cook. "It's incorrect. But I've not seen the incidents, so I'd rather not comment. With all due respect, players' safety is paramount for everyone."
Guardiola also said: "I was in the locker room, I didn't see it. It's safer when the fans are not there, but sometimes it happens. The fans respect the players and the players, the fans, and go inside."