Joshua vs Takam: Talking points from the weigh-in as Anthony Joshua hits biggest ever weight
Is bigger-than-ever AJ in danger of tiring himself out quickly? Debating the numbers on the scales...
By James Dielhenn
Last Updated: 28/10/17 9:54am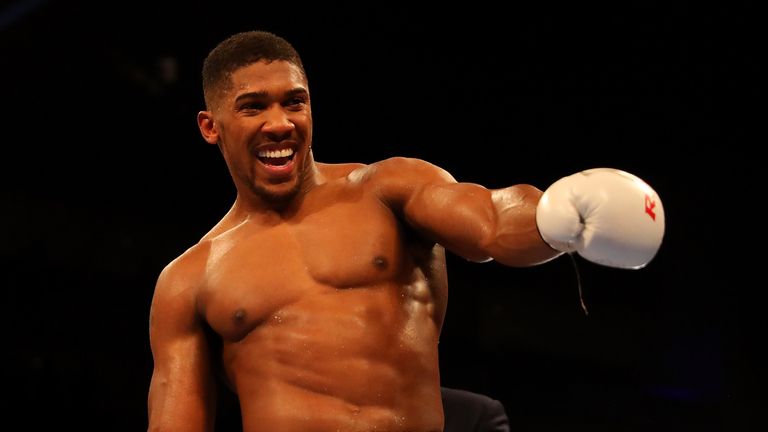 It takes a lot of diesel to fuel a 10-ton truck and Anthony Joshua, at the heaviest he has ever been, may consider this before he steps behind the wheel.
Friday's weight of 18st 2lbs was surprising only because the pre-fight chatter has been about how he had slimmed down - "extra fast, with extra spite," as promoter Eddie Hearn put it. Extra muscle, it turns out.
This article was prepped to consider how Joshua had learned about his ideal weight from the Wladimir Klitschko fight, where he weighed in nearly four pounds lighter than Friday's meeting opposite Carlos Takam (16st 12lbs). Klitschko, by contrast, had intentionally shrunk down to lighter than his usual frame and his stamina appeared to benefit.
By his own admission, Joshua fatigued in the middle rounds of his most glorious night, briefly succumbing to a knock-down by Klitschko when the lactic acid built in his arms and legs. On that night, it was difficult to refuel his hulking frame mid-fight but he managed to somehow do it. He was 10 pounds heavier than Klitschko; he is one stone and four pounds heavier than Takam.
"I've done a lot more running. Maybe I'm starting to fill out and find my natural weight," Joshua said but the measurements of a world heavyweight champion should always be monitored methodically, and never left to chance. Perhaps, just perhaps, Joshua is in on the joke.
"With his style and his strength, I wish I [would come] in heavier," he said earlier this week amid suggestions that we would see a new-look trim Joshua.
"Maybe I might have come in a bit heavier if I knew I was fighting Takam [in advance]," he teased.
The logic was that Joshua, who has never hid his admiration for former foe Klitschko, had taken on board the reasons why he tired mid-fight at Wembley. Initially paired with Kubrat Pulev this time, the implication was that he wanted to sacrifice muscle for motor.
"Why I came in lighter, I thought I was fighting Pulev," Joshua said on Thursday. "A real amateur style boxer. Jab with him and match his speed." The scales, less than 24 hours later, told a completely different story.
Be more concerned with his skill set than his weight! Being heavy is not a reason you will lose imo! If he keeps improving he's unstoppable.

— Tony Bellew (@TonyBellew) October 27, 2017
His weight for Saturday night's fight in Cardiff is not only heavier than he has ever been before - it also heavier than either Klitschko or Tyson Fury weighed before their world title fight two years ago. It is heavier than Deontay Wilder or Joseph Parker, the other heavyweight title-holders, have ever weighed.
But the key to this is Takam, the boulder-like challenger to Joshua's championships. He stands four-and-a-half inches shorter than the champion and, if he fights in a crouched stance, will be even shorter. Takam is known for his durability (he has been stopped just once in 39 fights), his desire to barrel into an opponent's chest, and his will to bully his way to victories.
But he's picking on the biggest kid in the playground. Joshua has known for 12 days about Takam's inclusion, plenty of time to shed a few pounds if he desired. It is entirely possible that the world heavyweight champion has left the weight on his frame to make Takam feel vulnerable at close-quarters, where this contest will definitely play out during certain exchanges.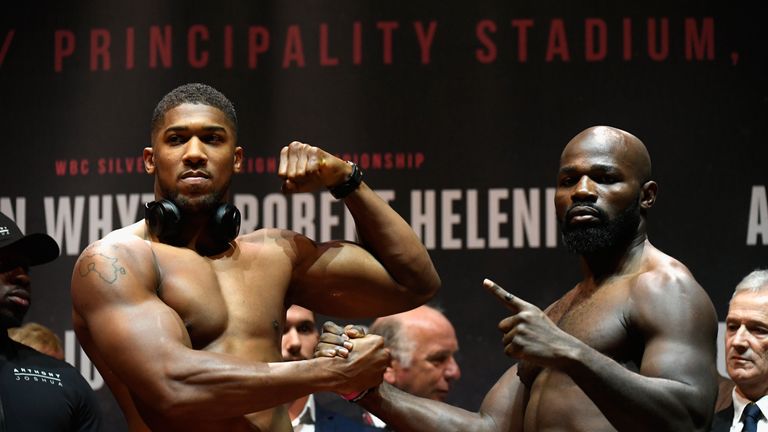 Anthony Joshua's previous weigh-in results
| | |
| --- | --- |
| vs. Klitschko | 17st 12lbs |
| vs. Molina | 17st 11 lbs |
| vs. Breazeale | 17st 2lbs |
| vs. Martin | 17st 6lbs |
| vs. Whyte | 17st 7lbs |
Us mere mortals would be wise not to question Joshua's body - he described himself as "fitter than ever" after posting his biggest ever numbers on the scales. But it is noticeable that Joshua has got heavier and heavier in recent fights, a trend that cannot continue indefinitely.
He is testing the boundaries of what is historically considered the perfect size for a heavyweight, but it has worked flawlessly so far for Joshua. As his popularity grows astronomically so, it seems, does his physique.
Watch Anthony Joshua vs Carlos Takam, from the Principality Stadium, Cardiff, on October 28, live on Sky Sports Box Office. Book via your Sky remote or online.