Matthew Fox has starred in supernatural drama Lost, gangster film Smokin' Aces and science-fiction movie World War Z - but he always finds time for Arsenal.
The American actor spoke about his love of the Gunners on Soccer AM, explaining why he started supporting them in the first place, naming his favourite players and giving his take on Emirates boss Arsene Wenger.
Fox also reminisced about the international game he remembers most, so to discover what it is, and for his thoughts on Arsenal, carry on reading...
Why Arsenal?
MATTHEW SAYS: I organised to go and see Arsenal because I was living in Marylebone and right on the line of Arsenal and Tottenham, but I asked a couple of people and they said this is absolute Arsenal.
My son and I watched Arsenal versus Man United at the Emirates and Arsenal won which was incredible. I took my little boy down into the locker room to meet all the players and he has now got a ball signed by all the players, who were all so cool.
Favourite players?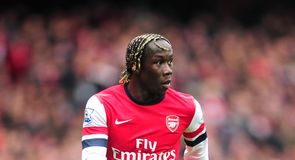 MATTHEW SAYS: Bacary Sagna is just incredible but we have just had this huge signing of Mesut Ozil who is just such a classy player. I also got to meet Arsene Wenger once; he is a very nice guy and you can tell he is incredibly passionate about the squad.
He really feels like he has great players on the pitch and is about teaching those players to play as a squad and play with confidence. I love Arsenal because of their style of play. When they are playing with flow and moving the ball with one-touch stuff they can look incredible.
Favourite big matches?
MATTHEW SAYS: My first memory of soccer was the 1990 World Cup and when I really got into it for the first time. In terms of big matches, one was when the Italians played the French in the 2006 World Cup final and Zinedine Zidane did the head-butt and all that fiasco to Marco Materazzi.