Borussia Monchengladbach move into sixth place thanks to a 1-0 win over Augsburg
Borussia Monchengladbach moved above Eintracht Frankfurt into sixth place thanks to a 1-0 win over 10-man Augsburg.
Last Updated: 19/04/13 9:51pm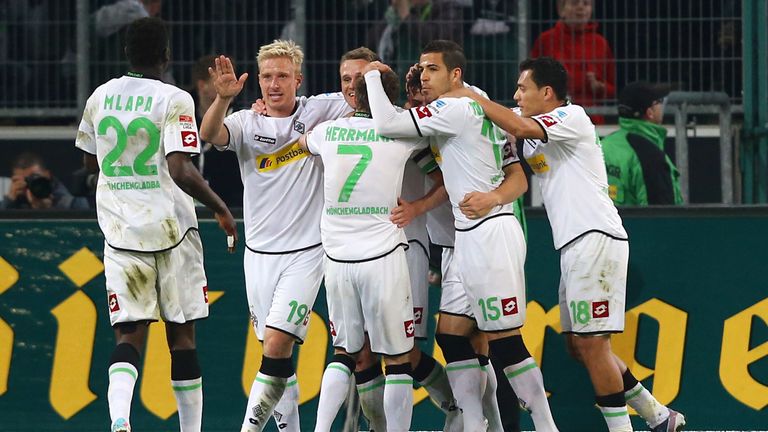 A red card for Kevin Vogt in the 26th minute, and a goal scored from the resulting penalty by Filip Daems, were enough to earn the Foals all three points and take them into a qualifying berth for the Champions League.
Augsburg, meanwhile, remain three points adrift of safety with one game fewer to play this season, making their Bundesliga future look bleaker.
With Gladbach needing the points to boost their chances of playing in Europe next season, and Augsburg desperate to get out of the bottom three, there were no thoughts on either side of sitting back and settling for a point.
The action was hectic and, at times, a bit over the top with neither team shirking the challenge.
The first yellow card arrived after 16 minutes as the referee tried to put a lid on the aggression.
A foul by Vogt on Mlapa in the 26th minute got a double punishment with the Augsburg defender shown a red card and a penalty awarded for the home side.
Daems stepped up and slotted the ball in low into the bottom corner to put Gladbach in front.
Augsburg reorganised with Dominik Reinhardt coming on for Tobias Werner and there was clearly no way they were going to accept defeat without a fight, even with a man down.
Gladbach, on the other hand, settled into their habitual counter-attacking system, allowing Augsburg to come at them while knowing the gaps to hit them on the break would be even greater with an extra man.
Juan Arango and Patrick Herrmann were proving to be too wasteful with the ball, though, as chance after chance to land a telling blow were passed up on negligently.
Nevertheless, the Bavarians rarely posed a threat to Marc-Andre ter Stegen's goal.
Granit Xhaka wasted a hat-trick of late chances as Gladbach failed to add to their solitary goal, which was still worth three points and a place inside the top six.